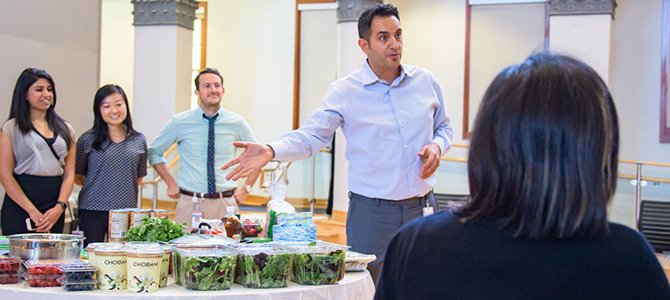 Culinary Medicine Crafts Healthy Alternatives for Diabetes Patients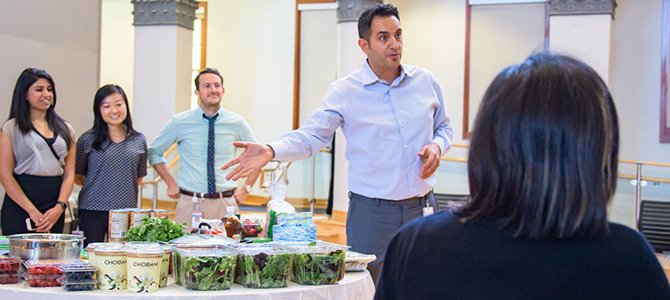 Students Create Interest Group to Learn More About Preventive and Healing Approaches in Medicine
As Director of the Public Health, Prevention and Health Promotion theme at the University of Arizona College of Medicine – Phoenix, Farshad Fani Marvasti, MD, MPH (Dr. Shad), focuses his teaching on preventive care.
"Our current system focuses on acute and sick care," he said. "We are great at treating acute events like heart attacks but not so good at preventing these events over time. Prevention involves more of a focus lifestyle changes such as diet."
Dr. Shad advocates teaching more preventive care, as well as using food as medicine in disease treatments.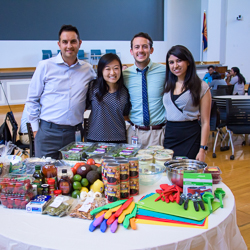 "Nutrition is not taught enough in medical schools, even though dietary risk factors are the number one risk factors for both disability-adjusted life years and death," he said. "It's reported to be an even higher risk factor than smoking."
A new student interest group is exposing medical students to ways nutrition can be used to treat patients. The Culinary Medicine Interest Group was started by second-year students Daniel Salevitz, Sarah Javaherifar and Sarah Loh. Dr. Shad serves as the faculty advisor.
On August 17, the group held its first event in partnership with the College's Wellness Program. About 25 students attended, making meals that could be used as a "prescription" diet for a person with Type 2 Diabetes.
"The goal was to show how the food that you would prescribe for diabetic patients can not only be good for them, but it can also be tasty and enjoyable," Dr. Shad said. "We were able to show students that a healthy diet can treat, reverse and prevent diabetes. I base this on a growing body of evidence that I apply to my own clinical practice with diabetic patients."
The culinary cookout was planned around second-year students' courses. During the event, the students were in their first block, where they learn about GI, metabolism, diabetes and obesity. Their lectures the week prior to the event focused on diabetes.
"We learned about the physiology of this disease, and now we know what we can do besides prescribe drugs to patients," Salevtiz said. "We can help improve their lifestyle and blood sugar levels in a way that isn't as traditional as pharmacology."
Students made avocado and nut toast with whole grain bread and a salad with an avocado and vinegar base dressing. They also served a "burrito" bowl with chicken, black beans, peppers and brown rice. Desert was berries, Greek yogurt, nuts, coconut flakes and cinnamon.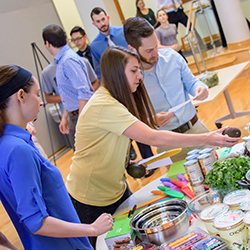 According to Dr. Shad, the foods were chosen because "avocados are rich in monounsaturated fat, which is a good fat that raises HDL — 'good cholesterol' — and lowers both triglycerides and LDL — 'bad cholesterol.' Vinegar has been studied more recently and found to mimic the effects of several types of diabetes medications to lower blood sugar levels, and it is an area of growing research. Nuts are rich in good fats. Walnuts, for example, have polyunsaturated fats that directly inhibit the formation of fat in the body and thereby contribute to healthy weight."
The students came up with the idea of a nutrition interest group last fall while listening to a lecture on food policy and health by Dr. Shad in their public health class.
The group plans future cooking events, competitions and cook-offs, but they also hope to advocate for adding more nutrition to the curriculum.
"Every student throughout their rotations, and eventually when they become doctors, will be asked by a patient, 'What should I be eating?'" Dr. Shad said. "If they do not have the education to offer good advice, they will not be able to answer that question. Because diet is so important for the chronic diseases of our time, the purpose of this group is to be able to have students prepared for when their patients ask that question."
Media Contact:
Teresa Joseph
Phone: 602-827-2657
About the College
Founded in 2007, the University of Arizona College of Medicine – Phoenix inspires and trains exemplary physicians, scientists and leaders to optimize health and health care in Arizona and beyond. By cultivating collaborative research locally and globally, the college accelerates discovery in a number of critical areas — including cancer, stroke, traumatic brain injury and cardiovascular disease. Championed as a student-centric campus, the college has graduated 669 physicians, all of whom received exceptional training from nine clinical partners and more than 2,600 diverse faculty members. As the anchor to the Phoenix Bioscience Core, which is projected to have an economic impact of $3.1 billion by 2025, the college prides itself on engaging with the community, fostering education, inclusion, access and advocacy.