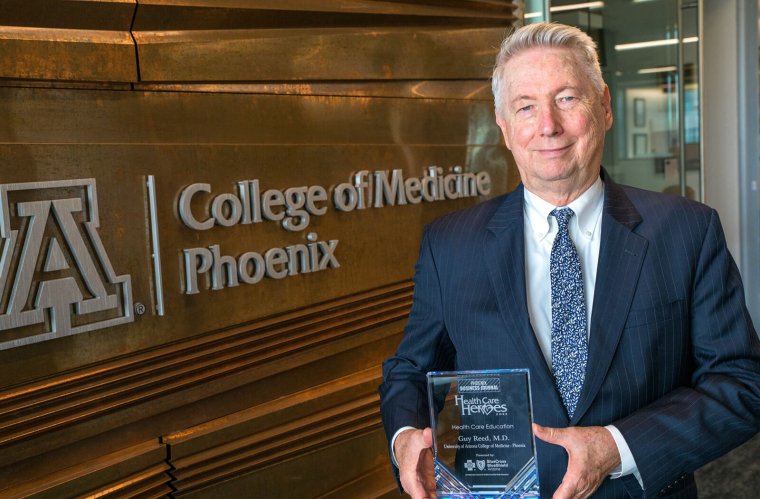 Dean Guy Reed, MD, MS, Honored as a Health Care Hero in Medical Education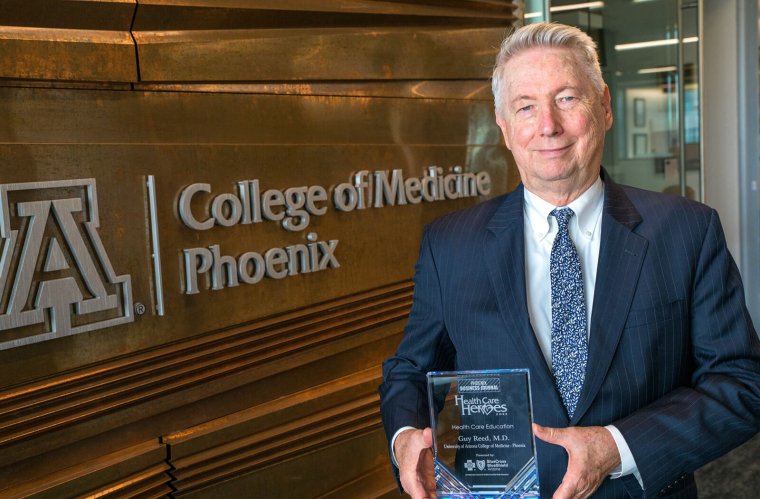 The Phoenix Business Journal awards highlight unsung heroes in health care and celebrate excellence in the medical community
Since he joined the college in April 2017, Dean Guy Reed, MD, MS, has guided the University of Arizona College of Medicine – Phoenix with a calm and steady hand.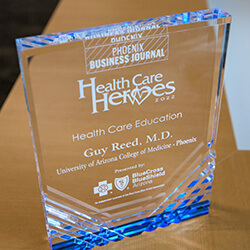 Whether it was the upending of medical student education during the COVID-19 pandemic, overseeing the expansion of the class size to 120 or preparing for a Liaison Committee for Medical Education site visit for full reaccreditation, he has deftly navigated any circumstance.
Dean Reed's leadership was recognized on August 18, 2022, during the Phoenix Business Journal's annual Health Care Heroes Awards.
"For 23 years the Phoenix Business Journal has recognized organizations and individuals for their dedication and achievements in several categories in the health care field. This year we celebrated 30 finalists and awarded one winner in each of 10 categories," said Ray Schey, marketing president and publisher of the Phoenix Business Journal.
Schey noted Dean Reed's efforts in helping to address the physician shortage in Arizona as an area of distinction in his candidacy, and he added, "Congratulations to Dean Guy Reed, recipient of the Health Care Heroes Award for Medical Education, and to all the winners at the August 18 Health Care Heroes event. The Phoenix Business Journal is proud to honor those committed to the health and well-being of our community."
Dean Reed was grateful to have been recognized. "This award recognizes our true health care heroes — our college faculty, staff and students," he said. "They work every day and night to make Arizona a healthier place — whether that be by training the next generation of exceptional physicians, discovering and developing new treatments, delivering outstanding medical care or by working together to make health care more diverse, inclusive and equitable for all."
The 30 finalists — who were chosen from a pool of 70 nominees — encompassed physicians, nurses, educators, administrators and more, who have all performed extraordinary services for their communities. For the 2022 awards, the focus was on their efforts throughout the pandemic.
Dean Reed shared his perspective of health care in Arizona during an interview with the Phoenix Business Journal prior to the awards ceremony.
In addition to Medical Education, the categories included Community Outreach, Innovator, Mental Health Advocate, Non-Physician, Nursing, Philanthropic Champion, Physician, Team Health Award — which is sponsored by Arizona State University's College of Health Solutions — and the Lifetime Achievement Award.
Frank LoVecchio, DO, a professor of Emergency Medicine at the college, was also a finalist in the Medical Education category.
Nominations for 2023's Health Care Heroes Awards will open no later than January 2023.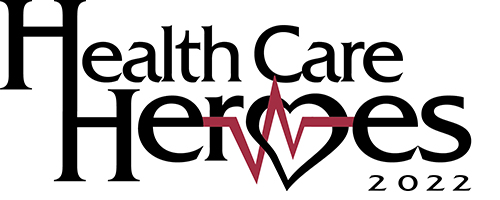 Topics
About the College
Founded in 2007, the University of Arizona College of Medicine – Phoenix inspires and trains exemplary physicians, scientists and leaders to optimize health and health care in Arizona and beyond. By cultivating collaborative research locally and globally, the college accelerates discovery in a number of critical areas — including cancer, stroke, traumatic brain injury and cardiovascular disease. Championed as a student-centric campus, the college has graduated 669 physicians, all of whom received exceptional training from nine clinical partners and more than 2,600 diverse faculty members. As the anchor to the Phoenix Bioscience Core, which is projected to have an economic impact of $3.1 billion by 2025, the college prides itself on engaging with the community, fostering education, inclusion, access and advocacy.