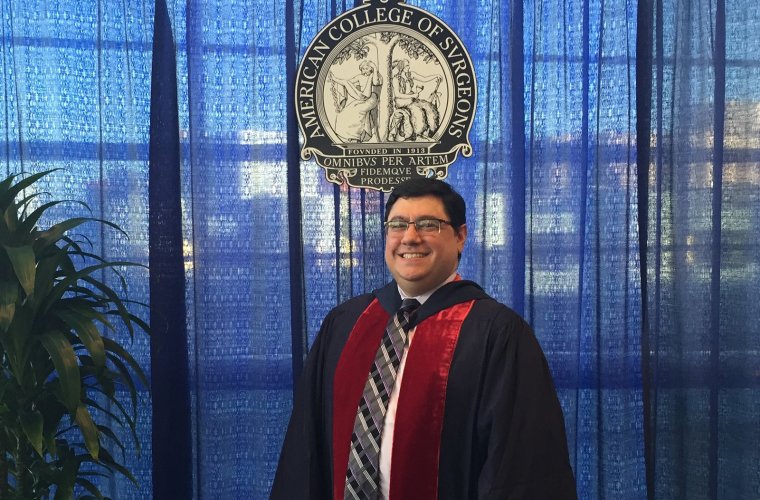 Dr. Goldberg Inducted into the ACS Academy of Master Surgeon Educators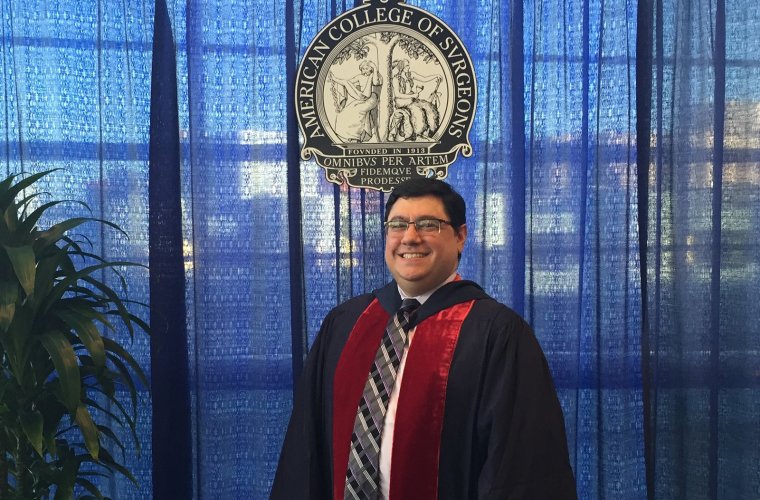 A long and distinguished legacy as an educator earned him the coveted spot
Ross F. Goldberg, MD, FACS, an associate professor of Surgery, was recently inducted as a member into the American College of Surgeons (ACS) Academy of Master Surgeon Educators.
Dr. Goldberg is a general surgeon with District Medical Group (DMG) in Phoenix. He was one of 65 esteemed surgeon educators to receive the honor as members of the 2022 cohort.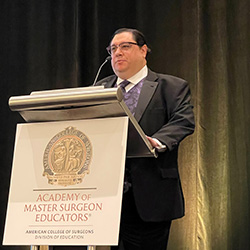 "I appreciate being recognized — that they felt I was worthy to be within their ranks to provide insight on surgical education," Dr. Goldberg said. "It's a way to distinguish what we've contributed to the educational world and, in another way, acknowledge the work that's been done."
The ACS works to advance education across all surgical specialties and has recognized Master Surgeon Educators since 2018. Today, there are more than 300 members, associate members and affiliate members.
Once inducted, members work to achieve the academy's goals, which include advancing the science and practice of innovative lifelong surgical education, training and scholarship in the changing milieu of health care.
Dr. Goldberg, who has been teaching medical students since he was a resident, joined the University of Arizona College of Medicine – Phoenix as a faculty member in July 2012.
Born and raised in the east coast, Dr. Goldberg attended New York Medical College for his MD. After finishing medical school, he spent nine years training at various residencies and fellowships.
Even as a general surgeon, his passion for teaching has never waned, and he considers educating medical students a way of paying it forward.
"Not everyone can do it, and you have to have a lot of patience," Dr. Goldberg said. "But it's a rewarding experience to help be involved with someone's training and to watch them succeed in the future."
Among his other roles and accomplishments, Dr. Goldberg is the DMG vice chair of surgery at Valleywise Health and an associate professor of surgery at Creighton University School of Medicine.
The most rewarding aspect of Dr. Goldberg's teaching role is the privilege of being able to watch his students go from needing his guidance throughout the exercises to then being able to handle the exercises themselves.
"I knew from the beginning I wanted to be in the academic world versus private practice for a variety of reasons," Dr. Goldberg said. "One of the benefits is I get to teach residents, and it's a different expectation when you're in that environment."
Natasha Keric, MD, an associate professor of Surgery and the director of the Surgery Clerkship at the college, said that Dr. Goldberg is a master surgeon educator who is devoted to students' growth as professionals.
"Dr. Goldberg's dedication to teaching students about what it means to be a surgeon is palpable," Dr. Keric said. "He engages his audience through carefully crafted lectures that incorporate knowledge, expertise, compassion and humor."
Despite assuming the educator role for years, Dr. Goldberg remains a student at heart. When the COVID-19 pandemic took the world by storm, he said his residents would sometimes be the ones to instruct him about the latest literature.
"We knew nothing when it first started, and we know a lot more now," Dr. Goldberg said. "You actually need to be on your toes when you're teaching because the residents and students will challenge you; it's a good way to keep yourself up to date, as well."
At the end of their clerkship, students were able to provide feedback on Dr. Goldberg's role as an educator in the form of anonymous surveys.
"Dr. Goldberg always asked the right questions and helped me stretch my knowledge and abilities during this rotation," one student wrote. "I appreciated his kindness while teaching, and he showed that he really cared about his patients."
"I got the impression that he really wants his students and residents to succeed," another student wrote. "I appreciated that he would explain his actions and thought processes and was always receptive to questions."
Topics
About the College
Founded in 2007, the University of Arizona College of Medicine – Phoenix inspires and trains exemplary physicians, scientists and leaders to optimize health and health care in Arizona and beyond. By cultivating collaborative research locally and globally, the college accelerates discovery in a number of critical areas — including cancer, stroke, traumatic brain injury and cardiovascular disease. Championed as a student-centric campus, the college has graduated 745 physicians, all of whom received exceptional training from nine clinical partners and more than 2,600 diverse faculty members. As the anchor to the Phoenix Bioscience Core, which is projected to have an economic impact of $3.1 billion by 2025, the college prides itself on engaging with the community, fostering education, inclusion, access and advocacy.