Dr. Michelle Dorsey Selected as White House Leadership Fellow
Dr. Dorsey Chosen as First Physician to Represent the Department of Veterans Affairs
Michelle Dorsey, MD, plans to advance the standing of the Veterans Administration through her recent appointment as a White House Leadership Fellow. She is the first physician selected to represent the Department of Veterans Affairs as a White House fellow.
Dr. Dorsey is Chief of Radiology at the Phoenix VA Health Care System and a Clinical Assistant Professor in the Department of Radiology at the University of Arizona College of Medicine – Phoenix. Her appointment is from October 2018 to September 2019. During this time, Associate Chief Brian Igel, MD, will be the acting Chief of Radiology in Phoenix.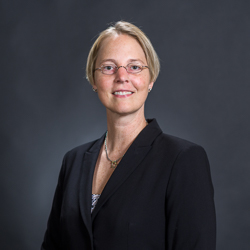 "We must act to make the VA a showpiece for innovation, developing cross-agency initiatives that enhance quality, veteran-centered care, innovative research and education," Dr. Dorsey said. "My participation in this program signals that we are moving in all ways forward. It is a tremendous honor and I hope to make both my facility, the Phoenix VA, as well as the Department of Veterans Affairs proud."
Dr. Dorsey will work in the White House Office of Management and Budget, providing programmatic leadership of the federal government's Customer Experience Cross-Agency priority goal. Improvements to customer service have the potential to impact millions of Americans in such areas as veterans health care, Medicare, federal student aid, airport security screening, national parks, passport services, and emergency and disaster relief. 
Dr. Dorsey's interest in the program developed as a result of witnessing the interdependent problem of veteran homelessness. Veteran homelessness has significantly declined, cut nearly in half since 2010, although 2017 saw a 2 percent increase in overall homelessness and a 7 percent increase among women veterans.
"While volunteering at the Maricopa County StandDown, it became clear to me that adequate care for homeless veterans in many cases depends on multiple intersecting factors: education, neighborhood supports, transportation, income, housing options, criminal past, substance addiction and mental health," Dr. Dorsey said. "It is critically important to attend to these issues, as up to 40 percent of health outcomes are driven by social and economic factors. The VA cannot address all these challenges alone and must continue to develop integrated cross-agency approaches as well as public-private partnerships."
Dr. Dorsey said that the effectiveness of programs like their Community Resource and Referral Centers and Housing and Urban Development-Veterans Affairs Supportive Housing program is evident, and those successes inspired her to become a cross-organizational change agent. "This fellowship will prepare me to develop transformative, collaborative programs that can make a genuine difference in the lives of veterans," she said. "In particular, I anticipate that my work in Customer Experience will translate into actionable initiatives here at the Phoenix VA, enhancing veterans' satisfaction with the delivery of care."
Dr. Dorsey has been at the Phoenix VA since 2010 when she started as Director of Breast Imaging. She became an outspoken advocate for women veterans specialty care, obtaining additional resources, including staff, cutting-edge equipment and space. Phoenix is now home to a nationally recognized, comprehensive breast imaging and intervention service which has saved many veteran lives through earlier detection of breast cancer. Due to their exceptional Breast Imaging team, Phoenix was designated as the first and only Breast Imaging Center of Excellence in the VA by the American College of Radiology.
Dr. Dorsey became the youngest and first female Chief of Radiology at the Phoenix VA in 2015. At the time, the Phoenix VA was facing high-profile challenges surrounding access to care for veterans, and the Radiology Department was not consistently delivering timely care. "By focusing on servant leadership and staff empowerment, we redesigned processes, acquired new equipment and increased our staffing, which allowed us to ultimately be successful," said Dr. Dorsey. The Radiology Department completed a record 150,000 exams in 2017 while maintaining a more than 95 percent completion rate within 30 days.
Subsequently, Dr. Dorsey was tapped to serve as acting Associate and Deputy Director at the Phoenix VA, and acting Associate Director of the National Teleradiology Program. "My extensive experience with process improvement, systems redesign and change management in these positions has prepared me well for my new role as a White House Leadership Fellow," she said.
Dr. Dorsey was the first radiologist at the Phoenix VA to obtain an appointment with the College of Medicine – Phoenix in 2013. Since then, the department has educated many medical students as a result of rotations and she has participated as a Multiple Mini Interviewer with the Office of Admissions and Recruitment. She also is a member of the Student Appeals Committee as well as the Women in Medicine and Science Committee.
"It has been wonderful to meet and interact with our future physicians – so many intelligent, dedicated and altruistic people," Dr. Dorsey said. "The future of medicine is truly bright."
About the College
Founded in 2007, the University of Arizona College of Medicine – Phoenix inspires and trains exemplary physicians, scientists and leaders to optimize health and health care in Arizona and beyond. By cultivating collaborative research locally and globally, the college accelerates discovery in a number of critical areas — including cancer, stroke, traumatic brain injury and cardiovascular disease. Championed as a student-centric campus, the college has graduated 669 physicians, all of whom received exceptional training from nine clinical partners and more than 2,600 diverse faculty members. As the anchor to the Phoenix Bioscience Core, which is projected to have an economic impact of $3.1 billion by 2025, the college prides itself on engaging with the community, fostering education, inclusion, access and advocacy.