Faculty Spotlight: Farshad Fani Marvasti, MD, MPH
Dr. Shad to Discuss the Healing Powers of Food at Mini-Medical School Community Lecture Series
Unhealthy eating is a major risk factor for disease and death, even ranking higher than smoking, high cholesterol, high blood pressure and inactivity.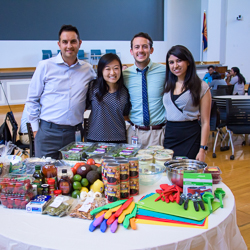 Farshad Fani Marvasti, MD, MPH (Dr. Shad), will discuss food as medicine and its healing powers at the next Mini-Medical School community lecture series from 5:30 – 7:00 p.m. May 16 at the University of Arizona College of Medicine – Phoenix.
"Food plays a critical role in preventing and treating diseases of our time," he said. "This is important information that impacts all of us."
Dr. Shad will teach attendees the benefits of certain foods for conditions like diabetes, heart disease and cancer prevention. He also will show how to read food labels and discuss how food can help alleviate inflammation, increase energy levels, assist in sleep and much more.
At the College of Medicine – Phoenix, Dr. Shad is a clinical associate professor and director of the Public Health, Prevention and Health Promotion theme, which is dedicated to understanding the connection between medicine and public health and the importance of prevention, nutrition and healthy lifestyles to maintain wellness. He is redesigning medical education to include evidence-based nutrition and complementary therapies in the care and prevention of disease.
He advises medical students for the Integrative Preventive Medicine Student Interest Group and the newly formed Culinary Medicine Interest Group that is based on his Food as Medicine lecture series at the College of Medicine – Phoenix.
"The element I find most satisfying is teaching students about prevention and nutrition," he said. By sharing this information with his students, he believes he's empowering them to take those lessons into their professional experiences with patients.
This is vitally important because, as he put it, "dietary risk factors are the number one risk factor for both disease and death, yet medical students get little to no nutrition training." Dr. Shad is working to change that so students understand that in addition to medications and surgery, "food as medicine" can be prescribed to patients to treat and prevent their medical conditions. Dr. Shad became interested in this area while doing research at Stanford University as an undergraduate student. It's an issue that can only improve through public awareness and the proper education of future physicians, he said.
"Every student throughout their rotations, and eventually when they become doctors, will be asked by a patient, 'What should I be eating?' " Dr. Shad said. "If they do not have the education to offer good advice, they will not be able to answer that question. Because diet is so important for the chronic diseases of our time, the purpose of this group is to be able to have students prepared when patients ask that question."
Dr. Shad is a distinguished graduate of Barrett, the Honors College at Arizona State University, and earned his Medical Doctorate and Masters of Public Health from the University of Arizona.
He completed his Family Medicine clinical residency training at the Stanford University School of Medicine Stanford-O'Connor Residency Program and subsequently served as a postdoctoral Research Fellow at the Stanford Prevention Research Center. Dr. Shad recently completed a fellowship in Integrative Medicine at the University of Arizona with Andrew Weil, MD.
Spending time on campus is only one part of the equation for Dr. Marvasti. Outside of work, he enjoys spending time with his family, as well as volunteering as a member of his local faith community.
About the College
Founded in 2007, the University of Arizona College of Medicine – Phoenix inspires and trains exemplary physicians, scientists and leaders to optimize health and health care in Arizona and beyond. By cultivating collaborative research locally and globally, the college accelerates discovery in a number of critical areas — including cancer, stroke, traumatic brain injury and cardiovascular disease. Championed as a student-centric campus, the college has graduated more than 800 physicians, all of whom received exceptional training from nine clinical partners and more than 2,700 diverse faculty members. As the anchor to the Phoenix Bioscience Core, which is projected to have an economic impact of $3.1 billion by 2025, the college prides itself on engaging with the community, fostering education, inclusion, access and advocacy.