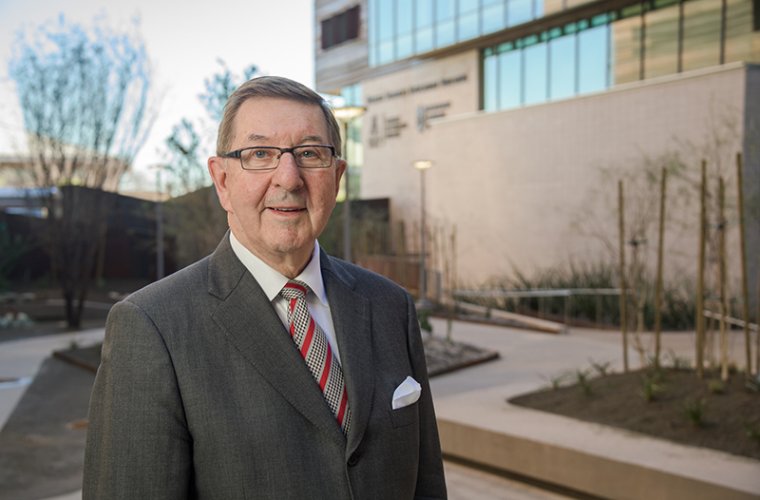 Faculty Spotlight: Robert Roberts, MD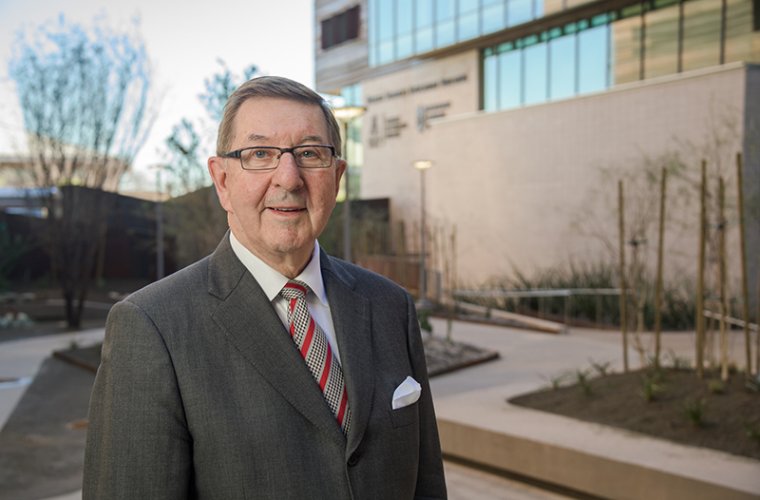 The Cardiologist Who Brought Molecular Biology and Genetics to Heart Disease
Whether it was saving the Prince of Saudi Arabia's life, co-discovering more than 60 genes related to coronary artery disease, consulting for NASA or developing the quantitative test that has been used to diagnose heart attacks for three decades, Robert Roberts, MD, has advanced health care across the world as the cardiologist who brought molecular biology and genetics to heart disease.
Dr. Roberts, a professor at the University of Arizona College of Medicine – Phoenix and department chair of the International Society for Cardiovascular Translational Research (ISCTR) — a nonprofit organization founded by Nabil Dib, MD, to expedite scientific discovery to clinical applications — is a renowned physician, who has trained more than 400 cardiologists. Many of his students are trained in both cardiology and molecular biology and have gone on to become chiefs of cardiology and chiefs of medicine; one even became the president of Ecuador.
"Bringing the techniques of molecular biology to cardiologists has been a large accomplishment in my life," he said. "I saw it as the future, but many did not for a good reason. Molecular biology is all about growth, and the heart is a terminally differentiated organ, meaning it doesn't grow any new cells. However, I believed in the techniques. I knew the problems I wanted to answer — that my conventional techniques couldn't answer — and I could see where they were going to make a difference."
As part of his role at the UA College of Medicine – Phoenix, Dr. Roberts teaches molecular biology and genetics of the heart. And in his year and half at the ISCTR, the organization has developed an online course with faculty from across North America. The course is planned to go live in August 2017.
"My goal at the college is to try and enhance the reputation of the medical school by providing leadership in research and developing centers of excellence between the Banner Health Care system and the University of Arizona," Dr. Roberts said.
Dr. Roberts grew up in Newfoundland, Canada. He always knew that he wanted to do something that involved people, and he narrowed his choices down to joining the seminary or applying to medical school. He spent one year in the seminary and then decided to pursue medicine.
"My parents were happy either way," Dr. Roberts said. "In my home, my parents felt that people had to give back to the community. It was a part of life."
Dr. Roberts' accomplished career as a geneticist and cardiologist includes leading the cardiology department at Baylor College of Medicine in Houston for 23 years and serving as the President and CEO of the University of Ottawa Heart Institute, UOHI, where he completed two five-year terms.
Under Dr. Roberts' leadership, the UOHI flourished. Patient wait times decreased from six months to three weeks; several diagnostic and therapeutic laboratories were added; he founded and directed the Ruddy Canadian Cardiovascular Genetics Centre; and established the Research Methods Centre. The research endowment tripled from $15 million to $55 million, as well. UOHI achieved world recognition for its research impact, being ranked by Scimago Institutions Rankings, a science evaluation resource, in the top 2 percent of 3,043 institutions worldwide.
Among Dr. Roberts' several accomplishments, the most notable are developing the MBCK quantitative test, which has been used as the gold standard to diagnose heart attacks for three decades, and discovering several genes responsible for heart disease, including the first gene for atrial fibrillation, WPW Syndrome and Coronary Artery Disease (9p21). In total, he has co-discovered more than 60 genes associated with CAD.
From 1987 until 2002, Dr. Roberts was a consultant to NASA.
"My most singular moment was when I gave permission for John Glen to go into space," Dr. Roberts said. "As a result of that, my wife and I were invited to watch the takeoff from Cape Kennedy. We also met several of the astronauts at dinner that night. It was a great experience."
Throughout his career, Dr. Roberts has been able to combine his love for travel and history. He has traveled extensively, and as chief of cardiology at Baylor, he participated in an affiliate hospital in Istanbul, where he took care of the royal family in Saudi Arabia as its main cardiologist. He has traveled across the world to give prestigious presentations, including the Opening Plenary Address of the American College of Cardiology, the Japanese College of Cardiology and the Australian and New Zealand Heart Association.
"When I went to places like Cairo and saw the poverty, I really gained a new perspective," Dr. Roberts said. "I always tell my wife and children 'Don't complain to me, you are beyond that. You've got more than you will ever need. Go with it.' I feel most days are more positive and grateful when I think of those months traveling."
Dr. Roberts completed his undergraduate degree from Memorial University, went to medical school at Dalhousie University and completed his residency at Dalhousie University and the University of Toronto. Dr. Roberts has furthered his training with multiple fellowships, including one in cardiology at the University of Toronto in 1971 and a research fellowship at the University of California San Diego. He has received many awards for his scientific contributions, including the Distinguished Scientist of American College of Cardiology and election to the Academy of Scientists of the Royal Society of Canada.
About the College
Founded in 2007, the University of Arizona College of Medicine – Phoenix inspires and trains exemplary physicians, scientists and leaders to optimize health and health care in Arizona and beyond. By cultivating collaborative research locally and globally, the college accelerates discovery in a number of critical areas — including cancer, stroke, traumatic brain injury and cardiovascular disease. Championed as a student-centric campus, the college has graduated 745 physicians, all of whom received exceptional training from nine clinical partners and more than 2,700 diverse faculty members. As the anchor to the Phoenix Bioscience Core, which is projected to have an economic impact of $3.1 billion by 2025, the college prides itself on engaging with the community, fostering education, inclusion, access and advocacy.