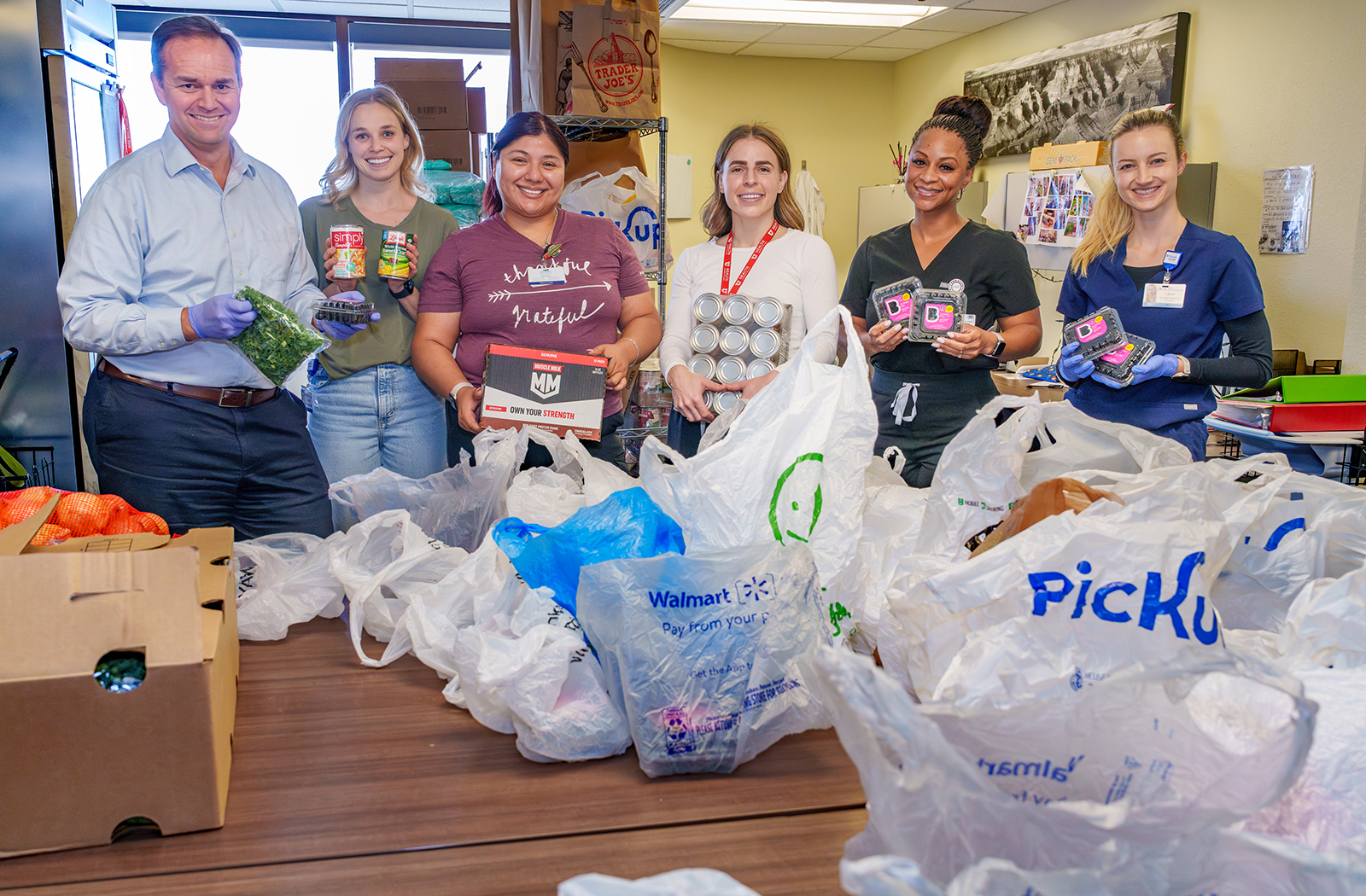 Family Medicine Food Pantry Aims to Address Food Insecurity in Local Communities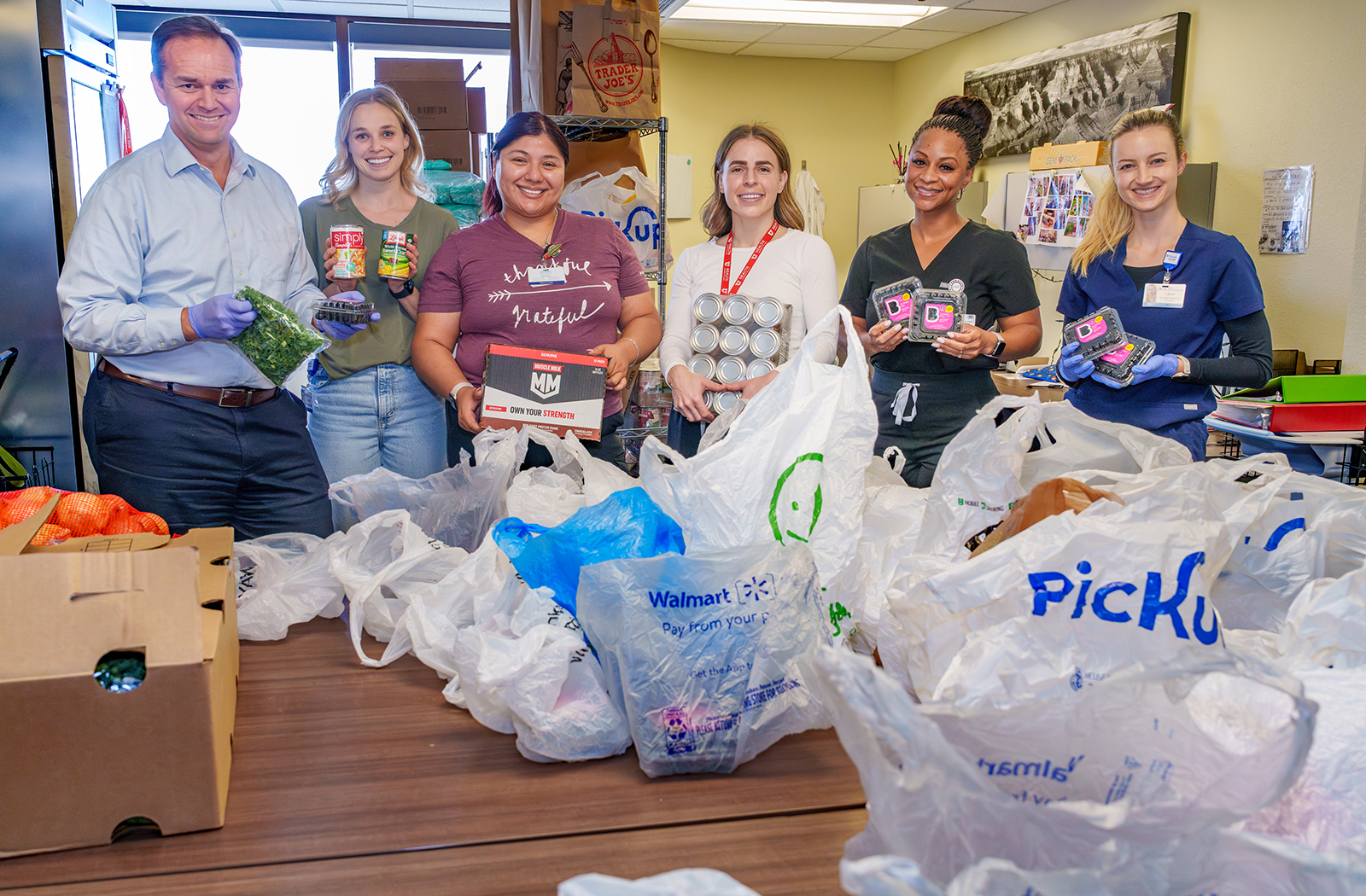 Pantry has provided access to healthy foods to hundreds of Arizona households
One in 10 people in Arizona face food insecurity. *This equates to more than 750,000 people — nearly one-third of whom are children. To meet the needs of those experiencing hunger, an estimated $438,117,000 more per year in income is needed.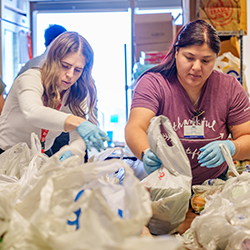 Recognizing this gap, Steven Brown, MD — a professor of Family, Community and Preventive Medicine and program director of the University of Arizona College of Medicine – Phoenix's Family Medicine Residency — along with resident leaders partnered with St. Mary's Food Bank and Sun Produce to establish the Banner Family Food Pantry in April 2023.
"Two of our residents had this passion project a couple years ago to figure out how we could get healthy food to our patients directly. There are some systems that do, like grocery store vouchers, but our patients just had lots of barriers," Dr. Brown said. At first, they implemented a weekly produce pickup for patients but limiting it to one day made transportation difficult for some.
To circumvent those issues, Dr. Brown explained how they made it more accessible. "Now we have a food pantry that has this available full office hours; we have free fresh fruits and vegetables and healthy non-perishable items. There are no qualifications — any community member can use it. And we have gotten great feedback from our patients on how that is helping them," he said.
Funded by the Banner Highest and Best Use Award, the pantry — located in Banner's Family Medicine Center — is open every day during those office hours, making pickup more convenient for those in most need.
In the six months since it opened, the pantry has served 200 households — more than 600 total people — per month.
The response to the food pantry exceeded their own expectations and created opportunity for medical students and staff from the University of Arizona College of Medicine – Phoenix to get involved.
"All our residents participate; we have 24 residents, and they are scheduled on certain days to support the pantry. And then we have had half a dozen to a dozen medical students that have come," Dr. Brown said. In addition, they are building a partnership with the college's Wellness, Integrative Medicine and Nutrition Certificate of Distinction and Culinary Medicine Interest Group.
The goal is to improve patients' health through better access to healthy food. Lauren Schutz, Class of 2026, is one of two medical students focusing their Scholarly Project on examining in-depth how eliminating food insecurities can help to improve someone's overall health.
"When this program expanded into the food pantry, Dr. Brown and I decided to collaborate on a qualitative research study and interview patients who attended the pantry to learn about their experiences with food insecurity and having access to food through their primary care clinic," Schutz said. "We have not been able to measure specific health results, but the interviews that were conducted as part of our research study have already revealed how much patients value this food pantry and believe it will have a positive impact on their health."
Schutz, who plans to pursue primary care, noted how essential a healthy diet can be to not only alleviating the symptoms of chronic diseases but preventing them.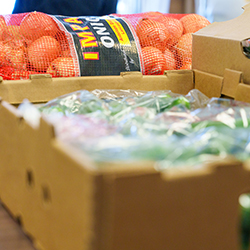 Allie Knox — an academic coordinator with the college's Culinary Medicine Program who helps run the pantry — spoke to the importance of diet in disease prevention, as well.
"It is so essential for people to have access to healthy food for prevention of diet-related disease. This is what the Culinary Medicine Program teaches future doctors to use in patient practice," she said. "Educating doctors on food as medicine and teaching them how to use food as medicine in patient practice is the best way to emphasize the importance of healthy food."
In the future, Dr. Brown hopes to expand the pantry to include other programs and departments. "There are health systems that have massive food pantries that serve hundreds of people a week, so that would be a goal. We have talked about that with Banner," Dr. Brown said. For now, though, "We wanted to just show that we could do this, and that it works."
*These numbers were provided by Feeding America, the largest hunger-relief organization in the United States. Feeding America is a nationwide network of food banks, food pantries and community-based organizations in the United States. They work to end hunger by providing food and support to millions of people.
About the College
Founded in 2007, the University of Arizona College of Medicine – Phoenix inspires and trains exemplary physicians, scientists and leaders to optimize health and health care in Arizona and beyond. By cultivating collaborative research locally and globally, the college accelerates discovery in a number of critical areas — including cancer, stroke, traumatic brain injury and cardiovascular disease. Championed as a student-centric campus, the college has graduated more than 800 physicians, all of whom received exceptional training from nine clinical partners and more than 2,700 diverse faculty members. As the anchor to the Phoenix Bioscience Core, which is projected to have an economic impact of $3.1 billion by 2025, the college prides itself on engaging with the community, fostering education, inclusion, access and advocacy.