Fredric Edward Wondisford, MD, MS, MBA, Named Dean of the College of Medicine – Phoenix
Following an extensive national search, the University of Arizona Health Sciences has named Fredric Edward Wondisford, MD, MS, MBA, dean of the University of Arizona College of Medicine – Phoenix, effective October 2.

Dr. Wondisford is an experienced clinician, professor and inventor with more than 30 years of experience in academic medicine and translational research. He joins the university from Rutgers University, where he is professor and chair of the Department of Medicine in the Robert Wood Johnson Medical School, the Henry Rutgers Chair and Chancellor Scholar at Rutgers Health, and chief of the Medical Service at the Robert Wood Johnson University Hospital, an RWJBarnabas Health facility.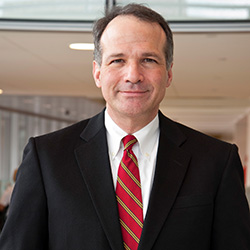 At Robert Wood Johnson Medical School, Dr. Wondisford expanded the Department of Medicine's mentoring, teaching, clinical, research and community outreach activities while leading internal medicine care and teaching efforts at Robert Wood Johnson University Hospital.

"Dr. Wondisford's background in academic medicine, clinical integration and research growth are a perfect fit for the next dean of the College of Medicine – Phoenix," said Michael D. Dake, MD, senior vice president for the University of Arizona Health Sciences. "Phoenix is home to a flourishing health care technology ecosystem that offers the perfect environment to capitalize on Dr. Wondisford's experience in medical education innovation, as well as his vast research portfolio. I am confident Dr. Wondisford will lead the College of Medicine – Phoenix into a new era of distinction."

As a physician-researcher, Dr. Wondisford developed, patented and clinically launched Thyrogen®, a form of recombinant thyroid-stimulating hormone that changed the standard of care for patients with thyroid cancer. He has three patent applications pending for inventions related to diabetes and fatty liver disease. He has been continuously funded by the National Institutes of Health (NIH) since 1990 and successfully led NIH-funded P60 Diabetes Centers and T32 endocrinology training programs at the University of Chicago and Johns Hopkins University. During his academic career, he has scientifically mentored 77 trainees, 40 of whom have gone on to obtain faculty appointments and develop independent research careers.
"I have a long-standing interest in the medical education of students, residents and fellows, and the College of Medicine – Phoenix has a reputation for excellence in all of these areas," Dr. Wondisford said. "This is an exciting time as the college expands residency and fellowship programs in partnership with Banner Health and continues to make significant contributions to patient care through research innovation. I look forward to leading the college through its next growth phase."

"We are excited for Dr. Wondisford to serve in this vital role to execute the overall vision of Banner Health's academic division through the unique partnership between our two organizations," said Michael Kupferman, MD, senior vice president of physician enterprise and president of the Banner – University Medicine Division. "His expertise in advancing patient care, research and medical education will further support our mission to ensure that patients have access to specialized health care services within Arizona and beyond."

Prior to moving to Rutgers University, Dr. Wondisford was director of the Diabetes Institute at Johns Hopkins University, chief of the Endocrinology and Metabolism Division at the University of Chicago, and chief of the Thyroid Unit at Beth Israel Deaconess Medical Center and Harvard University, in addition to other professorships.

A graduate of the Northeastern Ohio College of Medicine, Dr. Wondisford completed his internship and residency in internal medicine at University Hospitals of Cleveland and Case Western Reserve University Medical School in Cleveland, Ohio. He underwent additional training as an endocrinology research fellow at the National Institute of Diabetes and Digestive and Kidney Diseases, a Division of the NIH.

Recently, he completed a Cornell University combined program resulting in Master of Science and Master of Business Administration degrees in health care policy, management and leadership with a special emphasis on academic strategy.

Dean Guy Reed, MD, MS, who has led the College of Medicine – Phoenix since 2017, will remain with the college in his faculty position to focus on translational cardiovascular research.
About the College
Founded in 2007, the University of Arizona College of Medicine – Phoenix inspires and trains exemplary physicians, scientists and leaders to optimize health and health care in Arizona and beyond. By cultivating collaborative research locally and globally, the college accelerates discovery in a number of critical areas — including cancer, stroke, traumatic brain injury and cardiovascular disease. Championed as a student-centric campus, the college has graduated more than 800 physicians, all of whom received exceptional training from nine clinical partners and more than 2,700 diverse faculty members. As the anchor to the Phoenix Bioscience Core, which is projected to have an economic impact of $3.1 billion by 2025, the college prides itself on engaging with the community, fostering education, inclusion, access and advocacy.