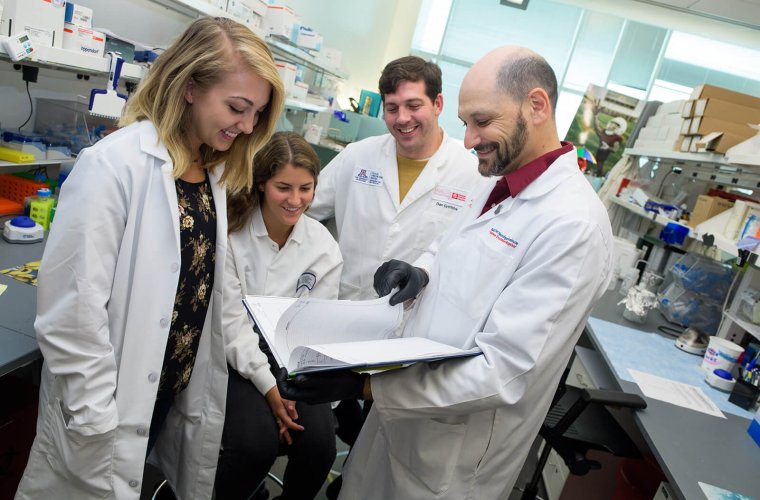 Graduate Researcher Selected for Prestigious NIH Award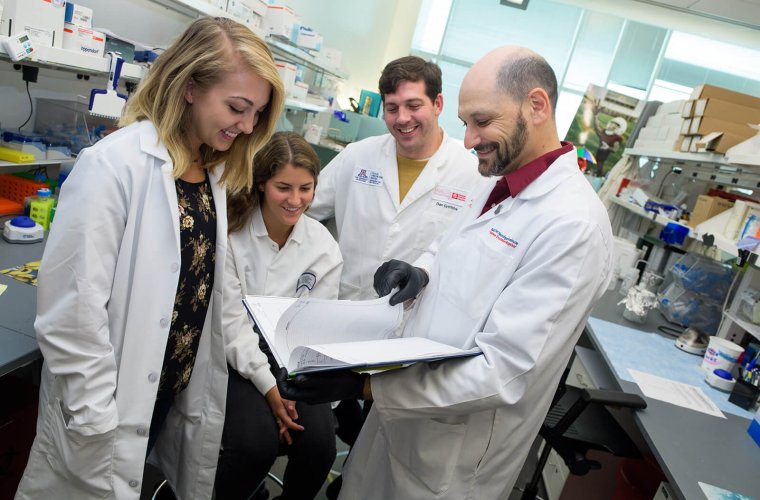 Katherine Giordano Receives F31 National Research Service Award to Advance TBI Research
Katherine Giordano, a doctoral candidate at the University of Arizona College of Medicine – Phoenix, received a prestigious grant from the National Institutes of Health (NIH) to continue her training and research, which could advance the diagnosis and prognosis of injury and recovery from traumatic brain injury (TBI) and other neurological conditions.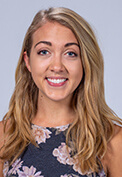 Giordano received an F31 National Research Service Award from the National Institute of Neurological Disorders and Stroke, which is part of the NIH. This funding provides support for her graduate training and will position her for a competitive post-doctoral position upon graduation.
Giordano is studying neurological injuries and disease, including TBI, in the laboratory of Jonathan Lifshitz, PhD, director of the Translational Neurotrauma Research Program. She is specifically studying the triggers of inflammation, which cause immune cells in the brain, called microglia, to become activated. They are investigating the lesser-known activated microglia subtype known as rod microglia.
"Rod microglia have been reported in the diseased brain for over a century, but their function in neurological injury and disease is unknown," Giordano said. "Under this award, we will determine cell surface makers and gene expression unique to rod microglia after TBI. These markers could serve as biomarkers in the diagnosis and prognosis of injury and/or recovery from TBI and other neurological conditions."
Rod microglia are positioned at critical junctures in the disease and injury progression. Under this fellowship, Giordano said her ultimate research goal is to determine the diagnostic and prognostic potential of rod microglia in the clinic after TBI and other conditions such as Alzheimer's disease, ALS, MS, and more.
"The markers that we will develop could be used to detect rod microglia or even stop or start their formation, which could influence outcome," she said. "However, until markers can discriminate rod microglia from other activated microglia, their role and impact on recovery after TBI remains unknown."
Giordano joined the Translational Neurotrauma Research Program in 2016 as a research technician in the laboratory of Murtaza Akhter, MD, to investigate inflammation after intracerebral hemorrhage. She began the graduate program as a student in Dr. Lifshitz's lab in the fall semester of 2018.
"The F31 award is a fellowship to support my training under Dr. Lifshitz," Giordano said. "The training potential and mentorship during the fellowship are a large component of the award selection process. By understanding my goals, Dr. Lifshitz can provide opportunities for professional growth to help me achieve them."
Giordano is finishing up her second year in the Clinical Translational Sciences PhD Program at UArizona College of Medicine – Phoenix. Dr. Lifshitz also mentors a Fulbright Fellow from Colombia, Luisa Maria Valencia-Rojas, as a graduate student. Dr. Lifshitz noted "funding to support graduate students is scarce and difficult to obtain, and yet these positions are critical to the future of academic medicine. Opportunities exist for philanthropy to support talented young scientists."
About the College
Founded in 2007, the University of Arizona College of Medicine – Phoenix inspires and trains exemplary physicians, scientists and leaders to optimize health and health care in Arizona and beyond. By cultivating collaborative research locally and globally, the college accelerates discovery in a number of critical areas — including cancer, stroke, traumatic brain injury and cardiovascular disease. Championed as a student-centric campus, the college has graduated 593 physicians, all of whom received exceptional training from nine clinical partners and more than 2,400 diverse faculty members. As the anchor to the Phoenix Biomedical Campus, which is projected to have an economic impact of $3.1 billion by 2025, the college prides itself on engaging with the community, fostering education, inclusion, access and advocacy.