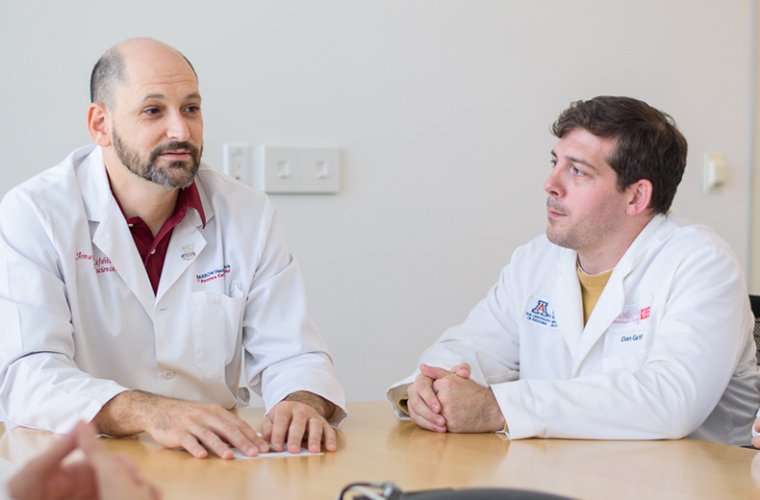 Improving Care for Domestic Violence Victims with Concussions and Traumatic Brain Injuries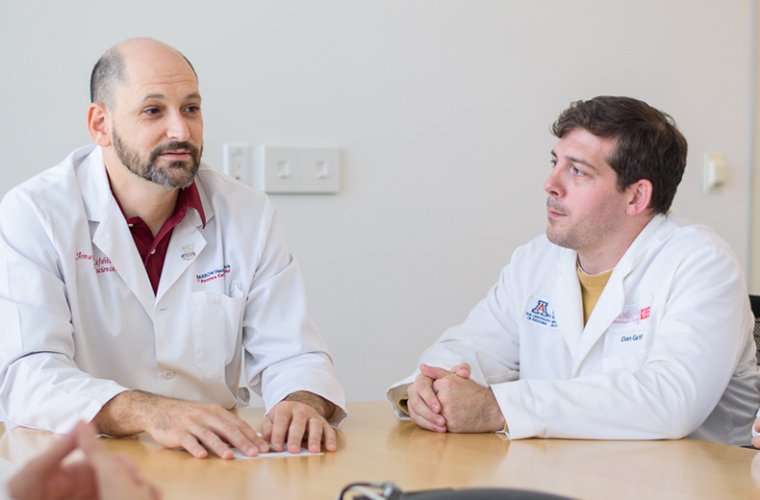 UA Faculty Dedicated to Improving Lives of Patients with TBIs
Faculty at the University of Arizona College of Medicine – Phoenix, Barrow Neurological Institute at Phoenix Children's Hospital, and The CACTIS Foundation are improving detection and care for domestic violence victims suffering traumatic brain injuries (TBIs) by determining the best protocols for law enforcement, forensic nursing, social workers, shelters, and health care providers.
Jonathan Lifshitz, PhD, and Hirsch Handmaker, MD, faculty at the UA College of Medicine – Phoenix, are leading these research efforts in Phoenix.
"Health care professionals across disciplines have rarely, if ever, considered domestic violence and intimate partner violence as a cause for TBI," said Jonathan Lifshitz, PhD, director of the Translational Neurotrauma Research Program at the UA College of Medicine – Phoenix and Barrow Neurological Institute at Phoenix Children's Hospital. "This may arise because in the emergency department other more pressing clinical complaints prevail, like broken bones and lacerations. In the more chronic setting, the victim typically lacks the language or understanding of TBI to articulate the symptoms and need for treatment."
Twelve million individuals each year are affected by intimate partner violence, with an estimated 90 percent of these relationships involving physical abuse to the head, neck and face.
"The issue of TBI and domestic violence is not a Phoenix or Arizona issue, it is a national issue," Dr. Lifshitz said. "We hope to educate the general public and practitioners about this combined epidemic, while taking action to understand and then develop programs to intercept the cycle of violence."
The group is working on a series of diagnostic and treatment protocols to educate health care providers and mandatory reporters at a local and national level.
Police Department Partnership
A new report explored the involvement of police departments in early identification of concussion signs during domestic violence calls.
Led by the Mesa Police Department, the College of Medicine – Phoenix, The CACTIS Foundation, and the Maricopa County Attorney's Office, the report revealed police officers can assist in detecting and providing more comprehensive medical care for victims of domestic violence who suffer a possible head injury.
This is the first time a process has been tested to involve police departments in identifying and serving victims of domestic assault that may have suffered TBI. The study provides a framework for other police departments to initiate and replicate these ongoing efforts by the Mesa Police Department. The Tempe Police Department has followed suit.
"The education and insight about the frequency of TBI in the domestic violence population is new for police departments," Dr. Lifshitz said. "We recognize that TBI signs and symptoms may complicate police work, and awareness allows better delivery of services. Many approaches to engage police departments are met with resistance, but the opportunity exists to accomplish the mission of serving citizens."
Forensic Nursing Exams
TBIs are not evaluated during standard forensic nursing exams following a domestic violence assault, strangulation or rape. But researchers say adding neurologic tests to current protocols could encourage victims to seek treatment.
Led by fourth-year medical student Bridget Ralston, the group analyzed patient cases from the Mesa Family Advocacy Center between June and July 2017. They found that 100 percent of cases involving strangulation, 52.6 percent of incidents involving a blow to the head with the perpetrator's hand and 36.8 percent of cases where the victim fell to the ground showed clinical signs of TBI that was undiagnosed during the exam.
"As a result of these findings, our team proposes an expansion of the exam to include near point of convergence, balance and hand-eye coordination testing to heighten detection of TBI signs in victims," said Dr. Handmaker, CEO of The CACTIS Foundation, an organization focused on advancing the diagnosis, treatment and prevention of TBIs. "By detecting these signs early, community efforts can guide patients toward recovery, appropriate treatment options and successful return to society."
Dental Trauma
Dr. Lifshitz and Timothy Ellis, a dental student at Midwestern University, published an article that highlighted the role dentists can play in identifying domestic violence victims. The article reports that as much as 75 percent of head and neck trauma associated with domestic violence occurs with oral injury. Researchers concluded that dentists are in the unique position to be the first line of defense in identifying evidence of assault, and then reporting potential cases of domestic violence.
"The overall purpose of the paper is to bring dentistry and its subspecialties into the conversation about traumatic brain injury (TBI), specifically in cases of domestic violence," Ellis said.
"In our society, and others around the world, domestic violence is more common than many would suspect. Survivors recount 'too many times to remember' that they were abused and blacked out or were struck in the head.
Thus, oral and facial trauma may be treated or identified by dentists and dental sub-specialists, opening another avenue for patients to gain access to proper care or needed assistance."
About the College
Founded in 2007, the University of Arizona College of Medicine – Phoenix inspires and trains exemplary physicians, scientists and leaders to optimize health and health care in Arizona and beyond. By cultivating collaborative research locally and globally, the college accelerates discovery in a number of critical areas — including cancer, stroke, traumatic brain injury and cardiovascular disease. Championed as a student-centric campus, the college has graduated 593 physicians, all of whom received exceptional training from nine clinical partners and more than 2,400 diverse faculty members. As the anchor to the Phoenix Biomedical Campus, which is projected to have an economic impact of $3.1 billion by 2025, the college prides itself on engaging with the community, fostering education, inclusion, access and advocacy.