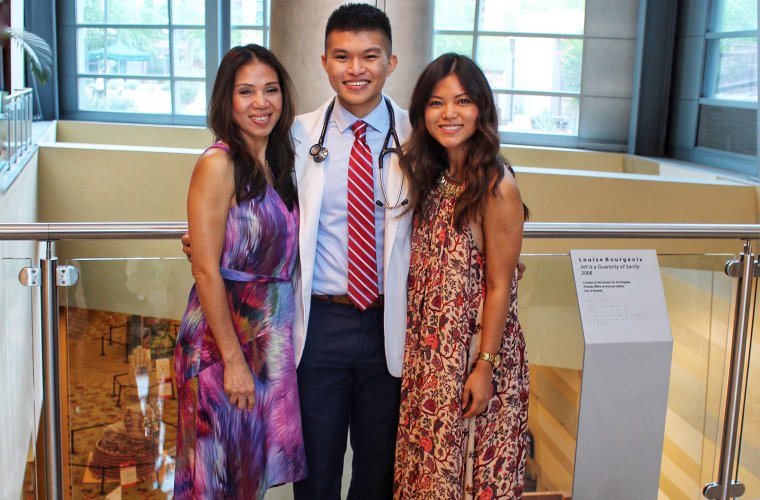 Match Day Profile: Allen Doan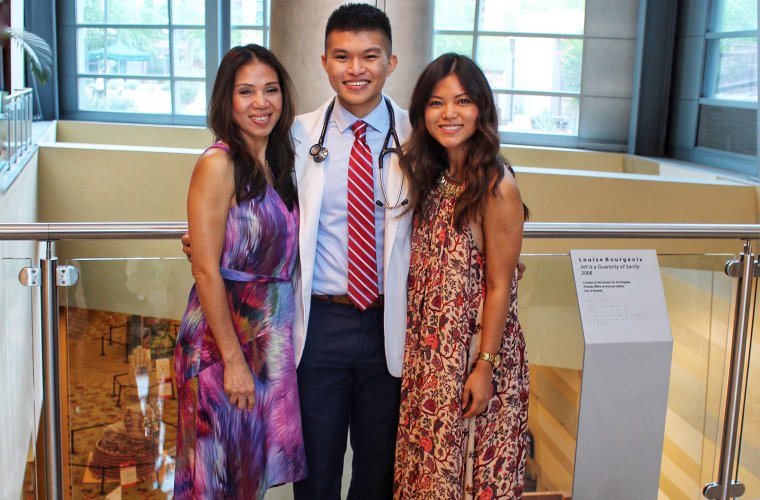 Student's Desire to Care for the Underserved Leads Him to a Career in Medicine
Every third Friday in March, fourth-year medical students across the United States learn where the next chapter in their careers will be written. Match Day is the day when the National Resident Matching Program releases results to applicants in sealed envelopes, revealing where they will spend the next several years in residency training in their chosen specialty. After years of preparation and study, it is a long-awaited and well-deserved day to celebrate. The University of Arizona College of Medicine – Phoenix is profiling several students for Match Day 2022.
Meet Allen Doan
Originally from Vietnam, Allen Doan moved to the U.S. with his sister and mother when he was eight years old. Throughout his journey to medical school, they have served as his biggest supporters. His mother was a single parent, and Doan credits her selflessness with helping him achieve his dreams; and his sister, often his cheerleader, was there to administer tough love whenever necessary.
A 'Wildcat Wonder,' Doan attended the University of Arizona for his undergraduate degree. He then became a Pathway Scholar with the University of Arizona College of Medicine – Phoenix. His success in that program helped him matriculate into medical school.
Path Toward Medicine
What was the spark that led you to become a physician?
Growing up with limited access to health care, I never saw myself becoming a physician. After moving to the U.S. and having more access to health care, I developed a greater appreciation for medicine and the role physicians play in patient advocacy. I saw myself fulfilling this role to voice the unheard concerns of patients and improve access to health care, especially for women's health and the LGBTQ+ community.
My interest in medicine extends beyond the diagnosis. It's an opportunity to holistically care for someone. I have the privilege of being invited in someone's life and helping them in navigating their most vulnerable time.
Choosing a Specialty
Do you have a specialty? What is it and why did it interest you, or what led you to it?
Obstetrics and Gynecology! So fun fact, I grew up in a strong, female-headed household of eleven fearless women. My interest in women's health started as a gesture of respect for the women who had shaped me; but after my OB/GYN rotation, I realized it was more than a sign of respect. It was a passion for the field. OB/GYN enhances my ability to find harmony between being a human and the art of medicine. I found myself connecting with patients as an innate calling. I enjoy listening, observing and comforting my patients' concerns. In a way, my connection with patients stems from the women in my family.
What's Next?
Post-Match Day, what are your goals moving forward?
Celebrate! I enjoy spending time with my family and want to take advantage of every chance I get to be with them before starting residency. I'd like to travel and return to Vietnam. I still have family there, and it would be wonderful to celebrate my match with them. And of course, I'm going to play more Pickleball because I can't get enough; it's sort of a big "dill" now!
In terms of my career, my goal is to become an excellent physician in both clinical practice and community engagement. I plan to contribute to advancing women's health through research and advocacy work for social and reproductive justice.
The College of Medicine – Phoenix Culture
What will you miss most about the College of Medicine – Phoenix? Any advice for incoming medical students?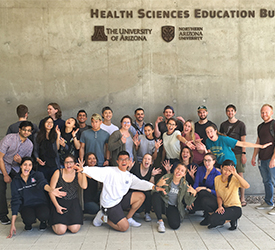 I will miss the people! We shared a special bond that not many people can relate to — from the retreat, to the long hours of studying, to the struggles of putting on a pair of gloves in front of our attendings. On top of that, we entered clerkship during a pandemic and managed to navigate ourselves through it. I admire the strength and perseverance of my classmates and will forever cherish the memories we had! #MostSupportiveClass
My advice to incoming medical students is to make mistakes, own them and wear them proudly. Allow yourself the space to be imperfect, so you can be comfortable with feeling uncomfortable.
Wildcat Wonder: a pupil who has attended the University of Arizona throughout their higher education journey, spanning from their bachelor's degree and beyond.
About the College
Founded in 2007, the University of Arizona College of Medicine – Phoenix inspires and trains exemplary physicians, scientists and leaders to optimize health and health care in Arizona and beyond. By cultivating collaborative research locally and globally, the college accelerates discovery in a number of critical areas — including cancer, stroke, traumatic brain injury and cardiovascular disease. Championed as a student-centric campus, the college has graduated 669 physicians, all of whom received exceptional training from nine clinical partners and more than 2,600 diverse faculty members. As the anchor to the Phoenix Bioscience Core, which is projected to have an economic impact of $3.1 billion by 2025, the college prides itself on engaging with the community, fostering education, inclusion, access and advocacy.