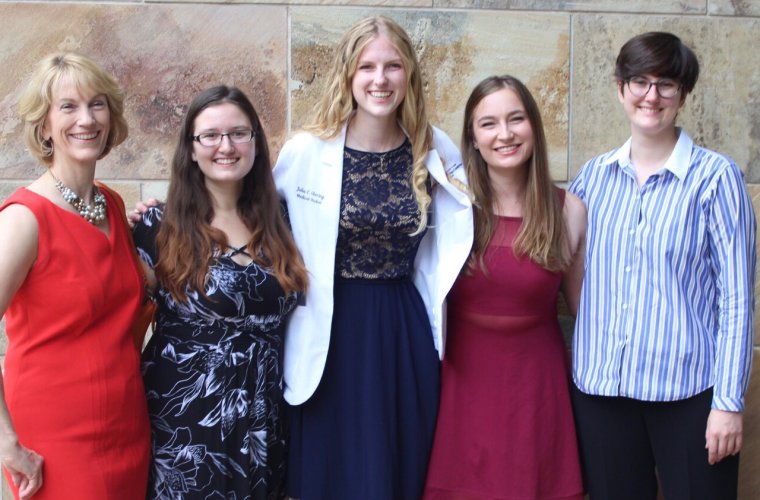 Match Day Profile: Julia Ghering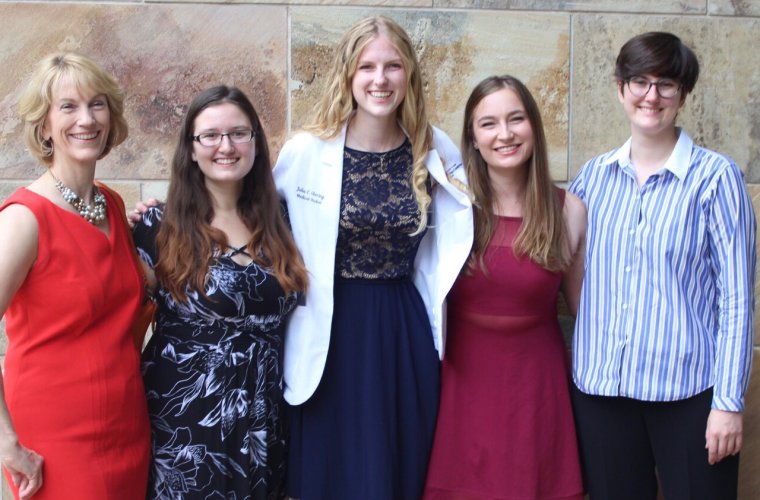 Volunteering with Those Less Fortunate Inspired Her to Pursue Medicine
Every third Friday in March, fourth-year medical students across the United States learn where the next chapter in their careers will be written. Match Day is the day when the National Resident Matching Program releases results to applicants in sealed envelopes, revealing where they will spend the next several years in residency training in their chosen specialty. After years of preparation and study, it is a long-awaited and well-deserved day to celebrate. The University of Arizona College of Medicine – Phoenix is profiling several students for Match Day 2022.
Meet Julia Ghering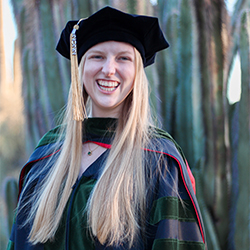 Julia Ghering credits her family — her mom, dad and older sibling Kay — with supporting her through her medical school journey. Fortunately, they were close throughout her four years of study.
She grew up in Lincolnshire, Illinois, which is also where she attended college at the University of Illinois at Urbana-Champaign. She majored in Interdisciplinary Health and minored in Chemistry.
It was also there where she became an emergency medical technician (EMT) — her first position in health care.
She and her family moved to Scottsdale, Arizona, in 2004.
Path Toward Medicine
What was the spark that led you to become a physician?
When I was in high school, I volunteered at a food kitchen through my music honors society. I saw so many of the people we were serving had medical problems — wounds that weren't healing properly, coughs that wouldn't go away and mental health concerns that weren't being addressed. I wanted to be able to understand the cause of these problems and know how to alleviate them.
Choosing a Specialty
Do you have a specialty? What is it and why did it interest you, or what led you to it?
I am pursuing a career in psychiatry! I initially became interested in psych while studying for the MCAT. I absolutely loved learning about the psychology section, and when I arrived at medical school, my first capstone project was observing a psychiatrist. I was hooked immediately and have been seeking out psychiatry ever since. I loved the idea of being able to do both psychotherapy and medication treatment.
What's Next?
Post-Match Day, what are your goals moving forward?
I would love to work in college mental health, helping students and faculty address their mental health concerns by identifying healthy coping mechanisms, finding treatment regimens that work, and being a source of support and guidance. I would also love to be involved with academic medicine in some way, teaching the next generation of physicians.
The College of Medicine – Phoenix Culture
What will you miss most about the College of Medicine – Phoenix? Any advice for incoming medical students?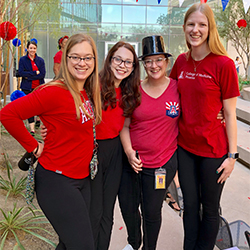 The things I will miss most about the UArizona College of Medicine – Phoenix are the amazing friendships I formed. Whether getting Nami's with Casey, exploring Tampa after STEP 1 with Michelle, or hanging out with Charlotte and her many adorable pets, I have met some wonderful people who will continue to inspire me.
I would advise future medical students that, as much as possible, try not to worry and enjoy the process. You will end up exactly where you are meant to be.
About the College
Founded in 2007, the University of Arizona College of Medicine – Phoenix inspires and trains exemplary physicians, scientists and leaders to optimize health and health care in Arizona and beyond. By cultivating collaborative research locally and globally, the college accelerates discovery in a number of critical areas — including cancer, stroke, traumatic brain injury and cardiovascular disease. Championed as a student-centric campus, the college has graduated 669 physicians, all of whom received exceptional training from nine clinical partners and more than 2,600 diverse faculty members. As the anchor to the Phoenix Bioscience Core, which is projected to have an economic impact of $3.1 billion by 2025, the college prides itself on engaging with the community, fostering education, inclusion, access and advocacy.