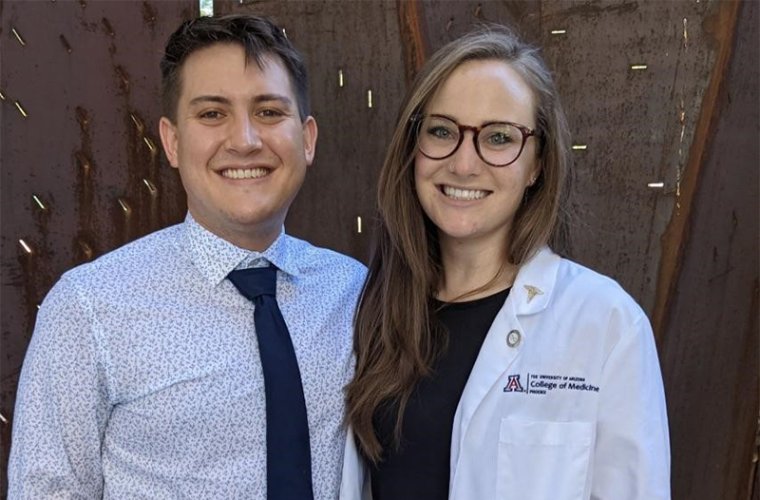 Match Day Profile: Michelle Peterson and Joseph Neely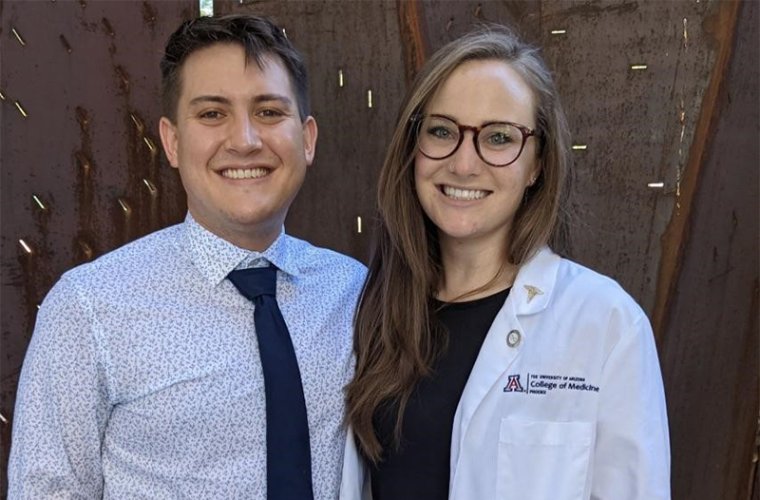 Matching with Your Significant Other Requires Determination and Support from Family and Friends
Every third Friday in March, fourth-year medical students across the United States learn where the next chapter in their careers will be written. Match Day is the day when the National Resident Matching Program releases results to applicants in sealed envelopes, revealing where they will spend the next several years in residency training in their chosen specialty. After years of preparation and study, it is a long-awaited and well-deserved day to celebrate. The University of Arizona College of Medicine – Phoenix is profiling several students for Match Day 2022.
Meet Michelle Peterson and Joseph Neely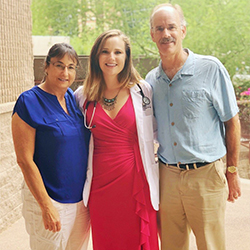 Michelle Peterson was born in Mountain View, California and lived most of her life around the San Francisco Bay Area. She attended UC Santa Cruz for her undergraduate degree and lived in Oakland until she moved to Phoenix for medical school.
In college, Peterson studied biology and bioethics and worked in community organizing for public health and environmental policy during the summers. This is when she began thinking about a career as a physician, but it took a few years for her to decide to pursue medical school.
Peterson's family and friends, though far away, have been very supportive of her during medical school and are always available to chat and cheer her on.
Joseph Neely is a native Arizonan. Born and raised in Ahwatukee, part of the Phoenix metro area, Neely then moved to Tucson to attend the University of Arizona for his undergraduate degrees in physiology and molecular and cellular biology. After graduating, Neely spent two more years in Tucson, splitting his time between a small biotechnology company and working with an electrophysiologist cardiologist. Neely found his passion for medicine and research during this time and was excited to move back to Phoenix for medical school.
Neely credits his family for being an incredible support system. His mom, dad, sister and grandma have always pushed him to achieve his potential. His family has been a consistent source of support throughout his journey through medical school.
Path Toward Medicine
What was the spark that led you to become a physician?
Peterson: Being a physician was in the back of my head growing up and throughout college. My mom was a nurse and my dad directed clinical research, so there was an abundance of medical talk growing up in my home. However, it wasn't until after I graduated that I finally decided to apply to medical school. After graduation, I did an internship in health care advocacy and spent a few months traveling. I had a lot of different jobs and experiences, including cancer research, patient advocacy and community organizing for state policy. When I moved to Oakland, I returned to working in environmental and public health campaigns. Talking to people about health care and public health every day was really the spark that pushed me to apply to medical school. I realized that I wanted a job where I got to meet lots of different people, talk about health care and improve the health of my community.
Neely: I'm the first physician in my family. Growing up, I was always fascinated with my biology classes. I was always asking why and was never satisfied until I found the answer. This eventually led me to start working with Mayo Clinic, doing bench research in high school. I loved the lab, as it provided a never-ending trove of questions to be answered. While I loved the complexity of research, it was missing the "spark." I didn't truly find this until I was working with an electrophysiologist cardiologist after I earned my undergraduate degrees.
I was able to find the same complexity that I saw in the lab, but with patient pathophysiology. And better yet, this understanding and work didn't go toward grants and papers but went toward patients' lives. Working with patients experiencing complex arrhythmias and medical needs — and helping them achieve the life they want — was the most rewarding thing I'd experienced.
Choosing a Specialty
Do you have a specialty? What is it and why did it interest you, or what led you to it?
Peterson: I am planning on matching into family medicine. I love family medicine because I get to work in several areas of medicine — including minor procedures and working with a variety of populations. Family medicine gives me the space to pursue my passions in addiction medicine, reproductive and women's health, and preventive medicine. I will also have ample opportunity to continue pursuing patient advocacy and promoting health care policies that progress health equity.
Neely: I am planning on matching into internal medicine with the hopes of potentially doing a cardiology fellowship — and maybe electrophysiology further in the future. While I've tried my best to delve into other specialties, internal medicine and cardiology keep calling me back. I credit the majority of this to my previous work with the electrophysiologist cardiologist, Jerrold Winter, MD. I still find myself trying to find strange EKGs and trying to pick them apart.
What's Next?
Post-Match Day, what are your goals moving forward?
Peterson: Hopefully we will be able to have a nice vacation before starting residency and have as much fun with my classmates and friends before residency starts. After that, my goal is to not fall on my face too much in my intern year and, you know, learn to be an awesome doctor.
Neely: I would like to take a well-earned vacation prior to starting residency. Outside of medicine, I want to keep advancing my hobby of home fermentation.
The College of Medicine – Phoenix Culture
What will you miss most about the College of Medicine – Phoenix? Any advice for incoming medical students?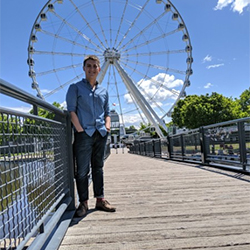 Peterson: Medical school was definitely an adjustment for me. My advice for incoming students is to talk to your classmates, study with them and collaborate with them. Also, practice asking for help. This is a skill I am not very good at and am constantly refining. Reach out to doctors in the community, students in other classes and residents. I have found that an overwhelming majority of people I reach out to are thrilled to lend a helping hand.
Neely: Medical school is incredibly difficult but finding your community both in and outside of the school is important. The friends I've made during my past four years are undoubtedly some of the strongest bonds I've made. Find your niche and invest in your friends and community. They will be the ones who will be there for you when you need help during your four years.
Couples Match – Finding Their Best Fit
Did you meet at the College of Medicine – Phoenix? What was that like?
Peterson and Neely: We did meet here! In the beginning of our first year, we quickly became study partners and friends. We spent many late nights in the library with our study squad and had a common friend group. Over our first year, we found that we had a lot in common and had a blast trying new breweries, going on hiking adventures and watching a regrettable amount of the Bachelor/Bachelorette. We started dating near the end of the first year. It has been truly amazing to go through the difficult process of medical school with my partner and best friend. We are incredibly excited for what our future holds as we couples match into our residencies together!
What does it mean to be able to take the next step in your journey together?
Peterson: Couples matching is a little scary and more work than I thought it was going to be, but I am ecstatic to have the opportunity to match with my partner and best friend.
Neely: Matching is an incredibly stressful process as it is, and couples matching makes it even more complicated. We are both very grateful to have the opportunity to tie our applications together to ensure we match at compatible programs. We are very grateful for the support of our faculty, family and friends, who have helped us through this complex process.
About the College
Founded in 2007, the University of Arizona College of Medicine – Phoenix inspires and trains exemplary physicians, scientists and leaders to optimize health and health care in Arizona and beyond. By cultivating collaborative research locally and globally, the college accelerates discovery in a number of critical areas — including cancer, stroke, traumatic brain injury and cardiovascular disease. Championed as a student-centric campus, the college has graduated 669 physicians, all of whom received exceptional training from nine clinical partners and more than 2,600 diverse faculty members. As the anchor to the Phoenix Bioscience Core, which is projected to have an economic impact of $3.1 billion by 2025, the college prides itself on engaging with the community, fostering education, inclusion, access and advocacy.