Match Day Student Profile: Fawsia Osman
Medical Student Passionate about Pursuing a Career in Internal Medicine
For four years, students at the University of Arizona College of Medicine – Phoenix have worked toward Match Day — the day they learn where they will spend the next several years as resident-physicians and a major step toward building their career in medicine. Match results are released nationally at ceremonies coordinated to occur at the exact same time across the country. Members of the Class of 2020 will receive letters that reveal where they will go for their residency training at precisely 9:00 a.m. Friday, March 20. The UA College of Medicine – Phoenix is profiling several students in advance of Match Day 2020.
Meet Fawsia Osman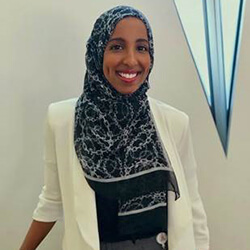 Fawsia Osman was born and grew up in Nairobi, Kenya, and completed high school there. She moved to Phoenix in 2012 and graduated from Arizona State University with a bachelor of science degree in biochemistry. She started medical school shortly afterward.
Osman speaks fluent Swahili, which she said came in handy during her ICU rotation. She helped organize a family meeting for her patient when the health care team was unable to get in touch with the patient's family.
Path toward Medicine
Osman said she knew from an early age she wanted to pursue medicine.
"Medicine allows me to help others while being constantly engaged and intellectually challenged," she said. "I look forward to learning something new every day, whether from my patients' personal stories or the diseases that ail them.
"It's a privilege to take care of patients from all walks of life — sometimes during the most vulnerable and difficult times of their lives. It's truly a special bond built on trust that provides a glimpse into a patient's life beyond their illness. These personal relationships make it all worth it, and I can't imagine myself doing anything else."
Choosing a Specialty
Osman said she changed her mind "more times than I can count."
It wasn't until her last rotation of third-year, while on an internal medicine clerkship, she found her fit.
"It's a field that requires a wide breadth of knowledge and emphasizes an understanding of the rationale behind each diagnosis, treatment and management plan," Osman said. "It also provides the opportunity to form long-term relationships with patients and be able to provide continuity of care."
Extracurricular Activities
Osman is enrolled in the dual degree MD/MPH program and is looking forward to incorporating public health in her career and specialty. She co-chaired the Health Fairs Community Health Initiative – Phoenix (CHIP) Program, where she worked with local community programs to recruit medical students and physicians in providing care to uninsured and underserved communities in Phoenix.
She also enjoyed working as a gross anatomy tutor during her second year.
Why the College of Medicine – Phoenix
Osman said the culture at the University of Arizona College of Medicine – Phoenix is like no other. "We work hard, while fostering a collaborative and supportive environment that allows students to thrive. We are surrounded by faculty and staff who genuinely want the best for us and will go the extra mile to help us. The curriculum and clinical training are excellent with endless opportunities that train us to become well-rounded clinicians."
Favorite Medical School Memory
"Those that stand out are my surgery and family medicine rural rotations at Tséhootsooí Medical Center on the Navajo reservation, and my time with the Hepato-Pancreato-Biliary (HPB) surgical team at Banner – University, where I was part of the organ procurement team," she said.
Advice to Current or Future Medical Students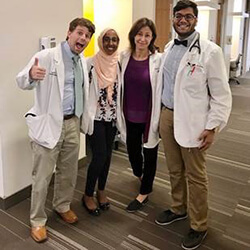 Her advice is not to lose sight of the big picture.
"You've worked hard to get to where you are and while you still have a long way to go, appreciate how far you've come. Enjoy the process, celebrate the small victories and when faced with challenges along the way, reach out to your support system to help you get through it."
About the College
Founded in 2007, the University of Arizona College of Medicine – Phoenix inspires and trains exemplary physicians, scientists and leaders to optimize health and health care in Arizona and beyond. By cultivating collaborative research locally and globally, the college accelerates discovery in a number of critical areas — including cancer, stroke, traumatic brain injury and cardiovascular disease. Championed as a student-centric campus, the college has graduated 593 physicians, all of whom received exceptional training from nine clinical partners and more than 2,400 diverse faculty members. As the anchor to the Phoenix Biomedical Campus, which is projected to have an economic impact of $3.1 billion by 2025, the college prides itself on engaging with the community, fostering education, inclusion, access and advocacy.