Medical Student Bridget Ralston Graduates Early to Address Physician Shortage During Coronavirus Pandemic
Ralston will Volunteer with Health Hotline Before Residency Begins at UA College of Medicine – Phoenix
Fourth-year medical student Bridget Ralston will join the health profession early to help address the physician shortage during the novel coronavirus pandemic. Ralston has completed the requirements to graduate early from the University of Arizona College of Medicine – Phoenix.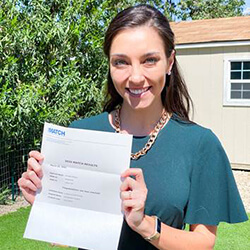 Although her residency doesn't begin until mid-June, Ralston will began serving April 13 by answering hotline questions from the public about symptoms and procedures for dealing with COVID-19. She will stay in Phoenix for her residency training at the College of Medicine – Phoenix program at Banner – University Medical Center Phoenix in Orthopaedic Surgery.
"There is a nationwide shortage of health care providers," Ralston said. "This was true long before COVID-19 was declared a pandemic. Now, that shortage is even more keenly felt, as providers are struggling to manage the addition of coronavirus patients into their already heavy workload. I applied to graduate early so that I can shoulder some of the responsibility."
Ralston said although she is not qualified to start taking shifts in an intensive care unit, she hopes to relieve some of the burden so that providers with more experience can focus on patients.
While Ralston's family is appropriately concerned about her safety, they are proud she is joining the fight against COVID-19.
"I cannot believe that I am about to graduate from medical school," Ralston said. "I do not think I will feel 'officially graduated' until our virtual ceremony in May. Knowing that I will be able to treat patients as of April 13 is bittersweet, as I have loved my medical school journey. While I am sad I am unable to celebrate this accomplishment with my family and friends, I know that I will be making a small difference immediately upon graduating." 
Starting from the first day of medical school four years ago, Ralston said, students were taught to practice with compassion and empathy, which she will carry through residency and in caring for future patients.
"Our teachers and mentors embody the same characteristics they encourage in students and are already doing their part to fight the pandemic," Ralston said. "Graduating early seems like a natural step in my education and allows me to continue practicing the principles I was taught throughout medical school."
About the College
Founded in 2007, the University of Arizona College of Medicine – Phoenix inspires and trains exemplary physicians, scientists and leaders to optimize health and health care in Arizona and beyond. By cultivating collaborative research locally and globally, the college accelerates discovery in a number of critical areas — including cancer, stroke, traumatic brain injury and cardiovascular disease. Championed as a student-centric campus, the college has graduated more than 800 physicians, all of whom received exceptional training from nine clinical partners and more than 2,700 diverse faculty members. As the anchor to the Phoenix Bioscience Core, which is projected to have an economic impact of $3.1 billion by 2025, the college prides itself on engaging with the community, fostering education, inclusion, access and advocacy.