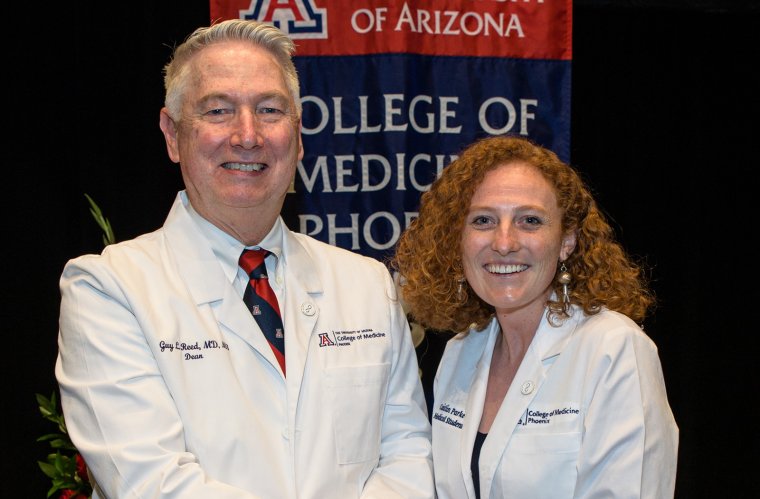 Medical Student Wins Writing Award for Reflection on First Year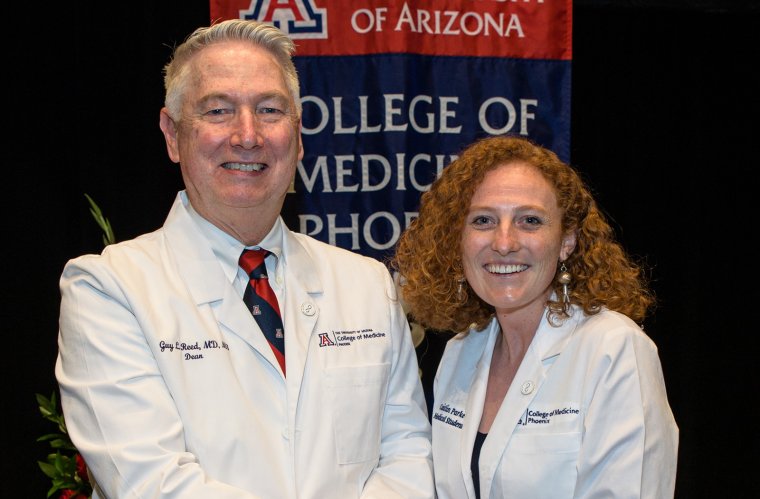 Second-Year Student Describes her Experience and Emotions During First Year of Medical School
Caitlin Parke, a second-year medical student at the University of Arizona College of Medicine – Phoenix, received the Student Growth and Self-Reflection Writing Award in the annual Narrative Medicine Program competition for her personal essay that described the challenges and emotions she felt during her first-year of medical school.
"I'm thrilled and honored," Parke said. "It is also incredibly encouraging. I have received so many congratulations and words of encouragement from mentors and other students expressing their thanks for sharing. I know I have benefited immensely from reading other works of reflection, and it is really nice to see that other people have enjoyed reading my story."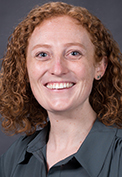 Parke was awarded a $500 scholarship from the Maricopa County Medical Society for her essay, which shared a personal story of her mother's miscarriage with her brother, Alexander. Parke came home after her first-year of medical school and was doing her usual sweep of the house, finding hidden treasures, forgotten T-shirts and old diaries. When looking for an unused journal, she discovered a folder tag labeled Alexander. She had heard of her brother before and knew her mother had a miscarriage before Parke and her sister were conceived.
"I remember asking her about him when I was in high school. 'What went wrong?' 'A lot of things. That is why I'm so lucky to have you,'" Parke wrote. "…Seeing his name written in the familiar script of my dad's handwriting, he was suddenly more real. Not just a memory, but a real tangible loss. I peeked in the folder."
When Parke opened the folder, she saw three Polaroids, which showed a tiny blurry baby wrapped in blue surgical cloths. There was a stack of papers included in the folder, it was the autopsy report. Expired: 1/20/92. Male. Gestational weeks: 20. Brain: holoprosencephaly. Lungs: hypoplastic, left; aplastic, right. Diaphragm: absent, left. Ears: low set. Eyes: aplastic. The sticky note in her mother's handwriting wrote, "Two problems: brain, diaphragm. No known genetic condition."
"It all hit me," Parke wrote. "Not for the first time, but with a force much more powerful, having just finished my first year of medical school. I was struck by a wave of humility and understanding of why I am studying so hard. For months, I spent countless hours in lecture halls and the anatomy lab. I pored over notes and textbooks with the occasional stress spiral about test scores... There is always a person, a loved one, a family member behind each diagnosis. That is what keeps me studying. Medical knowledge is interesting, yes, but I learn it because someday that knowledge will save someone's life or offer them comfort through understanding."
Parke, who practices writing almost daily as a way of decompressing and sorting through her thoughts, never intended to share her story. "I had a much more emotional response to it than I anticipated, mostly huge grief and empathy for what my mom went through," she said. "I knew her experience was traumatic, but I had no idea how much she went through until I read the report. I needed to work through it, so I just started writing."
Parke's story was shared with the campus community, including first-year medical students. She hopes they take away an appreciation for how each step in medical education works as a part of the big picture, without losing sight of what it is all about.
"I think part of what makes medicine an 'art' is striking that balance between public servant, teacher, scientist, therapist, human being, etc.," she said. "We all have the human part down by nature of being bipedal apes with advanced language capabilities, but the other areas need some fine tuning."
Parke added that medical school teaches a lot about being a scientist, particularly in the first two years. She hopes that after reading the essay, students are encouraged to embrace the science in the first two years, but appreciate that it doesn't make the other aspects of being a physician any less important.
"As I was writing it down, I realized how easily it brought me back to why I decided to go into medicine in the first place," Parke said. "We talk so much about burnout and how to make time for ourselves, but I think a huge burden that physicians and, arguably, humanity as a whole faces is this idea that we are going through everything alone."
Parke continued, "I shared it, mostly, as a way of telling my community, and myself to some degree, that I'm here. I know it's hard — trust me, I know. It's a long road, but each of us has something that pushed us toward medicine. If we all share a little bit about our hopes and motivations, even our major struggles and embarrassments, it brings us together, and that community is what keeps us moving forward."
About the College
Founded in 2007, the University of Arizona College of Medicine – Phoenix inspires and trains exemplary physicians, scientists and leaders to optimize health and health care in Arizona and beyond. By cultivating collaborative research locally and globally, the college accelerates discovery in a number of critical areas — including cancer, stroke, traumatic brain injury and cardiovascular disease. Championed as a student-centric campus, the college has graduated 593 physicians, all of whom received exceptional training from nine clinical partners and more than 2,400 diverse faculty members. As the anchor to the Phoenix Biomedical Campus, which is projected to have an economic impact of $3.1 billion by 2025, the college prides itself on engaging with the community, fostering education, inclusion, access and advocacy.