Medical Students and Physicians Develop New Ways to Protect Health Providers
University of Arizona Medical Students, Physicians and the Community Try to Mitigate the Spread of COVID-19
Medical students and physicians at the University of Arizona College of Medicine – Phoenix are collaborating with partners across the state to create innovative strategies and novel inventions to better protect health care professionals and mitigate the spread of the coronavirus.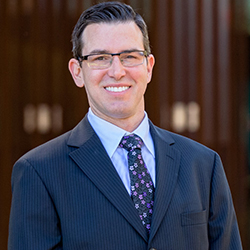 About 20 University of Arizona College of Medicine – Phoenix students have joined the Arizona COVID-19 Innovation Team started by Kevin Hirsch, MD, the college's interim chair of Radiology, and Peter Nakaji, MD, the college's chair of Neurosurgery at Banner – University Medical Center Phoenix. The group is collaborating on multiple projects for health care workers with the College of Medicine – Tucson, Arizona State University and private industry engineers, including Joseph Barrett, an industrial designer at Mediphor in Tempe.
"Most medical students are currently sidelined," Dr. Hirsch said. "This gives them the chance to learn by innovation, development, validation and outreach. This will allow them to have a positive impact on frontline health care workers and save lives."
The Innovation Team was recently awarded a $25,000 grant from the Flinn Foundation for coronavirus research.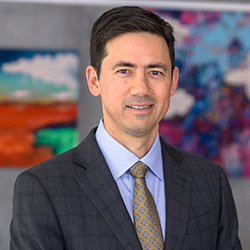 "This is a great multidisciplinary effort that involved College of Medicine – Phoenix medical students on the Innovation Team, faculty, outside engineers and community-based manufacturers working together to create a clinical solution to protect patients and health care workers," Dr. Nakaji said. "The generous grant from Flinn will allow this and other efforts to move forward."
One of the projects is an improved intubation isolation box. Every patient who needs a ventilator must be intubated, and this process risks showering the room and health care team with the coronavirus. A contained box to cover the patient can trap the virus and prevent transmission. Working from basic designs conceived elsewhere, the team developed a more sophisticated design that keeps health care workers safer by greatly reducing the risk of spreading Covid-19, yet is practical to build.
They also have created an alternative personal protective device that provides better coverage from the virus by using a full-face scuba mask with an adapter that incorporates a viral filter on the flow. The team has completed the 3D adapter for one type of mask and it's ready for use.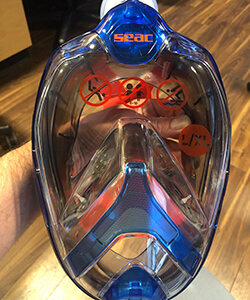 "As students at the College of Medicine – Phoenix, we have been inspired and impassioned by the work being done by our frontline health care professionals in Phoenix and felt the need to support them in any way possible," second-year medical student Stephanie Christensen said. "We're working to help our community by coming up with innovative solutions to the unique problems health care workers are facing in light of this global pandemic." 
Christensen added that shortages of personal protective equipment (PPE) — including masks, face shields and gowns — are leaving health care workers at risk for contracting COVID-19. "While it is important for industry and governments to step in to boost supplies, these supplies can take months to deliver, so any help we can provide quickly will be appreciated," she said.
The innovation team also is asking the community and local businesses with unopened PPE to donate the supplies.
"We have seen the struggle that places like Italy and New York are facing. They are losing nurses and doctors because they don't have sufficient equipment to protect themselves," third-year medical student Manroop Kaur said. "We do not send our U.S. Army heroes out to war without protective equipment, and we should not be sending our health care heroes to the frontlines without proper and sufficient PPE."
Other efforts include improving clinical decontamination protocols, better protection for aerosolizing procedures and reviewing protocols for putting on and taking off PPE.
To make these efforts come to fruition, the COVID-19 Innovation Team is looking for help from local businesses with access to 3D printers and others who might be able to donate PPE for local hospitals. For more information, contact the Innovation Team.
About the College
Founded in 2007, the University of Arizona College of Medicine – Phoenix inspires and trains exemplary physicians, scientists and leaders to optimize health and health care in Arizona and beyond. By cultivating collaborative research locally and globally, the college accelerates discovery in a number of critical areas — including cancer, stroke, traumatic brain injury and cardiovascular disease. Championed as a student-centric campus, the college has graduated more than 800 physicians, all of whom received exceptional training from nine clinical partners and more than 2,700 diverse faculty members. As the anchor to the Phoenix Bioscience Core, which is projected to have an economic impact of $3.1 billion by 2025, the college prides itself on engaging with the community, fostering education, inclusion, access and advocacy.