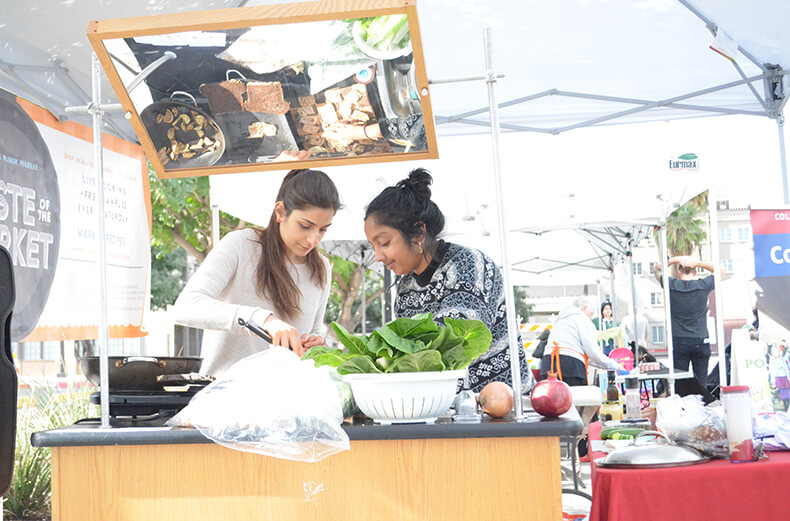 Medical Students Create Healthy Recipes at Phoenix Public Market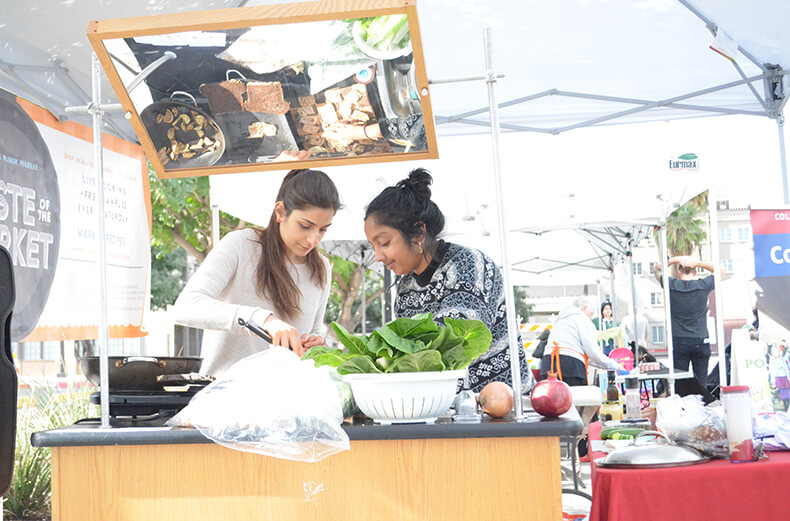 Culinary Medicine Interest Group Teaches Community the Importance of Eating Right
Medical students at the University of Arizona College of Medicine – Phoenix are stepping away from their textbooks for the weekend and into the kitchen.
The Culinary Medicine Interest group has partnered with Phoenix Open Air Market to provide free cooking demonstrations to market attendees. Every third Saturday of the month from 11:0 a.m. to 1:00 p.m., students will cook recipes using locally sourced ingredients and teach public market participants how the foods can improve their health.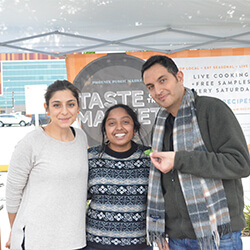 First-year medical students Leeann Qubain, Sukriti Bagchi and Deborah Yang started the demonstrations with faculty mentor, Farshad Fani Marvasti, MD, MPH. The first event took place in December.
"The Open Air Market is a great setting to spark discussion around healthy food and local sourcing," Bagchi said. "Making good choices consistently is hard in our current food climate, but I wanted to show people, and myself, that it's possible to make healthy, nutrient-packed, yummy food quickly and have it be locally sourced."
Medical students planned and cooked recipes based on market vendors that day. The students made almond butter and honey sandwiches, eggplant or cucumber and hummus on pita bread, and a salad with microgreens and pomegranate seeds with a honey mustard vinaigrette.
Qubain said she is looking forward to introducing more creative recipes at the market in the months to come and hopefully that will prompt more community participation.
"I hope people learn that healthy recipes can be both delicious and indulgent," she said. "Additionally, recipes can be simple and not time consuming even if they are a combination of healthy and delicious food."
About 95 percent of the ingredients used in the cooking demonstration were purchased through vendors at the market. For example, a sandwich included bread from Noble Bread, the apples were from Community Exchange and the honey was from AZ Beekeeper.
"The main goal was teaching people about healthy ingredients and how to put them together, but I also hope they learned a bit about the people behind the products," Bagchi said. "Leeann and I had so many conversations with each vendor about their food, and I hope people were able to go back to those vendors and learn more about their stories."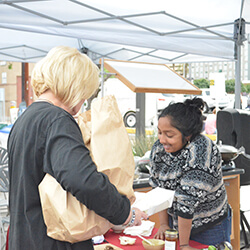 At the market, Dr. Marvasti, who is an integrative medicine specialist, spoke to attendees about food as medicine and its role in disease prevention. He shared how simple things like adding two teaspoons of apple cider vinegar to your meal can lower blood sugar.
"A lot of people go to the public market. It is a great forum for local farmers, local vendors and people to focus on community," Dr. Marvasti said. "A big part of farmers markets is not only getting tasty food, but also getting food that is nutritious. We want to make that link between how food can not only be something that you enjoy eating as a foodie, but it can be something that can help you treat and prevent disease."
Dr. Marvasti said the standard American diet is about 60 percent processed food, 30 percent animal protein, and a small sliver is plant based. However, to live a healthy lifestyle, the standard diet needs to be majority plant-based. He hopes that through the market, medical students can introduce healthy recipes and healthy eating habits that will ultimately help attendees live a happier and healthier lifestyle.
About the College
Founded in 2007, the University of Arizona College of Medicine – Phoenix inspires and trains exemplary physicians, scientists and leaders to optimize health and health care in Arizona and beyond. By cultivating collaborative research locally and globally, the college accelerates discovery in a number of critical areas — including cancer, stroke, traumatic brain injury and cardiovascular disease. Championed as a student-centric campus, the college has graduated more than 800 physicians, all of whom received exceptional training from nine clinical partners and more than 2,700 diverse faculty members. As the anchor to the Phoenix Bioscience Core, which is projected to have an economic impact of $3.1 billion by 2025, the college prides itself on engaging with the community, fostering education, inclusion, access and advocacy.