Medical Students Make Masks to Help Protect Physicians on Frontlines of Coronavirus Pandemic
University of Arizona Medical Students, Physicians and the Community Try to Mitigate the Spread of COVID-19
First-year medical students at the University of Arizona College of Medicine – Phoenix are donating handmade masks to local hospitals and clinics to help keep physicians and patients safe.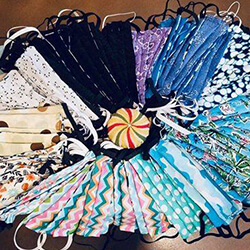 Students made 500 masks and distributed them to Banner – University Medical Center Phoenix, the Phoenix VA Health Care System, Banner Thunderbird Medical Center, veterinary clinics and blood donation centers.
"It is hard to sit still in your house knowing the friends you've worked with in the past and the doctors you look up to are bravely going into rooms without the correct personal protective equipment," medical student Kylie Kilian said. "As a first-year student, I often feel that I don't know enough to help, but I learned through this that it is simply not true. There is always some way we can be helping, and I am glad I found a way to help in this wild time."
First-year student Michele Wang echoed her thoughts. Wang, who loves to sew, said she felt the need to help as well.
"All of us wanted to do whatever we could," Wang said. "I love sewing, so when I found out I could help medical professionals with one of my favorite hobbies, I was happy to do it."
About 20 medical students are involved in creating and donating the masks. Since they started, outside groups have begun making masks to donate. Students have offered support in purchasing materials, sewing masks and delivering them to hospitals.
"The best part about this project is that it has grown so much," said Nisha Rehman, another first-year student. "It started with a couple medical students wanting to do their part and now various communities in Phoenix, Mesa, Tempe and Scottsdale have joined the College of Medicine – Phoenix in making masks. In this uncertain and scary time, it's nice to see communities coming together to make a positive difference."
Kilian published a post on Facebook in an attempt to get mask donations, she said, but people came out of the woodwork asking for patterns and wanting to know how they could help. They've received fabric donations and interest from groups wanting to sew masks with them.
"It has been inspiring to see how even when people are physically separated, people are kind and helpful. I love that we can all be alone together through this project," Kilian said.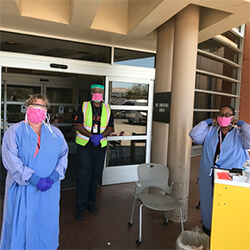 The group is encouraging donations of supplies, masks, gloves or any personal protective equipment for hospital use. For those interested in making masks, the students have provided a guide on how to make them.
"I hope the health care teams working right now feel seen, supported and more importantly, appreciated," Isiah Romo said. "As first-year medical students, we really cannot help much in the hospital setting, but we can show all of the doctors, physician assistants, nurses, techs, scribes that we are on their side and will do whatever we can to support them." 
To inquire about donations of personal protective equipment or supplies for masks, please contact Isiah Romo.
Topics
About the College
Founded in 2007, the University of Arizona College of Medicine – Phoenix inspires and trains exemplary physicians, scientists and leaders to optimize health and health care in Arizona and beyond. By cultivating collaborative research locally and globally, the college accelerates discovery in a number of critical areas — including cancer, stroke, traumatic brain injury and cardiovascular disease. Championed as a student-centric campus, the college has graduated 669 physicians, all of whom received exceptional training from nine clinical partners and more than 2,600 diverse faculty members. As the anchor to the Phoenix Bioscience Core, which is projected to have an economic impact of $3.1 billion by 2025, the college prides itself on engaging with the community, fostering education, inclusion, access and advocacy.