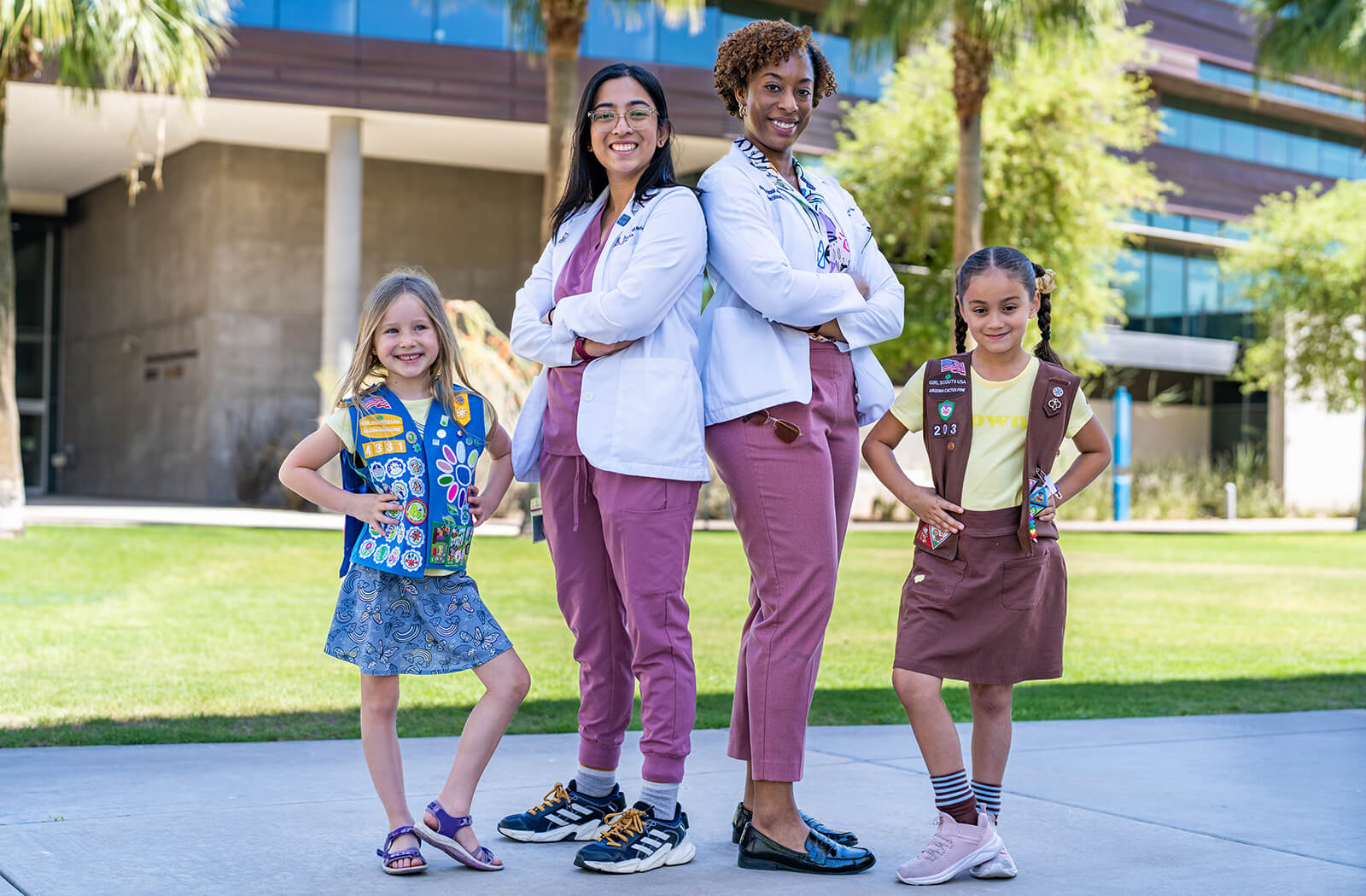 Medical Students Pay It Forward at the Inaugural Go Girl Scouts Go STEAM Camp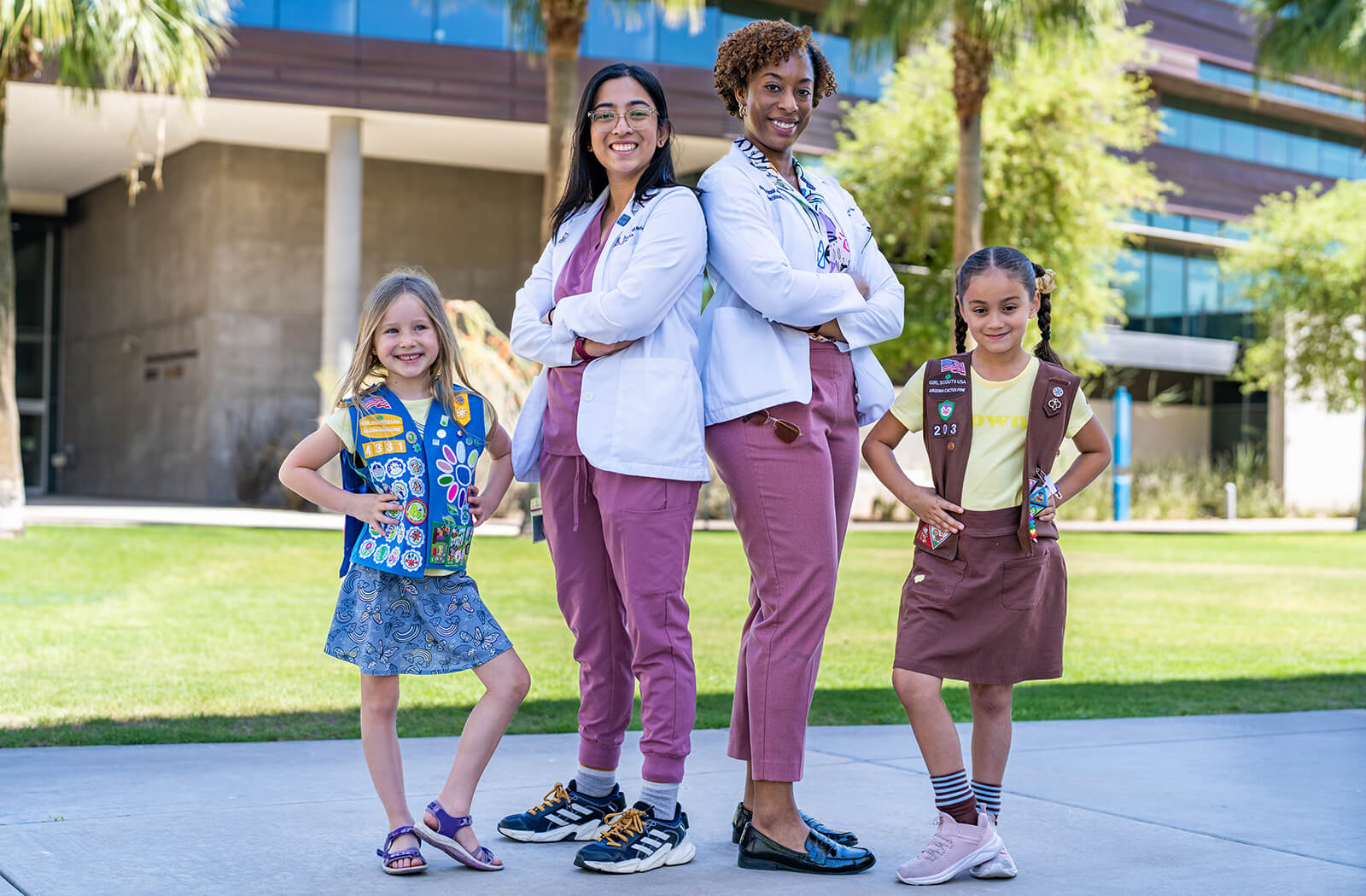 Former Girl Scouts — now medical students — introduce the next generation to careers in science and medicine
Since 1912, the Girl Scouts have been encouraging female youth across the country to dream big and to embrace confidence that they can accomplish whatever they set their mind to.
That spirit was present during the inaugural Go Girl Scouts Go STEAM Camp — an event designed to teach the scouts about Science, Technology, Engineering, Arts and Medicine (STEAM) through a variety of hands-on activities.
For medical students Naria Quazi, Class of 2025, Shannon Alsobrooks, Class of 2025, and Raquel Moore, Class of 2026, volunteering for the event was a no-brainer. All were Girl Scouts and highly valued the positive effect their experiences had on their own lives.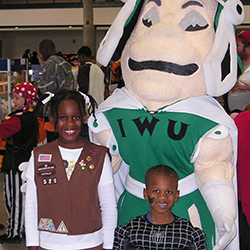 "I was a Girl Scout for over 12 years, and it truly shaped who I am today," said Alsobrooks. "It encouraged me to seek out opportunities and to challenge myself to get out of my comfort zone."
In addition, Alsobrooks noted how important it is for youth to have these tactile experiences. "The earlier the exposure to STEM career fields, the more time young people have to make good decisions that will shape who they become in the future."
Moore shared in those sentiments. "Volunteering for the event was a full circle moment for me," she said. "As a Girl Scout, there were many opportunities afforded to me that I would not have had otherwise, and I am so grateful. It gave me the push and confidence to try new things. Those are lifelong skills I still tap into today."
She added, "This event made me reflective of how what I learned during my time as a Girl Scout has stuck with me. It also reminded me of the importance of representation, community service and giving back."
Quazi built upon that idea of giving back, highlighting how crucial it is for young girls to have the opportunity to meet and interact with mentors who started exactly where they are now. "I see this as a great early opportunity to help them find role models that look like them in the field. We definitely need more women in medicine," she said.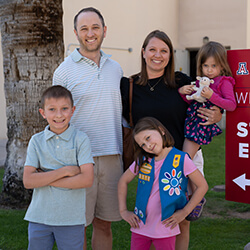 Kaitlyn Redfield-Ortiz, Girl Scout leader of her daughter's troop, was inspired to host the camp together with the college because of her daughter's fascination with medicine. Surprisingly, the source of her fascination is not her father, Zach Ortiz, MD — a Class of 2012 alumnus from the College of Medicine – Phoenix.
"Due far more to the Doc McStuffins cartoon than her father's job, my daughter, Grace, wants to be a pediatrician," she said. "She loves playing doctor and wants to learn more about medicine. As her Girl Scouts leader, I wanted to find a way to give her a taste of what medical school is like."
Held on the Phoenix Bioscience Core campus, the event was a collaboration between the University of Arizona College of Medicine – Phoenix's Office of Equity, Diversity and Inclusion and UArizona Health Sciences.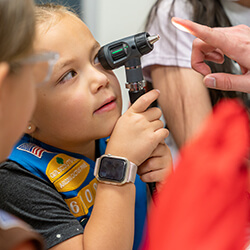 More than 50 scouts and their troop leaders attended the event and participated in activities provided by students and faculty from the UArizona College of Medicine – Phoenix, Women in Medicine and Science, the Mel and Enid Zuckerman College of Public Health, and the R. Ken Coit College of Pharmacy.
No matter the motivation behind Grace's initial interests, the camp was a magical day for their family. "Both Zach and Grace were beaming with pride the whole day," Redfield-Ortiz said. Being able to show our kids where Zach went to school helped to bring us closer as a family and helped them to know our story."
And, for the troop, her hope, "is that it helped them to internalize that they can grow up to do anything, including working in medicine."
About the College
Founded in 2007, the University of Arizona College of Medicine – Phoenix inspires and trains exemplary physicians, scientists and leaders to optimize health and health care in Arizona and beyond. By cultivating collaborative research locally and globally, the college accelerates discovery in a number of critical areas — including cancer, stroke, traumatic brain injury and cardiovascular disease. Championed as a student-centric campus, the college has graduated more than 800 physicians, all of whom received exceptional training from nine clinical partners and more than 2,700 diverse faculty members. As the anchor to the Phoenix Bioscience Core, which is projected to have an economic impact of $3.1 billion by 2025, the college prides itself on engaging with the community, fostering education, inclusion, access and advocacy.