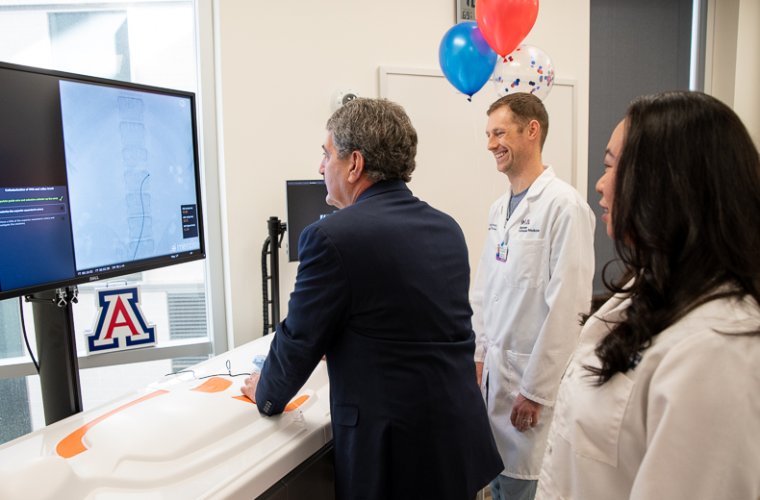 Medical Students Use Virtual Reality Trainer to Perform Endovascular Procedures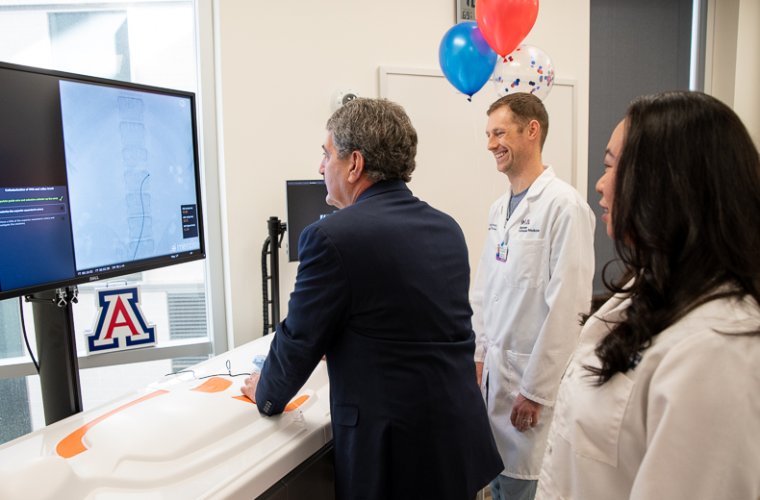 College is One of the First in the Country to Use the New Simulator
University of Arizona College of Medicine – Phoenix students and residents are learning to perform intricate surgeries with the use of a virtual reality simulator called Mentice.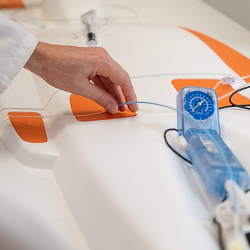 The college is one of the first medical schools in the U.S. to use the device for endovascular procedures.
Physicians often traverse blood vessels in a wide-range of treatments such as closing off an aneurysm, stopping a hemorrhage, treating a heart attack or targeting cancer. Previously, physicians would have needed to operate on a skull or perform open heart surgery to get to the source of the problem.
Now they can perform the procedure through an incision in the skin that's the size of a pinhole. The result is less cost and faster recovery for patients.
But physicians must first be trained to use the device.
Although less invasive, going through the vessels of the body can be a challenging task for a physician. If performed incorrectly, damage to the blood vessels and a variety of other complications can arise. This makes procedural training vital for patient care.
"Would you ever want a doctor to learn how to do a procedure for the first time on you?" asked Teresa Wu, MD, director of the Simulation Curriculum at the College of Medicine – Phoenix. "Of course not.
"This equipment allows us to train our health care professionals on high-fidelity mannequins and virtual reality trainers, so they don't have to practice on live patients," she said. "Interventional physicians and surgeons save lives, and this equipment will help our providers provide the best care possible."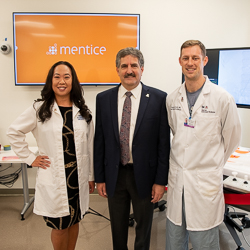 Dr. Wu described the Mentice medical simulator as a virtual reality system that's similar to playing a video game. A trainee operates the device with their hands and navigates through two-dimensional images, simulating real radiologic angiography images.
"This is the future of patient care," Dr. Wu said. "One day soon, doctors will be able to get a CT or MRI of their patient and have this data uploaded onto a virtual reality system, where they can view that individual patient's anatomy and practice the requisite procedure first with VR. By the time they operate on the patient, they will have practiced the procedure multiple times. It can be lifesaving."
The Mentice simulator was provided to Dr. Wu and Chris Goettl, MD, an interventional radiologist and clinical assistant professor at the college, through a Provost Grant. The device will train students, residents, fellows and practitioners.
Drs. Wu and Goettl plan to conduct research to study the effectiveness of training early learners with the Mentice device, and measure its impact on attracting students to new and exciting fields of medicine.
About the College
Founded in 2007, the University of Arizona College of Medicine – Phoenix inspires and trains exemplary physicians, scientists and leaders to optimize health and health care in Arizona and beyond. By cultivating collaborative research locally and globally, the college accelerates discovery in a number of critical areas — including cancer, stroke, traumatic brain injury and cardiovascular disease. Championed as a student-centric campus, the college has graduated 593 physicians, all of whom received exceptional training from nine clinical partners and more than 2,400 diverse faculty members. As the anchor to the Phoenix Biomedical Campus, which is projected to have an economic impact of $3.1 billion by 2025, the college prides itself on engaging with the community, fostering education, inclusion, access and advocacy.