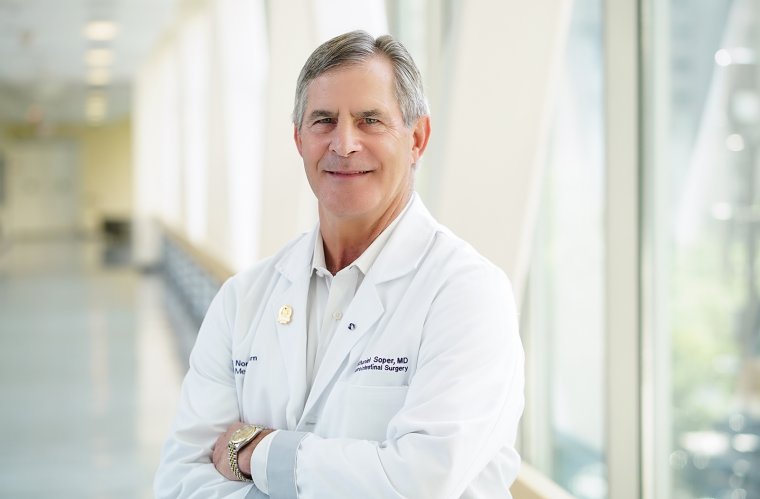 Nathaniel Soper, MD, Appointed Chair of the College's Department of Surgery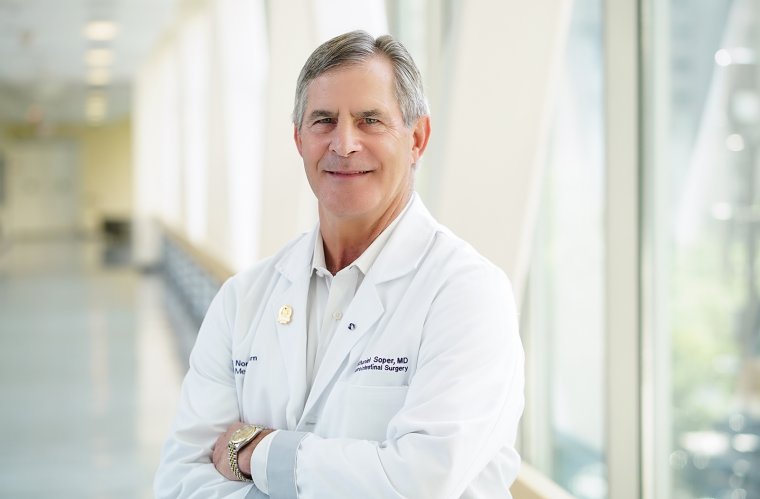 Nathaniel Soper, MD, has been appointed University of Arizona College of Medicine – Phoenix chair of the Department of Surgery. He will also hold the title of physician executive director of the General Surgery Service Line at Banner – University Medical Center Phoenix.
"I am excited to welcome Dr. Soper to lead the Department of Surgery. The collaboration between the University of Arizona College of Medicine – Phoenix and Banner – University Medical Center Phoenix will continue to raise the bar on surgical practices that improve patient outcomes and advance medical education across the field of surgery," said Guy Reed, MD, MS, dean of the College of Medicine – Phoenix.
Dr. Soper is a trailblazer in the field of minimally invasive surgery, foregut surgery and surgical education. He was one of the first academic surgeons performing laparoscopic surgery, which has defined his subsequent career. He has published more than 200 manuscripts, edited 17 textbooks and authored more than 100 book chapters.
Dr. Soper is the program director for the general surgery residency at Northwestern. He was previously the chair of the Department of Surgery at Northwestern University and surgeon-in-chief at Northwestern Memorial Hospital.
He will continue his research efforts at the College of Medicine – Phoenix, which have revolved around the applications of minimally invasive surgery for gastrointestinal disease, gallstones and benign esophageal disorders, as well as ultrasound and motility of the gastrointestinal tract. More recently, he has been involved in the early clinical experience with Natural Orifice Transluminal Endoscopic Surgery, including per-oral esophageal myotomy for achalasia.
Dr. Soper earned his medical degree from the University of Iowa School of Medicine. He completed a residency in General Surgery, including a year of laboratory investigation at the University of Utah Hospitals in Salt Lake City, Utah. He also spent two years as a National Institutes of Health funded fellow at the Digestive Disease Center at the Mayo Clinic in Rochester, Minnesota.
Since 1991, Dr. Soper has consistently been named in "The Best Doctors in America." He is a member of numerous professional societies and is past president of the Society for Surgery of the Alimentary Tract, the Society of American Gastrointestinal and Endoscopic Surgeons, the International Society of Digestive Surgery, the Central Surgical Association and the St. Louis Surgical Society. Dr. Soper was elected as a Founding Member of the American College of Surgeons Academy of Master Surgeon Educators in 2018.
Dr. Soper will assume his new role in September 2020. He will take over from Mira Milas, MD, who has served as interim chair.
"I would like to acknowledge the leadership, collaboration and mentorship that Dr. Milas has provided to the Department of Surgery. Dr. Milas is an exemplary leader, and we appreciate her commitment and dedication to the department," noted Dean Reed.
Topics
About the College
Founded in 2007, the University of Arizona College of Medicine – Phoenix inspires and trains exemplary physicians, scientists and leaders to optimize health and health care in Arizona and beyond. By cultivating collaborative research locally and globally, the college accelerates discovery in a number of critical areas — including cancer, stroke, traumatic brain injury and cardiovascular disease. Championed as a student-centric campus, the college has graduated 593 physicians, all of whom received exceptional training from nine clinical partners and more than 2,400 diverse faculty members. As the anchor to the Phoenix Biomedical Campus, which is projected to have an economic impact of $3.1 billion by 2025, the college prides itself on engaging with the community, fostering education, inclusion, access and advocacy.