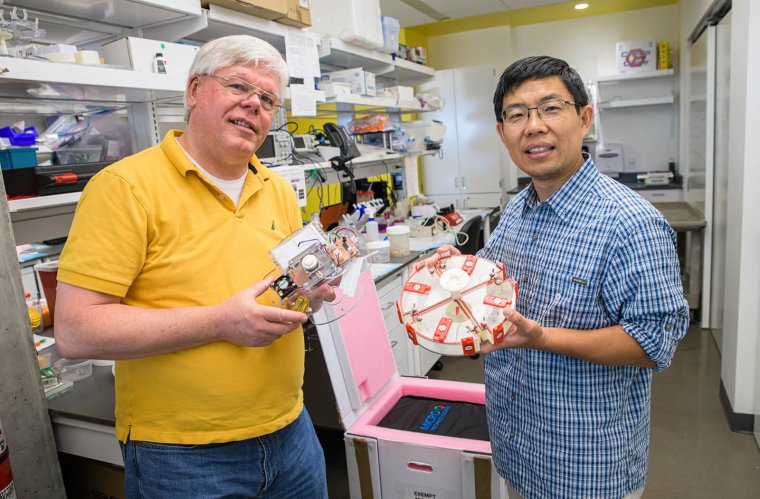 New Technology Could Dramatically Improve Response Time for Biospecimen Samples' Processing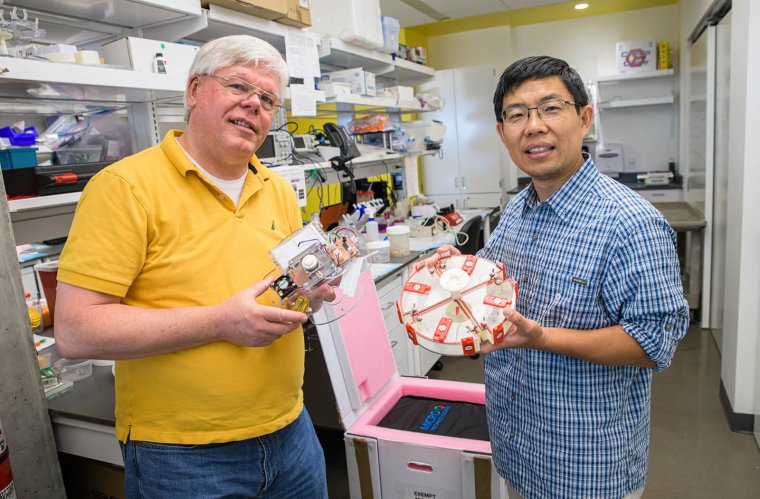 ANBM's Smart Shipping Incubator expedites the analysis of biospecimens, potentially cutting the processing time in half
Time and safety are essential when transporting human blood samples to laboratories for specialized analysis.
A new paper, "Automatic reagent handling and assay processing of human biospecimens inside a transportation container for a medical disaster response against radiation" — co-authored by Adam Akkad, Brett Duane, Jian Gu, PhD, Alan Norquist, and Frederic Zenhausern, PhD, MBA, of the University of Arizona College of Medicine – Phoenix's Center for Applied NanoBioscience and Medicine (ANBM) — was published in Plos One.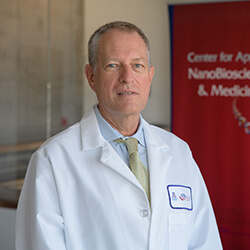 It outlines how the application of a micro-controlled centrifugal microfluidic system — lab-on-a-chip technology capable of analyses generally performed in laboratories — inside a shipping container can add reagent to an actively cultured human blood sample during transportation from a remote site of a radiological incident to a centralized laboratory. This would ensure a rapid biodosimetry of cytokinesis-block micronucleus (CBMN) assay.
Dr. Zenhausern, the director of ANBM and interim co-chair of the Department of Basic Medical Sciences, noted that the successful development of the technology could prove significant. "With the challenges in supply chain, as well as in the landscape of health care logistics related to decentralized care, global pandemics and vaccine delivery, alternative shipping technologies are highly desirable," he said.
Dr. Gu, lead researcher at ANBM and associate professor in the Department of Basic Medical Sciences, commented that "The U.S. government is also learning from the pandemic and understands the need to be prepared should a similar or more severe outbreak occur, such as accidental radiation exposure. Our technology is directly applicable to biodosimetry testing and fits the strategic medical countermeasures."
To date, active reagent handling during transportation from a collection site to a laboratory or biorepository has not been achieved. And the inability to test samples while in transit can lead to costly delays or even inaccurate results.
With no existing FDA-approved biodosimetry method capable of meeting the needs of a nuclear triage, the practicality is evident. And their shipping container — the Smart Shipping Incubator or SSI — has promisingly shown through testing that it can produce the culture of CBMN samples immediately after collection and during transportation, shortening the assay response time from six days to three.
"During a radiological emergency, individuals will develop the acute radiation syndrome (ARS) with a latent phase of 2-20 days based on their exposure level. Early medical interventions (first several days after exposure) have shown to improve the survival rate significantly," said Dr. Gu.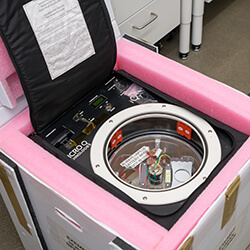 The process is complicated, but the SSI functions intelligently. "It features an automatic reagent release during transportation that is implemented by a timed centrifugal spinning and the orifice of the micropipette serving as a microfluidic valve to release the reagent when a relative centrifugal force (RCF) threshold is passed. To ensure that premature release does not occur, the SSI employs a valve to handle any shocks during transportation," Dr. Gu explained.
In their testing — a ground shipment from the college's campus to HonorHealth Research Institute (roughly 24 miles) — the ANBM team documented that none of their shock indicators were triggered, and the volumes of the reagent were not changed. This signaled that the valve functioned as expected, preventing any premature release from occurring.
Given improvements to the design — cost effectiveness, more economical size — they expect the concept of actively processing samples during transportation to be an attractive one. It would expedite the analyses of high-quality samples or safe distribution of clinical products, such as vaccines, with potential economic benefit — such as reduction in cold chain requirements — and provide for a more equitable access and rapid response should a large-scale health care crisis occur.
"The shortened time of biodosimetry will help the medical personnel to make an informed decision on medical intervention to utilize limited resources on the most needed cohort of patients in a timely manner," said Dr. Gu.
This work is sponsored by the National Institute of Allergy and Infectious Diseases (NIAID) and the Department of Defense (DoD).
About the College
Founded in 2007, the University of Arizona College of Medicine – Phoenix inspires and trains exemplary physicians, scientists and leaders to optimize health and health care in Arizona and beyond. By cultivating collaborative research locally and globally, the college accelerates discovery in a number of critical areas — including cancer, stroke, traumatic brain injury and cardiovascular disease. Championed as a student-centric campus, the college has graduated 745 physicians, all of whom received exceptional training from nine clinical partners and more than 2,700 diverse faculty members. As the anchor to the Phoenix Bioscience Core, which is projected to have an economic impact of $3.1 billion by 2025, the college prides itself on engaging with the community, fostering education, inclusion, access and advocacy.