Opioid Line to Aid Providers in Addiction Fight
Line to Provide Expert Guidance to Providers Treating Patients with Pain or Opioid Use Disorders
A new 24-hour hotline for physicians treating patients addicted to opioids has been established by the Center for Toxicology and Pharmacology Education and Research at the University of Arizona College of Medicine – Phoenix and the Arizona Department of Health Services.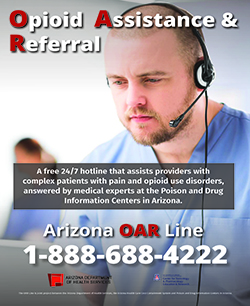 The free Opioid Assistance and Referral (OAR) Line, 1-888-688-4222, is meant to improve safety and treatment for patients addicted to opioids.
Data from the Department of Health Services show that the opioid epidemic continues to grow. From June 15, 2017, to May 10, 2018, 7,730 opioid overdoses were reported, a 74 percent increase over the previous four years.
Ayrn O'Connor, MD, an associate professor of Emergency Medicine and program director of the college's medical toxicology fellowship, said deaths from opioid overdoses make up more than 50 percent of all overdose deaths, and doctors need help in building a treatment plan for their patients.
"It is not like treating high blood pressure," Dr. O'Connor said. "We cannot prescribe a daily pill and just expect someone to get better. Addiction comes with a high risk of relapse and societal consequences, too."
The line provides 24-hour, seven-days-a-week direction to providers. Physicians can obtain real-time access to health care professionals including, pharmacists, nurses and physicians with expertise in medical toxicology, pharmacology and substance use disorders.
The experts offer consultations about prescribing opioids, treating individuals suffering from acute and chronic pain, managing high-risk patients, reconciling medication interactions, reducing opioid dosing and treating patients with acute opioid complications or opioid withdrawal. They also provide referrals for patient support and outpatient opioid and treatment services, as well as referrals for patients seeking behavioral health treatment.
Though there is a heavy focus on better educating providers, the line also offers Arizona citizens and caregivers suggestions for resources and referrals for those seeking treatment for opioid use disorder, chronic pain or opioid withdrawal; transfers to behavioral health services or substance abuse/medication assisted treatment services; as well as routine patient follow-up calls to confirm well-being.
Tomi St. Mars, MSN, RN, chief of the Office of Injury Prevention at the Department of Health Services, is optimistic that the new hotline can ensure providers and patients are supported.
Daniel Brooks, medical director of the Banner Poison and Drug Information Center and co-director of the UA's toxicology center, said "the OAR line will be a great asset to Arizona's long-term plans to correct the opioid crisis."
About the College
Founded in 2007, the University of Arizona College of Medicine – Phoenix inspires and trains exemplary physicians, scientists and leaders to optimize health and health care in Arizona and beyond. By cultivating collaborative research locally and globally, the college accelerates discovery in a number of critical areas — including cancer, stroke, traumatic brain injury and cardiovascular disease. Championed as a student-centric campus, the college has graduated more than 800 physicians, all of whom received exceptional training from nine clinical partners and more than 2,700 diverse faculty members. As the anchor to the Phoenix Bioscience Core, which is projected to have an economic impact of $3.1 billion by 2025, the college prides itself on engaging with the community, fostering education, inclusion, access and advocacy.