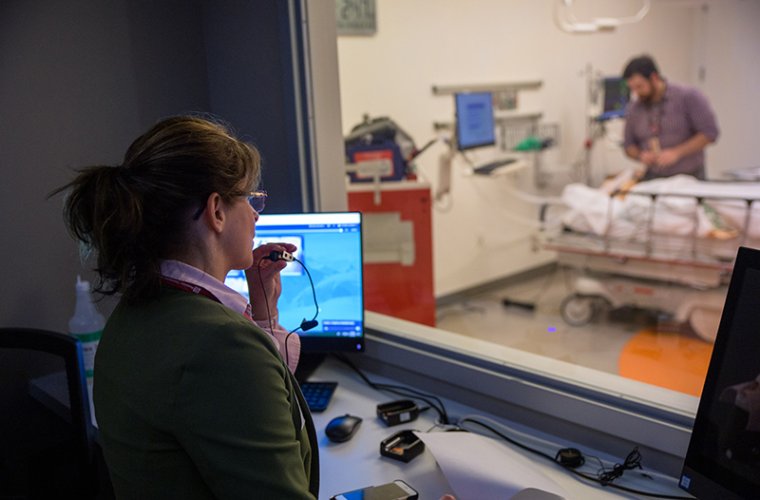 Physician Seeks to Improve Training for Brain Death Testing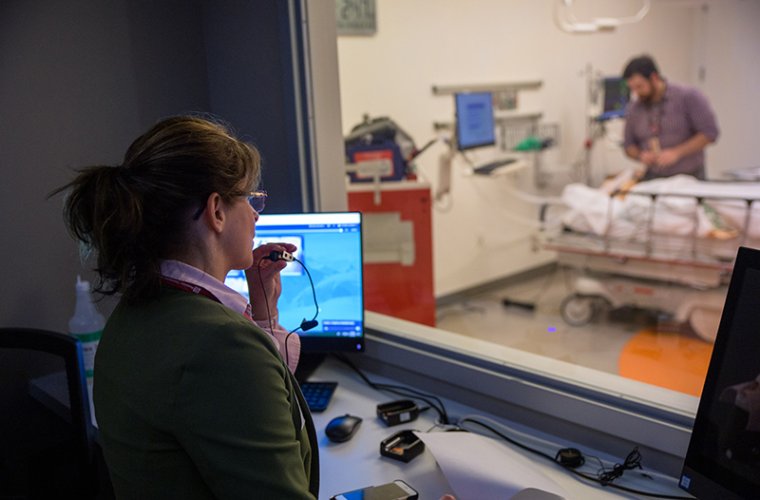 UA physician and Center for Simulation and Innovation Collaborate to Assess Brain Death Training
In pediatrics, there is no standard training guideline for doctors to perform brain death exams. Michele Munkwitz, MD, an associate program director of the Critical Care Fellowship at the University of Arizona College of Medicine – Phoenix Division of Pediatric Critical Care at Phoenix Children's Hospital, is collaborating with the college's Center for Simulation and Innovation on a three-year study to assess the ability of residents and fellows to improve their skills in performing brain death exams.
As part of the research, the team recently trained about 20 residents and fellows over two days in the simulation center. Sessions included simulation brain death testing as well as training on how to discuss the sensitive topic with a child's family.
Explain Your Research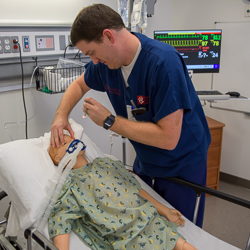 This is an educational study using simulation and role-play exercises to teach and evaluate skills in performing brain death exams and includes training in communicating with families. There currently are 11 Pediatric Critical Care fellows, one Neuro Critical Care fellow, one Cardiovascular Intensive Care Unit fellow and eight Pediatric Neurology residents and fellows. We plan approximately 22 participants per year.
Why is This Important?
The brain death exam is used to declare death in patients who have suffered an irreversible loss of entire brain function. Brain death, or death declared with neurologic criteria, is a rare event in pediatrics. There is literature to suggest that Pediatric Critical Care fellows have inconsistent opportunities to perform the exam. It also has been found that the fellows are more comfortable with their skills after they have had six independent opportunities to perform the exam. We hypothesize that, given a consistent opportunity to perform six exams with simulation, trainees will be comfortable with and competent in their exam skills and the ability to communicate with families in this uniquely difficult time.
How Will This Help the Community?
If our hypothesis is true, this study will inform guidelines and standards in brain death examination education. We hope to contribute to increasing trust with families and in the community regarding this diagnosis.
What Has Previous Research Shown?
Previous studies have found increased short-term retention of skills in the exam with a one-time simulation. However, there is no evidence that a one-time simulation increases long-term retention, competence and confidence in skills. This study will evaluate repeated simulations over time and long-term retention and confidence in skills. We base our practice of six simulations on a 2018 study in Pediatric Critical Care Journal that found confidence in exam skills increased after six independent exams.
Why Now?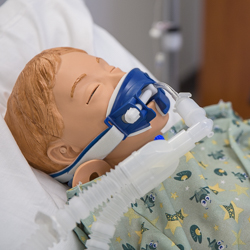 There has been much public controversy in the area of declaration of death with neurologic criteria, especially in pediatrics. The study last year highlighted the discomfort that many trainees have with their exam skills. We hope to build skills in trainees that will foster trust with families and the public.
How Did You Become Interested in this Area of Research?
I have an interest in ethics, as well as medical education. I have been deeply impacted by my own experiences with children who have suffered irreversible loss of their entire brain. It is such a difficult and confusing time for families. It is my hope to improve the process and make the experience better for everyone.
About the College
Founded in 2007, the University of Arizona College of Medicine – Phoenix inspires and trains exemplary physicians, scientists and leaders to optimize health and health care in Arizona and beyond. By cultivating collaborative research locally and globally, the college accelerates discovery in a number of critical areas — including cancer, stroke, traumatic brain injury and cardiovascular disease. Championed as a student-centric campus, the college has graduated 745 physicians, all of whom received exceptional training from nine clinical partners and more than 2,600 diverse faculty members. As the anchor to the Phoenix Bioscience Core, which is projected to have an economic impact of $3.1 billion by 2025, the college prides itself on engaging with the community, fostering education, inclusion, access and advocacy.