Physician Shares 45 Years of Knowledge with Next Generation of Health Care Providers
Dr. Jeffrey Fisher Writes Book About Unique Patient Interactions and Lessons Learned Throughout Career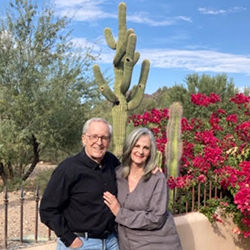 After more than 45 years of treating patients, Jeffrey Fisher, MD, FACP, decided to apply his years of experience and knowledge to training the next generation of physicians at the University of Arizona College of Medicine – Phoenix.
As an internist, Dr. Fisher's career has allowed him to care for some of the most vulnerable patients — from treating individuals from underserved backgrounds at Harlem Hospital, caring for the Native American community through the Indian Health Service, traveling to Russia as part of a medical team, to working in a private practice in Glendale, Arizona. Through these unique experiences and patient interactions, Dr. Fisher learned valuable lessons from his patients that he wanted to share with medical students, so they could consider the rewards of working in primary care. In an effort to do so, he began working at the medical school teaching case-based instruction (CBI) to first-year medical students, and he published a book sharing a few of his remarkable patient stories titled "Postscripts: For a Doctor From His Patient."
"I had a great career in internal medicine, and I loved it," Dr. Fisher said. "Through this book and my teachings, I want to encourage medical students to consider the primary care field. It's an area we so desperately need these days. Additionally, it is my hope that these stories will encourage students to explore the unique relationships that can develop between doctor and patient. They then will discover stories and experiences of their own."
Dr. Fisher started teaching medical students at the College of Medicine – Phoenix about one year ago. CBIs help students think medically. Instructors will present a case to a group of about seven students, who work to understand symptoms, testing, diagnosis, treatment and social determinants of health. Cases include common and rare conditions — from back pain to cystic fibrosis. At closing, students will go over results and take some aspect of that diagnosis and do a presentation regarding what they learned.
"Students are really learning how doctors think," Dr. Fisher said. "These sessions cover everything, including the basic science, the clinical evaluation, to even trying to treat that patient with their situation — like lack of transportation or health insurance."
Dr. Fisher decided to become an educator after getting sick in 2010 when he stepped on a metal shard in the garage and got an infection in his foot. He went to a dermatologist a few days later for another problem and mentioned his foot. The dermatologist dug out a piece of metal, but two days later he got sepsis. He had staphylococcal septicemia, a severe infection that led him to three weeks in the hospital with a vertebral abscess, an abdominal abscess, meningitis and ultimately, a pulmonary embolism. Doctors discovered that Dr. Fisher had leukemia, which transformed to Hodgkin's Disease.
After the diagnosis, Dr. Fisher made the decision to retire from his practice and dedicate his time to educating future physicians and health providers through his book and teaching CBIs.
"I enjoyed being a doctor all these years, and I wanted to apply that to teaching," Dr. Fisher said. "I learned more about the program at the College of Medicine – Phoenix through one of my friends, Bob Kravetz, MD, who teaches at the medical school. I shadowed him and then started teaching. It was a way to use my medical skills and make a difference."
Dr. Fisher added that through his illness, he experienced what it was like to be a patient, rather than a physician. "I learned a lot by being a patient, and it reinforced a few things that I already knew — like the importance of communication with patients and families."
A year after his diagnosis, Dr. Fisher began writing his book. He said that it was really the support and motivation from his wife, Diana, that made him write down some of his most unique experiences and the lessons he learned along the way. The book is designed for medical students, health providers and the lay audience as it addresses the importance of the physician-patient relationship.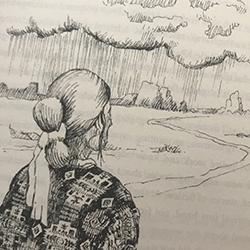 In his book, Dr. Fisher shared these experiences that included rescuing an eight-year-old boy in the Soviet Union at the height of the Cold War, treating a previously healthy 28-year-old Mohave Indian who was brought to the medical center with a mysterious ascending and progressive paralysis, and many more stories from throughout his career.
"As medicine, we refer to scripts as prescription," Dr. Fisher said. "These postscripts are the ways the patient has instructed me about them. In other words, during the time I was treating them for their illness, they were instructing me what it was like to be them as an individual and as a person with that disease. So, for as long as I was treating the patient, I was learning from them as much as I was giving to them. In primary care, that is what we do."
All proceeds from Dr. Fisher's book go to providing first-year medical students with a copy.
Topics
About the College
Founded in 2007, the University of Arizona College of Medicine – Phoenix inspires and trains exemplary physicians, scientists and leaders to optimize health and health care in Arizona and beyond. By cultivating collaborative research locally and globally, the college accelerates discovery in a number of critical areas — including cancer, stroke, traumatic brain injury and cardiovascular disease. Championed as a student-centric campus, the college has graduated more than 800 physicians, all of whom received exceptional training from nine clinical partners and more than 2,700 diverse faculty members. As the anchor to the Phoenix Bioscience Core, which is projected to have an economic impact of $3.1 billion by 2025, the college prides itself on engaging with the community, fostering education, inclusion, access and advocacy.