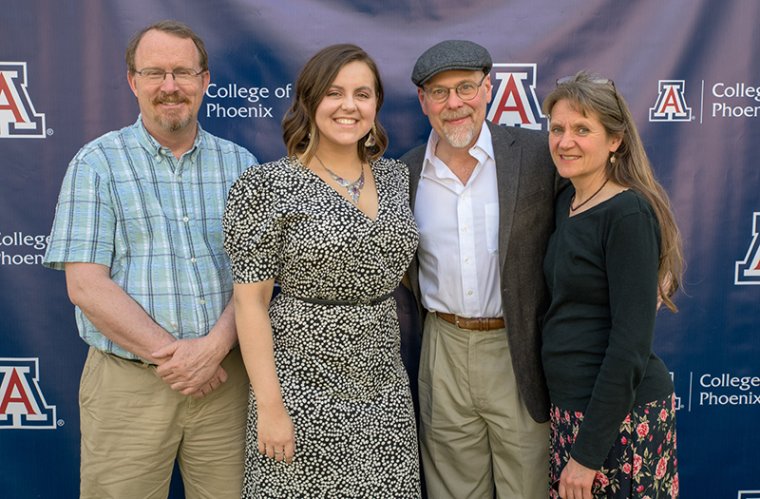 Primary Care Scholarship Profile: Kathryn Blevins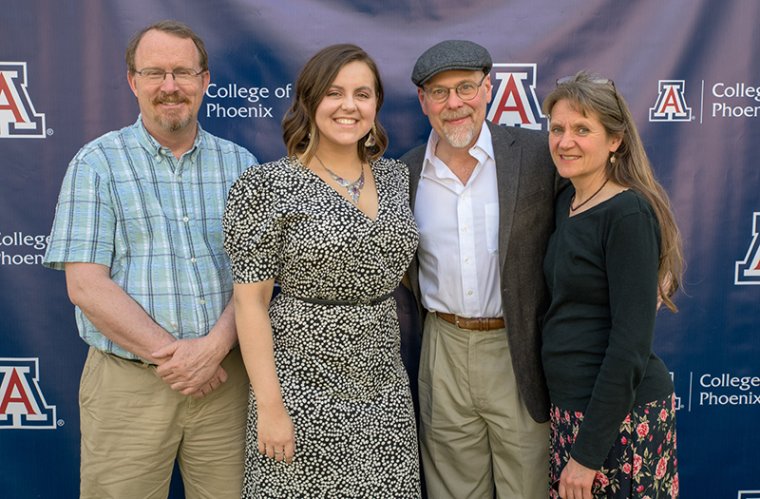 Raised in Rural Arizona, Student Hopes to Give Back to Community Through Medicine
To address the alarming physician shortage in Arizona, the University of Arizona College of Medicine – Phoenix has accepted eight medical students to receive tuition reimbursement in exchange for a commitment to practice in a rural or urban underserved community in Arizona. The University of Arizona Primary Care Physician Program, developed in partnership with and funded by a portion of $8 million provided by the State of Arizona, is part of the University's commitment to increase primary care providers in underserved communities statewide, and decrease medical student debt. The program was announced in November 2019. Once the program is fully implemented, about 100 students from the Colleges of Medicine (Phoenix and Tucson) could receive the reimbursement.
The UA College of Medicine – Phoenix is profiling several of the students who have committed their careers to primary care.
Meet Kathryn Blevins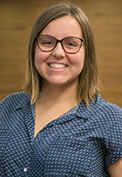 First-year medical student Kathryn Blevins was raised in the small, medically underserved town of Prescott. For as long as she can remember, Blevins has been interested in medicine. However, after losing her mother to breast cancer when she was 16 years old, Blevins realized that helping others was her calling.
Blevins graduated from Prescott High School and earned her undergraduate degree in physiology from the University of Arizona. After graduation, she spent a year living on the San Carlos Apache reservation, where she worked full-time as a medical scribe. In 2018, she was accepted into the Pathway Scholars Program at the College of Medicine – Phoenix, a pipeline program for prospective students who have experienced challenges in preparing to become competitive medical school applicants.
Why Did You Commit to Primary Care?
Primary care is one of the most important specialties that exists, as they are the first point of contact for patients, and are usually the ones that manage a patient's entire picture of health. I want to be involved in the lives of each of my patients and help them become healthier and happier people.
What is the Best Part of Being a Primary Care Physician (PCP)?
The best part is the relationship you get to develop with your patients. You can care for patients from the day they are born until they are old enough to move away for college, which is what my provider did with me. This is a relationship that is so special and such a privilege to be able to embark on with your patients. I think that sometimes, the clinical aspect of medicine can remove the human connection between doctor and patients, and primary care rekindles the human connection and reminds us that we are all members of the same community.
How Would You Explain to Someone Who Doesn't Know Anything About the Primary Care Shortage, Why PCPs are Needed?
Primary care physicians are the entry point for any patient into the team of individuals who manage their health. While specialists are amazingly educated in their specific fields, they often do not have the time or broad scope to integrate a patient's entire life and health history into their practice, but primary care physicians do. They empower patients to take control of their own health and maintain their overall wellbeing, as well as help patients navigate their way to specialists when it is necessary. They have longitudinal relationships with their patients and act as partners in their health.
Why are PCPs Important to the Community?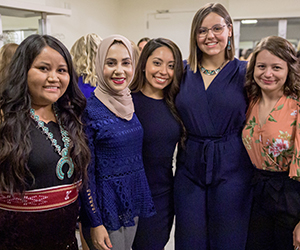 Primary care providers are privileged enough to have an education and training that allows them to be allies and servants to their communities. There is nothing more humbling than being given the opportunity to truly help someone and shape the trajectory of their life. A good provider who develops trusting relationships with their patients is constantly given that opportunity and can use it to help shape and care for their community.
Why Do Medical Students Choose Not to Go into Primary Care?
There are a lot of factors that go into the decision to not pursue primary care, but honesty a lot of them involve a lack of understanding as to the true scope of the practice of a primary care physician, as well as sacrifices in lifestyle that are made when one chooses to practice in a lower paying specialty, or in a rural or medically underserved population.
What Does It Mean to be Selected for This Program?
It means more to me than I can say. As a first-generation college student and first generation medical student, it means a great deal to be relieved of such a large portion of the financial burden of pursuing this career. It also gives me the opportunity to connect with rural physicians and those serving the underserved and helps usher me into my career helping patients who need it most.
Why Did You Choose the College of Medicine – Phoenix?
I ended up at the College of Medicine – Phoenix because of their amazing Pathway Scholars Program, which is a master's bridge program into medical school, designed specifically for students like me who are ethnically underrepresented in the medical field, as well as first generation college students, from rural and medically underserved populations.
About the College
Founded in 2007, the University of Arizona College of Medicine – Phoenix inspires and trains exemplary physicians, scientists and leaders to optimize health and health care in Arizona and beyond. By cultivating collaborative research locally and globally, the college accelerates discovery in a number of critical areas — including cancer, stroke, traumatic brain injury and cardiovascular disease. Championed as a student-centric campus, the college has graduated 669 physicians, all of whom received exceptional training from nine clinical partners and more than 2,600 diverse faculty members. As the anchor to the Phoenix Bioscience Core, which is projected to have an economic impact of $3.1 billion by 2025, the college prides itself on engaging with the community, fostering education, inclusion, access and advocacy.