Sharry Veres, MD, MHSM, Appointed Chair of the Department of Family, Community and Preventive Medicine
Dr. Veres will Assume the Role on December 1 as Jeffrey D. Wolfrey, MD, Retires
After a competitive national search, Sharry Veres, MD, MHSM, has been named chair of the Department of Family, Community and Preventive Medicine at the University of Arizona College of Medicine – Phoenix and Banner – University Medical Center Phoenix.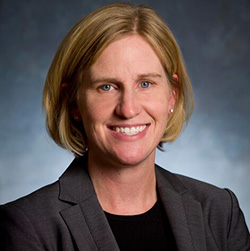 Dr. Veres is a distinguished physician, leader and mentor whose expertise has contributed to the development of health care environments to serve inpatient and outpatient populations and to the training of resident physicians, fellows and faculty.
Dr. Veres is currently the residency program director and medical director at St. Anthony North Hospital in Westminster, Colorado. She comes to Phoenix after nine years in that role. She also serves as associate clinical professor in the Department of Family Medicine at the University of Colorado School of Medicine.
She is a familiar colleague to many at the college from her tenure in the Department of Family Medicine at St. Joseph's Hospital and Medical Center in Phoenix — where she served as clinic medical director, director of research and assistant program director.
Dr. Veres earned her MD at the University of Washington School of Medicine and completed her family medicine residency at St. Joseph's Hospital and Medical Center in Phoenix. She earned a master's degree in Health Sector Management from Arizona State University.
Most recently, she led a Managing COVID-19 at Home virtual home care program for primary care patients across the Centura Health System. She has successfully served as a site principal investigator for COVID-19 clinical trials at her hospital. She received the Family Medicine Physician of the Year award from the Colorado Academy of Family Physicians in recognition of her significant contributions.
The appointment of Dr. Veres marks the next phase in the department's evolution and growth. In her new role, she will continue to advance the department's important contributions in the teaching, delivery and study of comprehensive primary care and population health management.
"Dr. Veres' appointment is part of a long-term, strategic effort to strengthen the college's research and education impact in partnership with Banner – University Medical Center Phoenix," said Dean Guy Reed, MD, MS. "These efforts are designed to better serve the growing, diverse patient populations in communities across Arizona and address the dire shortage of family physicians to care for them."
Dr. Veres will assume her role on December 1 as Jeffrey D. Wolfrey, MD, retires at the end of the year. "We are enormously grateful to Dr. Wolfrey who has contributed so much as a department chair, tireless advocate and skilled leader to advance education and elevate the role of family medicine at the College and in our communities," noted dean Reed.
About the College
Founded in 2007, the University of Arizona College of Medicine – Phoenix inspires and trains exemplary physicians, scientists and leaders to optimize health and health care in Arizona and beyond. By cultivating collaborative research locally and globally, the college accelerates discovery in a number of critical areas — including cancer, stroke, traumatic brain injury and cardiovascular disease. Championed as a student-centric campus, the college has graduated 669 physicians, all of whom received exceptional training from nine clinical partners and more than 2,600 diverse faculty members. As the anchor to the Phoenix Bioscience Core, which is projected to have an economic impact of $3.1 billion by 2025, the college prides itself on engaging with the community, fostering education, inclusion, access and advocacy.