Sim Center Innovates Curriculum to Keep Medical Students Safe During the COVID-19 Pandemic
Center for Simulation and Innovation Creates Safe Learning Environment During Pandemic
The Center for Simulation and Innovation at the University of Arizona College of Medicine – Phoenix has been working to innovate their curriculum during the coronavirus pandemic to help students continue their education and stay safe during this unprecedented time.
To help protect third-year medical students during their clinical rotations, on June 25 and 26 the Sim Center hosted an Advanced Cardiovascular Life Support (ACLS) Certification course using guidelines from the Centers for Disease Control and Prevention to educate students on the proper PPE protocol.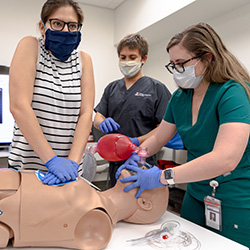 "The students have been doing virtual trainings during this crisis so we can keep them safe. However, there are some things that they need to learn hands-on like CPR and advanced Cardiac life support," said co-director for Simulation Curriculum James Lindgren, MD. "We've been able to work with our team to create a safe learning environment in small cohorts."
The ACLS certification is needed before students can go on rotations in the hospitals and is geared towards health care professionals who either direct or participate in the management of cardiopulmonary arrest, other cardiovascular emergencies or personnel in emergency response. Once they successfully complete the course, students receive a course completion card that is valid for two years.
Students were given N95 masks, face shields, and non-sterile gowns that they could take home and practice appropriate safety donning and doffing protocols before starting clinical rotations. In addition to the ACLS Certification, the center provided information on infection control and N95 mask fitting.
Daniel Drane, PhD, director of Student and Resident Wellness said, "With our students going out into clinical rotations to get the hands-on learning they need to become the best physicians they can be, we want to make sure they are protected."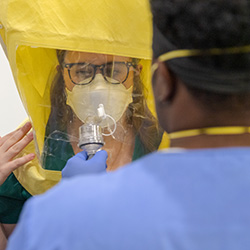 As a safety precaution, Sim Center staff checked everyone's temperature before allowing them to enter the center and students rotated through stations so there was a reduced risk of spread as students will not be passing each other in the hallway.
This is not the first time that the Sim Center has had to change their curriculum to help continue medical education. Recently, College of Medicine – Phoenix staff had worked to modify their coursework with the resources they had on-hand to accommodate for physical distancing protocols. Students are now training with real-life individuals as opposed to mannequins, which can improve the ability to observe a patient's immediate emotional response. Other positive aspects include real-time chat features and the capability to record and replay a certain portion of a simulation for training purposes.
About the College
Founded in 2007, the University of Arizona College of Medicine – Phoenix inspires and trains exemplary physicians, scientists and leaders to optimize health and health care in Arizona and beyond. By cultivating collaborative research locally and globally, the college accelerates discovery in a number of critical areas — including cancer, stroke, traumatic brain injury and cardiovascular disease. Championed as a student-centric campus, the college has graduated more than 800 physicians, all of whom received exceptional training from nine clinical partners and more than 2,700 diverse faculty members. As the anchor to the Phoenix Bioscience Core, which is projected to have an economic impact of $3.1 billion by 2025, the college prides itself on engaging with the community, fostering education, inclusion, access and advocacy.