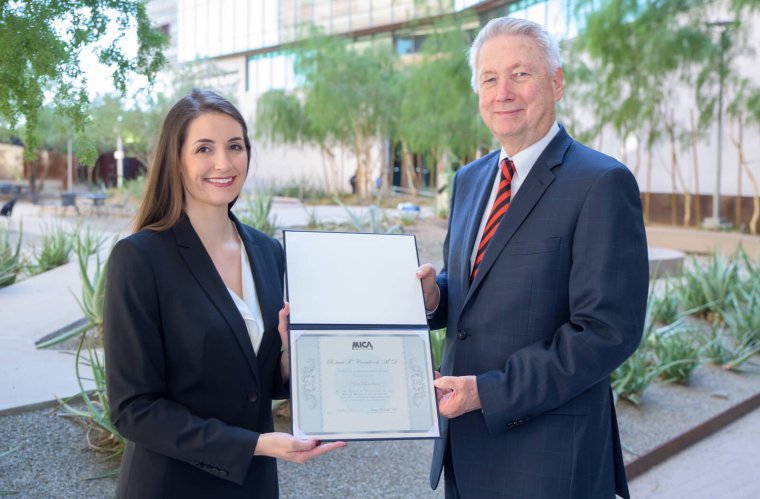 Three Medical Students Receive the 2022 MICA Scholarship Award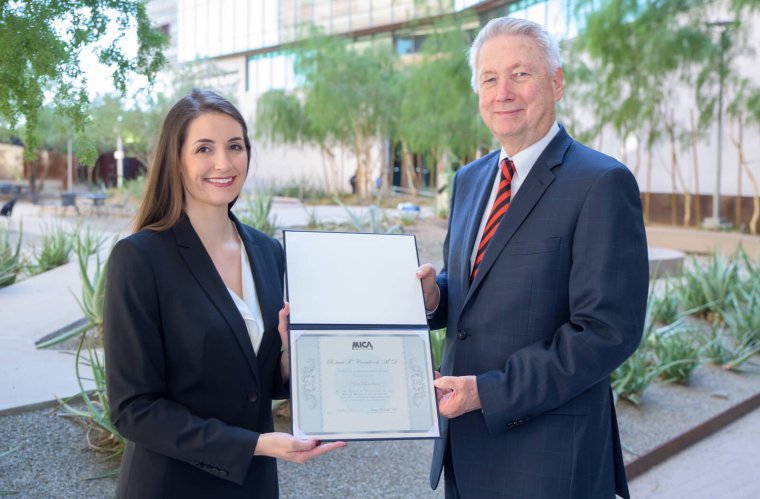 Fourth-year students were awarded the scholarship based on their academic achievements
Three University of Arizona College of Medicine – Phoenix medical students have received scholarships from the Mutual Insurance Company of Arizona (MICA) Medical Foundation Board of Trustees.
Nicole Boardman, Austin Cotter and Kylie Kilian were notified via email to meet with Guy Reed, MD, MS, dean of the college. Each of these students has almost finished their medical school education and is preparing for residency interviews, the next phase of their journey.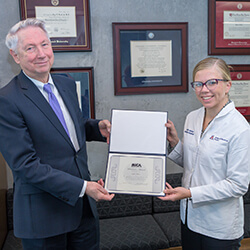 While they anticipated the meeting would involve good news, they weren't expecting to be awarded a scholarship based on academic merit.
Nicole Boardman received the Robert F. Crawford, MD, Scholastic Achievement Award.
"I was pleasantly surprised and humbled to learn I was receiving an award for academic achievement. I am grateful for the generous scholarship that accompanied the award," Boardman said. "I am thankful for my family, fiancé and friends who have supported me and helped me succeed during my medical studies."
After working adjacent to health care before enrolling in medical school, Boardman pursued medicine to broaden her knowledge and skills to provide direct care to patients.
"Before medical school, I worked in public health practice as an epidemiologist and was inspired by seeing the work of my physician colleagues," Boardman said. "Medical school has been an incredibly rewarding experience, and I look forward to the next step of my medical career in residency."
The MICA Medical Foundation was established in 2014 by the MICA Board of Directors to provide funding for the education and training of physicians in Arizona.
Austin Cotter and Kylie Kilian both received a MICA Medical Foundation Scholastic Award.
Kilian was out of town at an audition rotation when she received the request to meet in the dean's office. Assured it was good news, Kilian remained eager to find out the purpose of the meeting.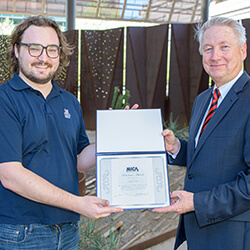 "I was so curious over those few weeks and was really excited to get back home to find out what was happening," Kilian said. "I was really surprised when I came in and Dean Reed told me what it was for! I am so grateful to the people of MICA for honoring me in this way."
During his undergraduate years, Cotter wasn't sure what he wanted to do with his future. He always had an interest in science and decided to pursue medical school after being selected as a bone marrow donor through BeTheMatch during his junior year of college.
"I was super nervous for my first surgery, but the nurses and anesthesiologist helped calm me down and made the whole process so much easier," Cotter said. "I kept thinking about their kindness, and my inspiration from them combined with my love of biology helped me make the decision to apply to medical school."
Cotter was not aware of any merit scholarships available the college. He was excited to learn of the MICA Scholarship and be recognized for his academic achievements during his medical school journey.
"It feels validating to work so hard during the last four years and receive a recognition like this," Cotter said. "It's also a huge relief to get this money during residency application season, since I can pay for applications with a little less stress on my bank account."
About the College
Founded in 2007, the University of Arizona College of Medicine – Phoenix inspires and trains exemplary physicians, scientists and leaders to optimize health and health care in Arizona and beyond. By cultivating collaborative research locally and globally, the college accelerates discovery in a number of critical areas — including cancer, stroke, traumatic brain injury and cardiovascular disease. Championed as a student-centric campus, the college has graduated 669 physicians, all of whom received exceptional training from nine clinical partners and more than 2,600 diverse faculty members. As the anchor to the Phoenix Bioscience Core, which is projected to have an economic impact of $3.1 billion by 2025, the college prides itself on engaging with the community, fostering education, inclusion, access and advocacy.