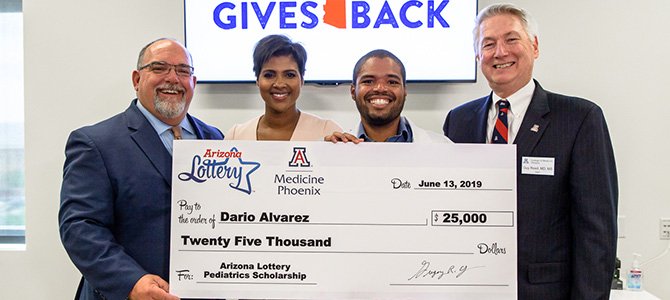 UA College of Medicine – Phoenix Student Surprised with $25,000 Scholarship from the Arizona Lottery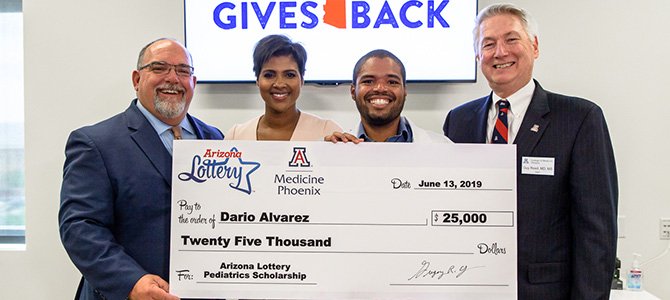 Dario Alvarez Plans a Future as a Pediatrician to Serve Underrepresented Communities
Fourth-year University of Arizona College of Medicine – Phoenix medical student Dario Alvarez was surprised Thursday with a $25,000 tuition scholarship from the Arizona Lottery.
Surrounded by family, friends, medical school leadership, Arizona Lottery officials and a contingent of Arizona Wildcat cheerleaders, Alvarez was overcome with emotion when he realized the celebration was in his honor.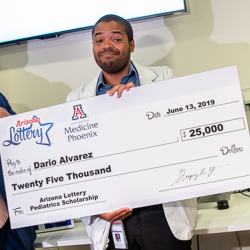 "I feel like everyone who is on this journey of medical school deserves something like this," he said, tears streaming down his face. "Going into my last year of medical school, I was telling my family how expensive it was going to be. This is going to be so helpful."
The Lottery's contribution to the UA College of Medicine – Phoenix scholarship fund is especially valued, as the average debt for a medical student graduate in the U.S. is $180,000. For some of the best and brightest future doctors, the ability to pay for medical school is an overwhelming challenge.
Awarding the scholarship is a way of highlighting the many ways the Arizona Lottery gives back to the community. Last year alone, Lottery proceeds paid for $39.6 million in capital improvements to the state's three universities.
"When students like Dario walk through the door, they walk in with big dreams of what they want to do to help people in the community," said Gregory Edgar, executive director of the Arizona Lottery. "In large part, this building was built on dreams — the dreams of players winning jackpots, putting that dollar down to have some fun with the Arizona Lottery and knowing that they could do good and help students like Dario."
"Being able to be a part of helping you succeed is so worthwhile," Edgar said. "It is part of the reason the Arizona Lottery exists and the reason we are here to do good for all the people of Arizona."

UA College of Medicine – Phoenix Dean Guy Reed, MD, MS, said the college was designed to address the critical shortage of physicians in Arizona, and "we've only been able to address that through the support and help from our community. We're so grateful for the Arizona Lottery for providing funding for our buildings. We are grateful for the Arizona Legislature, too, which recently passed a bill to allow us to expand our medical school class in the future, so we can have 119 more Darios."
Alvarez was born in Cuba and emigrated to Venezuela with his family when he was two years old. Alvarez, his parents and sister called Venezuela home for 11 years until sociopolitical unrest and the economic crisis there forced them to move. He graduated from Glendale High School and attended the University of Arizona, earning a degree in biology.
"My family has come from nothing twice in my lifetime, as we've moved from Cuba to Venezuela and from Venezuela to the U.S.," Alvarez said. "These moments have motivated me to reach higher and support others. As a black, Latino immigrant, I try to relate with other people of color, and with other immigrants, documented or undocumented. We all have different backgrounds and experiences, and seek to live a fulfilling life despite our adversities. Every time I see a smile from someone I help, I feel my life becoming more meaningful and fulfilling."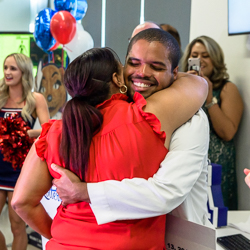 Alvarez completed the UA College of Medicine – Phoenix Pathway Scholars Program, a one-year certificate of study designed for socio-economically disadvantaged college graduates. He became motivated to pursue a career in medicine after helping his best friend battle leukemia.
His is committed to a career as a pediatrician and hopes to move to a rural community so he can provide medical and social services to disadvantaged parents and children.
Arizona's physician shortage is one of the worst in the nation, especially for primary care physicians and in rural areas. The state ranks 44th of 50 states in primary care physicians. More than 95 percent of Cochise, Santa Cruz and Yuma county residents live in a federally designated Health Professional Shortage Area. Our scholarship winner wants to be a pediatrician and practice in underserved areas.
About the College
Founded in 2007, the University of Arizona College of Medicine – Phoenix inspires and trains exemplary physicians, scientists and leaders to optimize health and health care in Arizona and beyond. By cultivating collaborative research locally and globally, the college accelerates discovery in a number of critical areas — including cancer, stroke, traumatic brain injury and cardiovascular disease. Championed as a student-centric campus, the college has graduated 669 physicians, all of whom received exceptional training from nine clinical partners and more than 2,600 diverse faculty members. As the anchor to the Phoenix Bioscience Core, which is projected to have an economic impact of $3.1 billion by 2025, the college prides itself on engaging with the community, fostering education, inclusion, access and advocacy.