UArizona College of Medicine – Phoenix Inducts Newest Class of Gold Humanism Honor Society
Students and Faculty Recognized by Peers for Professionalism, Leadership and Humanism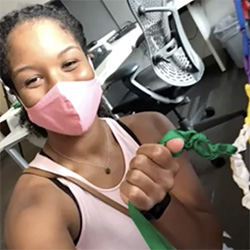 Twelve fourth-year medical students and two faculty members from the University of Arizona College of Medicine – Phoenix were inducted into the Gold Humanism Honor Society (GHHS) on Nov. 10 during a virtual ceremony. These individuals were selected for their demonstration of professionalism, leadership and humanism.
"These students have been selected by their peers as exemplars of humanism," said Guy Reed, MD, MS, dean of the College of Medicine – Phoenix. "Being inducted into the Gold Humanism Honor Society is an acknowledgment from fellow students and from faculty that these individuals have shown their commitment to the honor society's values, which are to inspire, to nurture and to be life long advocates for compassionate patient care."
The exemplary students inducted this year include:
​
In addition, the students selected two faculty inductees into the College of Medicine – Phoenix GHHS this year. These two faculty inductees exemplify humanistic qualities and have served as role models for the students.
Jennifer Hartmark-Hill, MD.
Robert Raschke, MD.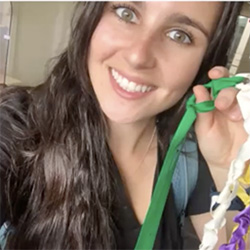 Traditionally, each student receives their GHHS pin and adds a knot to their distinctive class ribbon attached to the Staff of Asclepius. The staff commemorates the chapter's inaugural class. Each knot that is added lengthens the respective chains, stretching the bond between the members of the society and symbolizing power, strength and compassion. Due to the pandemic, each student tied their knot prior to the ceremony.
Natasha Keric, MD, an associate professor in the Department of Surgery, was the keynote speaker. Dr. Keric, who is also the surgery clerkship director, discussed the importance of mentorship.
"Out of all the hats that I get to wear, being a mentor is probably one of my favorite hats," Dr. Keric said. "It brings tremendous joy to my professional career and personal life. The reason is that without mentorship, I wouldn't be where I am today."
Dr. Keric shared parts of her personal journey and path toward medicine. Her story included immigrating to the U.S. at a young age, her love for education, a career outside of medicine, finding her true calling and the mentors that helped her excel in life.
"Mentors come in all shapes and sizes," Dr. Keric said. "Being a mentor is not just rooting for somebody on the sidelines. It is becoming a part of their journey."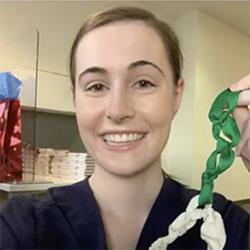 She continued, "It is incredibly rewarding to see how mentorship has helped us come together as a community and as a family. I am proud of my journey, not because of the success it has brought me, but because it has given me the tools to make others successful, which is truly very joyous and rewarding."
The College of Medicine – Phoenix GHHS chapter was established in 2010 and each year, the top 10-15 percent of the third-year medical students are identified by their peers as exemplars of humanism in medicine.
Members have a responsibility to model, support and advocate for compassionate, patient-centered care throughout their careers. The creation of a GHHS chapter signifies to the medical community that an institution places high value on the interpersonal skills and attitudes that are essential for the highest level of patient care.
"One of the things I always try to promote among students is deciding what kind of doctor they want to be," said Steven A. Lieberman, MD, senior associate dean of Academic Affairs. "How do you represent yourself as a human that is a physician to your patients and the world around you? The Gold Humanism Honor Society is the culmination, perhaps the single, best honor to represent the true values of the profession. We look to all of you to continue to represent those standards that you all have demonstrated so clearly."
Topics
About the College
Founded in 2007, the University of Arizona College of Medicine – Phoenix inspires and trains exemplary physicians, scientists and leaders to optimize health and health care in Arizona and beyond. By cultivating collaborative research locally and globally, the college accelerates discovery in a number of critical areas — including cancer, stroke, traumatic brain injury and cardiovascular disease. Championed as a student-centric campus, the college has graduated 745 physicians, all of whom received exceptional training from nine clinical partners and more than 2,700 diverse faculty members. As the anchor to the Phoenix Bioscience Core, which is projected to have an economic impact of $3.1 billion by 2025, the college prides itself on engaging with the community, fostering education, inclusion, access and advocacy.