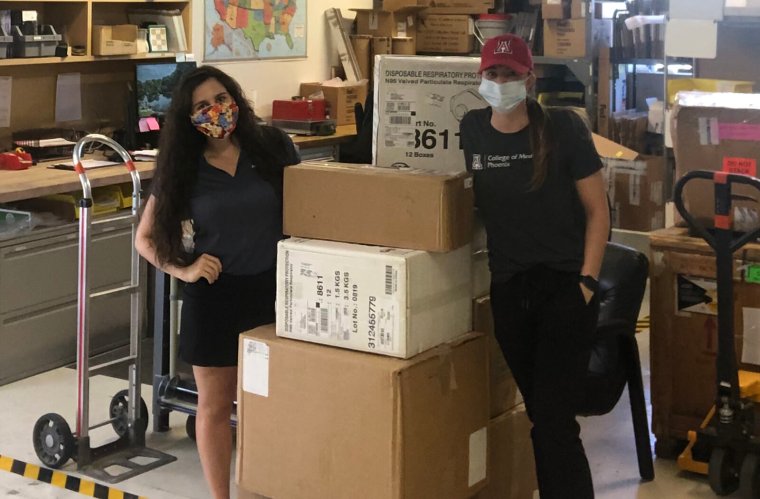 UArizona College of Medicine – Phoenix Students Help Community During COVID-19 Pandemic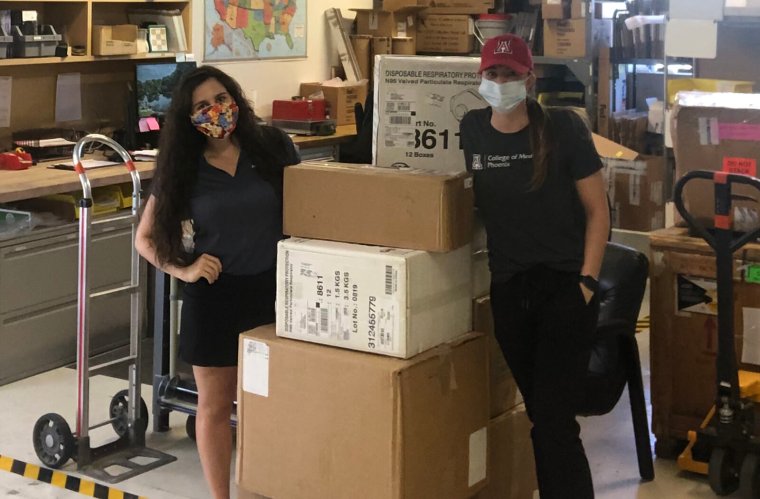 COVID-19 Student Service Corps Aims to Support Local Health Systems, Patients and Communities
A group of University of Arizona College of Medicine – Phoenix students were inspired to provide aid to Arizona health systems, as well as to their patients, the workforce and communities facing the COVID-19 pandemic.
The program, called COVID-19 Student Service Corps, was started when fourth-year medical student, Tory Prynn, heard about a similar program at Columbia University and was inspired to bring the same program here. "As medical students, we all want to be out there helping, but due to social distancing, we can't. With this program, we can still serve our communities, while staying at home."
"These students essentially built this from the ground up," said Stephanie Briney, DO, director of  Service Learning and faculty chair of the COVID-19 Student Service Corps. "Armed with little information and the support of our institution, our students have worked together to identify specific community needs, scour available resources, develop their own community network and capitalize on the strengths of each individual to maximize the impact of their efforts."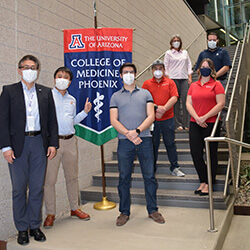 Currently, the program has 25 different projects — spanning areas such as PPE donations, food and resources, educational help for students, helpline support, research and community partner outreach.
Dr. Briney said that students have been working tirelessly to promote these initiatives.
"I frequently receive emails and texts on the weekends and evenings as they continue to expand their efforts in ways that I would never have imagined, all while they are continuing to adjust to new class formats, uncertainty about exams and clinical experiences, and the many reaching impacts of the pandemic," Dr. Briney said.
She added, that as a faculty member, she cannot think of a more gratifying way to work with students.
"They are pillars of professionalism, altruism and servant leadership, and I can't possibly express how wonderful they are and how proud and impressed I am," Dr. Briney said.
The program has 100 volunteers from the UArizona College of Medicine – Phoenix, College of Medicine – Tucson, Mel and Enid Zuckerman College of Public Health and College of Pharmacy. However, the group is hoping to expand with volunteers from the other health professions programs in Arizona.
"We are really looking to our colleagues: the physician assistant students, occupational therapists, physical therapists and reaching out to other medical schools in the area to make this a collaborative effort," said fourth-year medical student Nicole Segaline.
The program functions through material and resource donations, like PPE material, hygiene products and food items.
"We are a group of students trying to help our community in any way we can. A lot of populations are being hit very hard by the COVID-19 pandemic, and we have the opportunity to help them. If you have anything to donate, no matter how small or large, we would greatly appreciate it," said Segaline.
To learn more about the program, or get involved, visit the COVID-19 Student Service Corps.
About the College
Founded in 2007, the University of Arizona College of Medicine – Phoenix inspires and trains exemplary physicians, scientists and leaders to optimize health and health care in Arizona and beyond. By cultivating collaborative research locally and globally, the college accelerates discovery in a number of critical areas — including cancer, stroke, traumatic brain injury and cardiovascular disease. Championed as a student-centric campus, the college has graduated 745 physicians, all of whom received exceptional training from nine clinical partners and more than 2,700 diverse faculty members. As the anchor to the Phoenix Bioscience Core, which is projected to have an economic impact of $3.1 billion by 2025, the college prides itself on engaging with the community, fostering education, inclusion, access and advocacy.