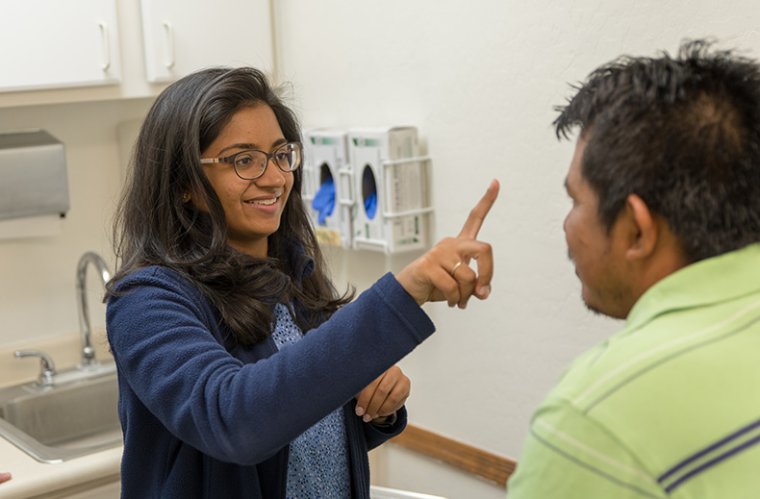 Wesley Center Integrates Wellness into Patient Care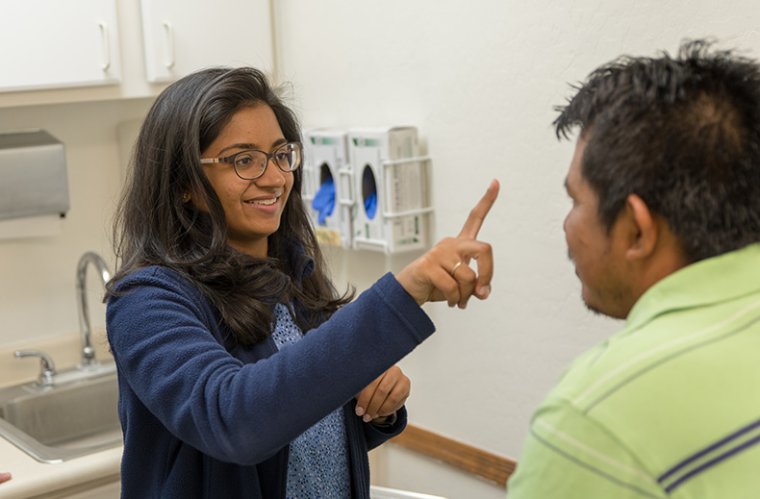 Medical Students Expand Reach of Services, Offering Yoga Classes and Culinary Education to Underserved Populations
A partnership designed for medical students to gain early exposure to clinical care and help underserved communities is offering new opportunities to educate students and patients on preventive medicine.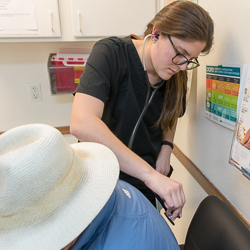 Since the medical school opened in 2007, students at the University of Arizona College of Medicine – Phoenix have worked to improve the quality of care for underserved and uninsured populations through a partnership with Wesley Community and Health Center.
The center, located at 1300 S. Tenth St. in south Phoenix, provides community programs, services, classes and activities regardless of a person's ability to pay. Under the direction of Farshad Fani Marvasti, MD, MPH, chief medical officer of the center and director of the Public Health, Prevention and Health Promotion theme at the college, the center has begun to integrate aspects of wellness into its medical training and patient care.
"At Wesley, we are taking care of people who really have nowhere else to go," Dr. Marvasti said. "We want to address all the aspects involved in the care and prevention of disease. It's not just about getting the right diagnosis and medication, it's also about prescribing behavioral and lifestyle changes."
Medical students volunteer at the night clinic, conduct scholarly research, teach wellness classes and cooking classes that show how healthy foods can be incorporated into any diet.
The night clinic is run from 6:00 to 10:00 p.m. Tuesdays and Thursday by medical students and an attending family medicine physician. On a typical night, eight patients are scheduled with each student helping treat one to three patients. This program is offered through the college's Community Health Initiative – Phoenix (CHIP). Students from the Class of 2019 alone completed more than 2,200 hours volunteering at the Wesley Center.
But Wesley is more than a clinic. It's located within a community center that has a thriving after-school and summer camp program for at-risk children and youth from culturally diverse communities, ESL classes, Woman and Infant Children (WIC) services, indoor basketball courts and activities ranging from daily Zumba classes to senior bingo.
More recently, with the help of medical students, the center has embarked on a transformation to create a wellness center that integrates the community and health centers together to prevent disease and promote health.
As part of this process, first-year students developed innovative health education classes including yoga and culinary medicine.
The yoga classes were started by then first-year student Tina Samsamshariat last fall. She hosted introduction to yoga classes every other Saturday. The classes were meant to help community members and patients learn how yoga can help them cope with stress, insomnia, anxiety as well as musculoskeletal disorders.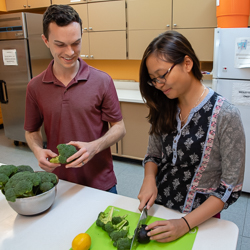 In April, the center hosted its first cooking event, where 12 medical students cooked various recipes under the direction of Jennifer Caraway, founder of the Joy Bus Diner.
Medical students Tyler Bien and Julie Tran started the initiative through the Culinary Medicine Interest Group to teach medical students cooking skills through healthy and culturally-sensitive recipes.
"The overall goal is to become part of an integrative medicine program at Wesley, serving patients and empowering them to manage their diseases through nutrition and cooking education," Tran said.
Bien added that there is an increasing recognition that medical students and physicians are lacking in nutrition training. "We want this to be an experience that further opens the door to the exploration of healthy food and nutrition as a crucial part of patient care," he said.
Bien and Tran hope to start student-led cooking classes with patients later this year.
"The students involved with the Wesley Center truly make a difference in serving their patients," Dr. Marvasti said. "It's a great opportunity, but the best part is that they can really help our community — whether it's through cooking classes, teaching yoga or being that helping hand and extra health care provider to listen during the night clinic."
About the College
Founded in 2007, the University of Arizona College of Medicine – Phoenix inspires and trains exemplary physicians, scientists and leaders to optimize health and health care in Arizona and beyond. By cultivating collaborative research locally and globally, the college accelerates discovery in a number of critical areas — including cancer, stroke, traumatic brain injury and cardiovascular disease. Championed as a student-centric campus, the college has graduated 669 physicians, all of whom received exceptional training from nine clinical partners and more than 2,600 diverse faculty members. As the anchor to the Phoenix Bioscience Core, which is projected to have an economic impact of $3.1 billion by 2025, the college prides itself on engaging with the community, fostering education, inclusion, access and advocacy.