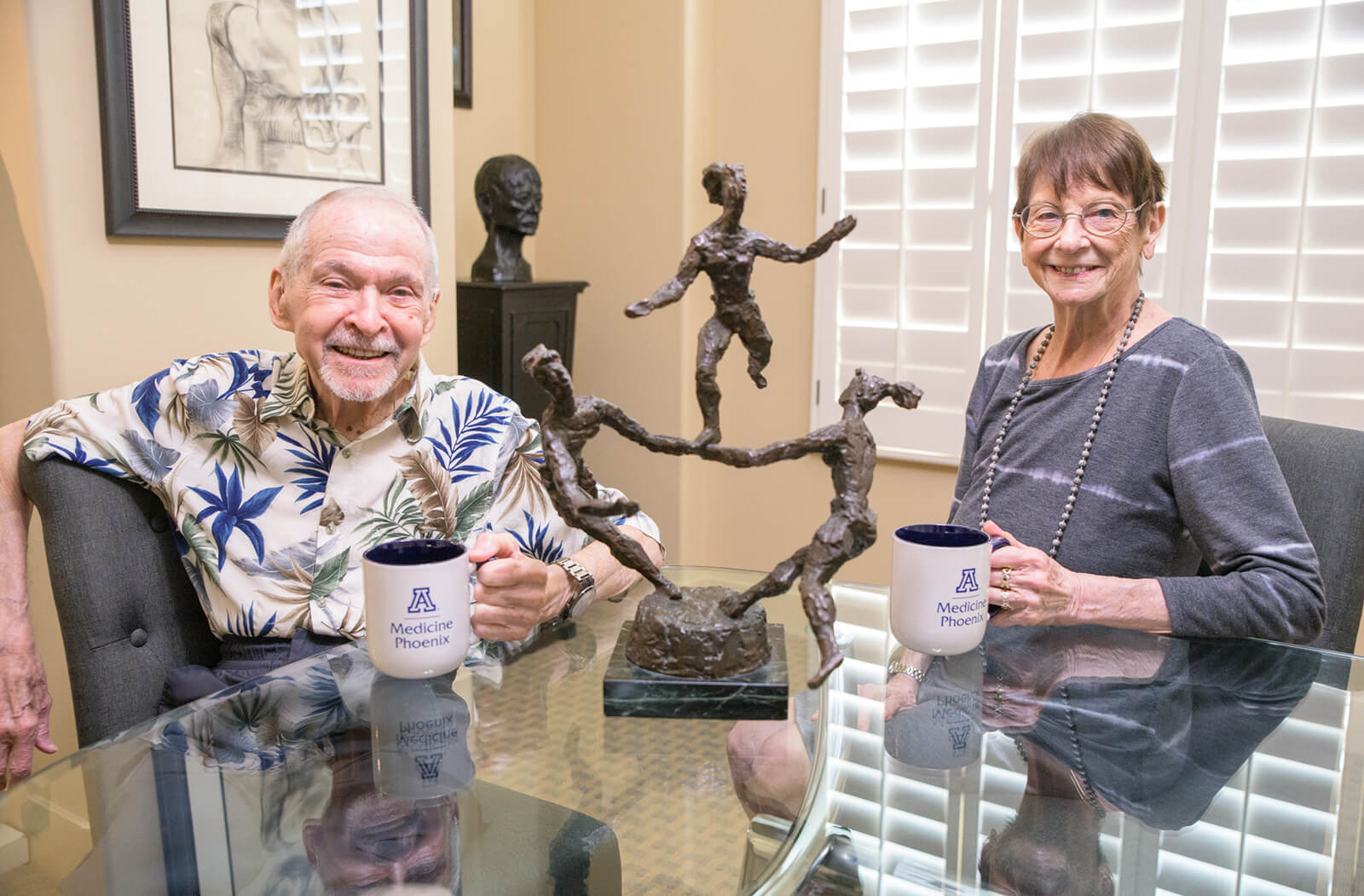 Yellen Family Donates Private Art Collection Worth More Than $1M to the College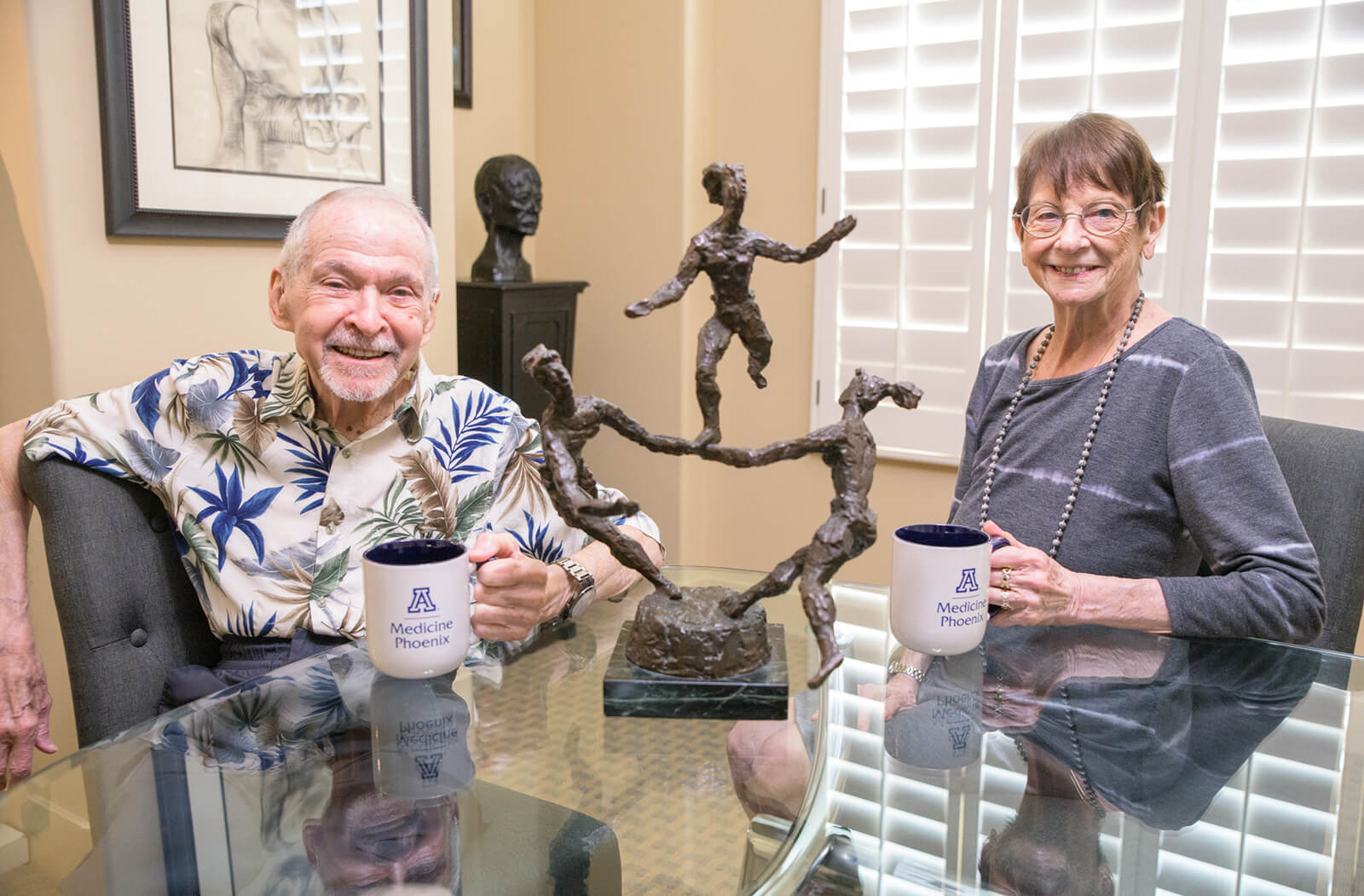 Gift invests in the future of medical education and patient care
Barry Yellen — a former television and off-Broadway producer, among other roles — and his wife Patricia — a retired professional dancer — share a deep love of the arts. They have traveled extensively, collecting pieces from talented artists whose work spoke to them. With an estimated value of more than $1 million, their personal art collection will be gifted to advance the future of health care in Arizona.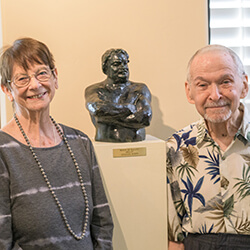 The collection includes pieces from both Pierre-Auguste Renoir, a French artist who was a leading painter in the development of the Impressionist style, and François Auguste René Rodin, a French sculptor who is generally considered the founder of modern sculpture.
Most museums would covet these works being added to their collections; but the Yellens believe the collection can do more good as an investment in the medical education and research provided by the college.
"I always refer to Benjamin Franklin's daily prayer," Yellen said — a prayer that hangs right by his desk. "The daily prayer starts out. 'Oh, powerful goodness, bountiful father, merciful guide, increase in me that wisdom which discovers my truest interest, strengthen my resolutions to perform what that wisdom dictates. Accept my kind offices to thy other children as the only return in my power for thy continual favors to me.'"
Franklin's words serve as a powerful reminder for Yellen because, by his own admission, he's been blessed. "I have had a much greater life than anything I ever dreamed up as a child or as a man growing up. And I can ask for nothing more by myself, but I also, as Ben Franklin, want to do things for my fellow man," he said.
A graduate of Manhattan's High School of Performing Arts in 1953, Mr. Yellen's career has been defined by his ability to recognize and seize unique opportunities. He's been a stage manager, lighting designer, car show producer, managing director, touring show booker, film producer and distributor, and even a fund manager. The one constant is how fortunate he counts himself.
The gift is just the latest example of the Yellens' philanthropic spirit. They have paid forward their blessings over the last three decades.
It all began in 1993, when Mrs. Yellen faced a frightening breast cancer diagnosis. The care she received inspired them to establish the Yellen Fund for the Advancement of Cancer Research at Massachusetts General Hospital, where she was treated.
Their dedication to cancer research continued when they established the Yellen Fund for the Advancement of Cancer Research at the American Committee for the Weizmann Institute of Science.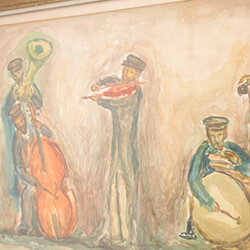 In 2021, they donated $250,000 to Massachusetts Eye and Ear, where Mr. Yellen serves on the board, adding to an endowment they started there for young investigators.
After relocating to Arizona, they partnered with the UArizona Cancer Center, where Mr. Yellen also serves on the board, to create a $1 million endowment. That partnership is what ultimately led them to the UArizona College of Medicine – Phoenix.
After learning more about the translational research being done at the college, the Yellens felt the gift would help further this important work. They have granted the college's leadership the liberty to determine the most productive use for the art, whether that be displaying or selling it.
"The college is enormously grateful to Mr. and Mrs. Yellen for their generous gift," said Guy L. Reed, MD, MS, dean of the College of Medicine – Phoenix. "Their gift will support our commitment to train exemplary physicians, scientists and leaders to provide outstanding health care to Arizonans."
About the College
Founded in 2007, the University of Arizona College of Medicine – Phoenix inspires and trains exemplary physicians, scientists and leaders to optimize health and health care in Arizona and beyond. By cultivating collaborative research locally and globally, the college accelerates discovery in a number of critical areas — including cancer, stroke, traumatic brain injury and cardiovascular disease. Championed as a student-centric campus, the college has graduated more than 800 physicians, all of whom received exceptional training from nine clinical partners and more than 2,700 diverse faculty members. As the anchor to the Phoenix Bioscience Core, which is projected to have an economic impact of $3.1 billion by 2025, the college prides itself on engaging with the community, fostering education, inclusion, access and advocacy.