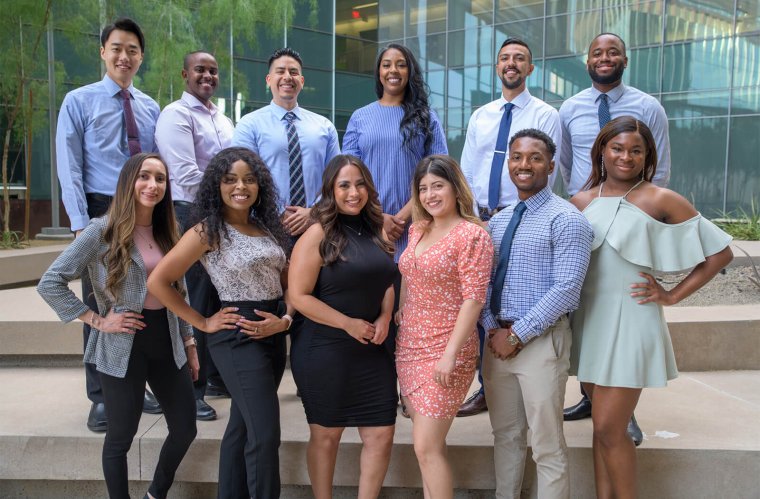 Pathway Scholars Complete Program, Join Class of 2026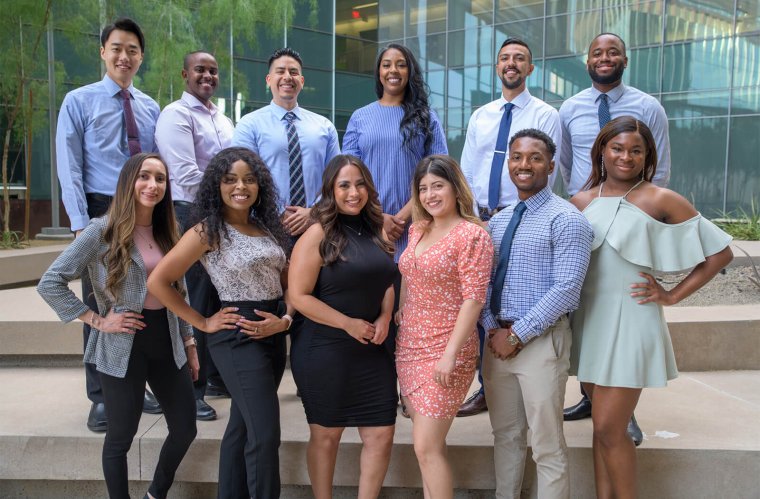 Twelve students earn their Medical Studies master's degree and matriculate to medical school
Twelve Pathway Scholars earned their master's degrees in Medical Studies on May 10 and will join the University of Arizona College of Medicine – Phoenix's Class of 2026 in July.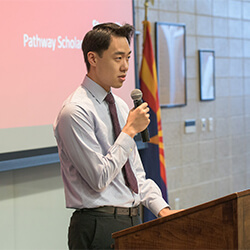 The Pathway Scholars Program is a pipeline program that prepares underrepresented students for medical school. Through the program, the students develop study and test-taking skills to help them succeed as medical students.
Maria Manriquez, MD, director of the program, spoke to the members of the audience about the importance of this unique offering and what the goals are for the students who are admitted.
"This college does an excellent job of holistic review," Dr. Manriquez said. "Our program is an opportunity for students who may have had obstacles… to overcome to achieve admission status."
Dr. Manriquez expressed hope that the students remain lifelong learners and overcome any obstacles along the way, especially when it comes to receiving feedback.
"Take that constructive criticism as teachable moments," Dr. Manriquez said. "A mistake becomes your training, so I wish you plenty of mistakes."
Stephen Yao delivered the student address during the ceremony, where he thanked the faculty and classmates in the program for the past year. He also acknowledged the commonalities among himself and the other students.
"Some of these classmates come with stories of being born in a war-torn country in Mogadishu, Somalia, and others come from small towns, growing up with little access to basic necessities," Yao said. "While each one of us has brought diverse stories and experiences into our class this year, we share this common love and commitment to the medical field."
Cheryl O'Malley, MD, associate dean of Graduate Medical Education, spoke to the students through a recorded video message. She reminded them about the importance of remaining strong and vigilant against the adversities their future jobs will entail.
"Every hero has both his superpowers and vulnerabilities, and there's also an antidote to defend against those threats," Dr. O'Malley said. "For us in medicine, our defense is our families, colleagues, faculty, mentors, administrators, our own physicians and others."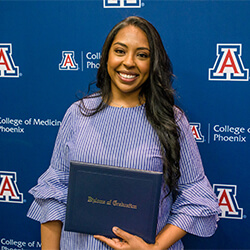 Pathway Scholars Program students must work together to complete a Legacy Project, a community service endeavor to qualify for graduation.
Lena Elias led the Legacy Project Presentation during the ceremony. She revealed that the class partnered with the Boys and Girls Club of Arizona.
"We wanted to really impact a community that we identified with," Elias said. "We wanted to impact young teens who looked like us and who have gone through the same challenges and adversities as we have."
The cohort went to the I.G. Homes Branch of the Boys and Girls Club of Metro Phoenix and discussed with the children after school events, summer internship programs, scholarship opportunities and the military.
"We sat with them to listen to their stories," Elias said. "We just wanted to reiterate to them, 'no matter your circumstance right now, you can still become a doctor, an engineer and a lawyer.'"
In addition to volunteering at the program, this year's cohort also raised money for the Boys and Girls Club.
The ceremony concluded with a diploma presentation, as the students were called by name one-by-one to receive the certificate they'd earned.
The closing remarks were given by Glen Fogerty, PhD, MBA, associate dean of Admissions and Recruitment. His speech revolved around two main messages: to lead as they go forward and to maintain human connection with patients and other physicians.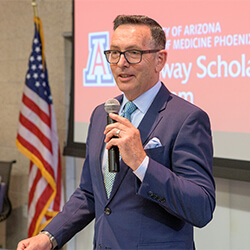 "Do not forget that moment that made you decide you wanted to be a physician," he said. "Don't lose that thought of human connection, and I guarantee you, you'll be the most successful physicians out there."
Out of almost 300 applicants for the Pathway Scholars Program, 39 were invited to come interview at the university, and 12 were selected to be a part of the class. More than 6,400 people applied to be a part of the college's Class of 2026.
"Unbelievable odds, but the odds are stacked toward you because of this program," Dr. Fogerty said. "So, now, 12 going into a class of 120… you have an absolute positive response to lead this class."
The Pathways Scholars Program Class of 2022:
Orlando Acuna.
Marisol Allen.
Blessing Atanmo.
Ariana Cano.
Lena Elias.
Javon Freeman.
Marvin Hernandez.
Zakaria Mahmoud.
Patrick Quarles.
Bre'anca Sanders.
Kambrea Soltero.
Stephen Yao.
About the College
Founded in 2007, the University of Arizona College of Medicine – Phoenix inspires and trains exemplary physicians, scientists and leaders to optimize health and health care in Arizona and beyond. By cultivating collaborative research locally and globally, the college accelerates discovery in a number of critical areas — including cancer, stroke, traumatic brain injury and cardiovascular disease. Championed as a student-centric campus, the college has graduated 745 physicians, all of whom received exceptional training from nine clinical partners and more than 2,600 diverse faculty members. As the anchor to the Phoenix Bioscience Core, which is projected to have an economic impact of $3.1 billion by 2025, the college prides itself on engaging with the community, fostering education, inclusion, access and advocacy.