Scholarly Project Profile: Amy Capone
911 Dispatcher's Assertiveness Plays an Important Role in Bystander's Willingness to Perform CPR
In an effort to improve the survival rate of Arizonans who suffer a cardiac arrest, fourth-year medical student Amy Capone listened to more than 700 emergency calls to understand bystander's willingness to perform CPR. Her findings revealed that a bystander's willingness to help might depend on the dispatcher.
Every year more than 350,000 people experience a sudden cardiac arrest when the heart stops beating and can no longer pump blood to the rest of the body. In these situations, time is critical, as irreversible damage to the brain will begin within minutes. The best treatment is CPR.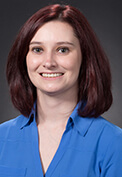 "It was my work as an EMT prior to medical school that inspired me to start this research," said Capone, a medical student at the University of Arizona College of Medicine – Phoenix. "Coming onto the scene of a cardiac arrest where the patient has been without CPR for 15-20 minutes — knowing that their chances of survival are slim — it's something you don't forget."
Most cardiac arrests occur outside of the hospital so the person must rely on bystanders to help until medical personnel arrive.
"As you can imagine, this is a very high stress situation," Capone said.
To help the bystander offer assistance, 911 dispatchers have started providing instruction on how and when to start CPR.
"It has helped increase the provision of bystander CPR from 40 percent to 50 percent in Arizona," Capone said. "While this is a huge first step, my research is looking at ways that we can get that number even higher."
Capone listened to more than 700 emergency calls of cardiac arrests and cataloged how the dispatchers prompted bystanders. There were three categories: assertive (telling the bystander to "start CPR now"), passive (asking the bystander if they wanted to start CPR") or both (switching back and forth between passive and assertive in the same call). Capone then recorded how the bystander responded to the different prompts. This included how often CPR was started, how long it took to start CPR and the bystander's willingness to administer CPR.
"This last metric — 'willingness' — is the most interesting," Capone said. "We defined 'willing' as any effort the bystander made to start CPR, even if they were unable to actually start compressions. For instance, if someone was trying to get the patient in the correct position to start CPR (on the ground, flat on their back), but EMS arrived before they could start CPR, this would be designated as willing, but unable to deliver compressions. It was a way to see the effects of the dispatchers' language, regardless of barriers the bystander encountered."
Capone's research discovered that if the dispatcher used assertive language, nearly 95 percent of bystanders were willing to start CPR as opposed to passive language, where only 50 percent of bystanders were willing to start CPR. Interestingly, 78 percent of bystanders started chest compressions when the dispatcher used assertive language. Only one-third of the passive calls began CPR.
"There has been a lot of work and studies trying to get the public to perform CPR, but no one has been able to achieve a nearly 80 percent success rate like this," Capone said. "If 80 percent of cardiac arrest patients coming into the emergency department had received early bystander CPR, survival rates would drastically improve."
Capone plans to specialize in emergency medicine. In addition to medical school, she is pursuing a master's degree in public health. Her research creates a systems/population-level solution rather than relying on an individual. She is a huge proponent of understanding how population-based problems affect the individual.
"I am so thankful for all the opportunities that the College of Medicine – Phoenix has provided me," Capone said. "A huge thank you to my mentor, Dr. Ben Bobrow."
Her research was supported by the Arizona Department of Health Services SHARE (Save Hearts in Arizona Registry and Education) program.
About the College
Founded in 2007, the University of Arizona College of Medicine – Phoenix inspires and trains exemplary physicians, scientists and leaders to optimize health and health care in Arizona and beyond. By cultivating collaborative research locally and globally, the college accelerates discovery in a number of critical areas — including cancer, stroke, traumatic brain injury and cardiovascular disease. Championed as a student-centric campus, the college has graduated 593 physicians, all of whom received exceptional training from nine clinical partners and more than 2,400 diverse faculty members. As the anchor to the Phoenix Biomedical Campus, which is projected to have an economic impact of $3.1 billion by 2025, the college prides itself on engaging with the community, fostering education, inclusion, access and advocacy.