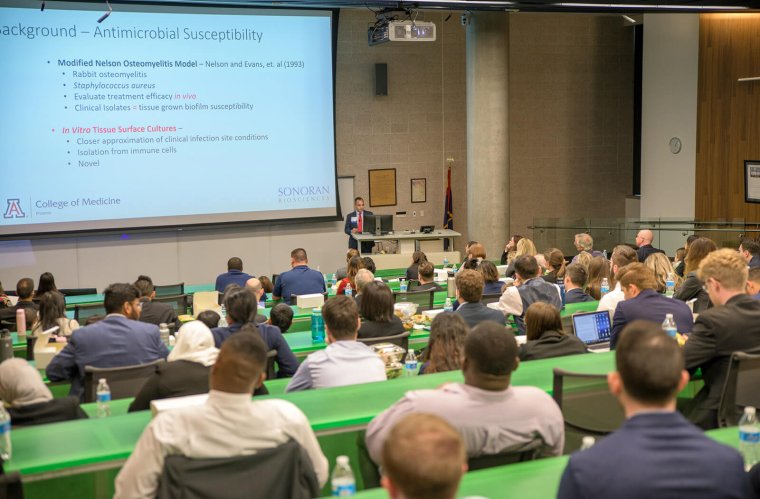 Scholarly Project Profile: Paulo Castaneda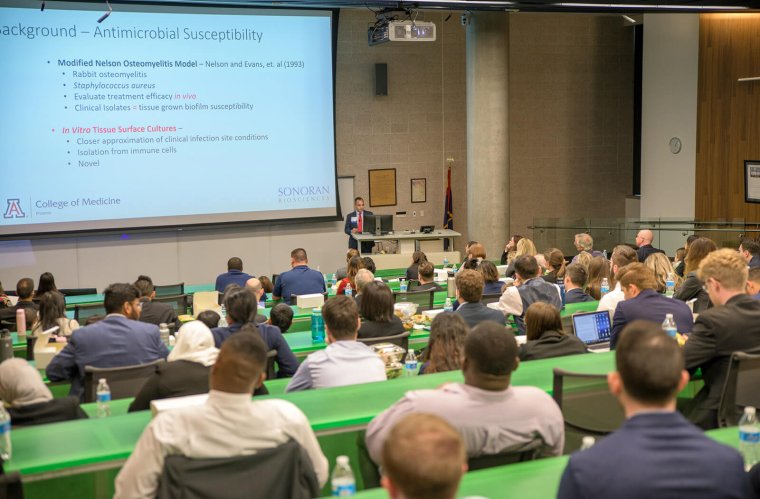 Medical Student Develops New Biofilm Assessment
A fourth-year medical student at the University of Arizona College of Medicine – Phoenix has developed a new biofilm assay that reliably quantifies the minimum biofilm eradication concentration (MBEC) on tissues.
MBEC is the lowest concentration of an antibiotic required to eradicate biofilm. Biofilms are an aggregate of bacterial cells and a bacteria-produced microenvironment that lead to evasion of bacteria from a patient's immune system, and, often, antibiotics. This evasion makes biofilm-related infections a complex and chronically recurring problem that leads to increased adverse patient outcomes and health care costs.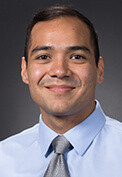 Paulo Castaneda, who undertook the study as part of his scholarly project at the college, said that clinically, his research is an essential step in filling the large gap in knowledge surrounding biofilm-associated infections, as labs still use the MIC (minimum inhibitory concentration) of planktonic (not biofilm-associated) bacteria to guide antimicrobial therapies.
"If we are to treat biofilm infections more effectively, we must first better evaluate their susceptibility to antibiotics, and this needs to be done with assays that study the biofilms themselves," Castaneda said. "This research is an important step toward this goal. Ultimately, our study taught us that biofilms have lower MBECs with increasing times of antibiotic exposure; the MBEC of biofilm grown on the bone is higher than muscle, but not as high as previously thought based on polystyrene cultures; and the antibiotics needed to eradicate biofilms on muscle and even bone are achievable through local antibiotic delivery."
Biofilm infections are relatively common in orthopaedics. For example, an article in the Journal of Arthroplasty reported that the relative incidence of prosthetic joint infections range between 2 and 2.4 percent. The annual cost of infected revisions to U.S. hospitals is expected to exceed $1.62 billion by 2020.
"We studied the most common bacteria found in orthopaedic biofilm-associated infections to understand as much of the biofilm picture as possible," Castaneda said. "At this time, this new assay can only serve as a general guide for new treatment modalities. In order to benefit the community in the long-run, I believe similar clinical assays need to be developed and approved for studying the antibiotic susceptibility of all biofilm-associated infections. Whether this method continues to be developed into a clinical tool or simply helps guide the future tool that will be used clinically, it has helped us better understand biofilm infections."
It has been well-documented that the minimum biofilm eradication concentration (MBEC) of various antibiotics is in the order of 100-1000x the MIC (minimum inhibitory concentration). In other words, between one to two orders of magnitude greater than systemically achievable concentrations (tens of mcg/mL). However, local antimicrobial delivery bone cement, which only yields local levels of antimicrobials in the order of hundreds of mcg/mL, are often successful in treating these infections.
"Our study elucidated a key difference in this seeming discordance between susceptibility testing on the benchtop and biofilm treatment in the OR: The surface on which a biofilm is cultured and then eradicated to measure MBECs greatly influences the outcome," Castaneda said.
"Musculoskeletal infection is an important problem that clearly leads to significant morbidity and economic burden," Castaneda said. "With respect to biofilm-associated infections, there is still much that we do not know and, unlike other basic science principles in orthopaedics, it lacks a direct approach in expanding this knowledge gap."
This research was published in January 2019 in the Journal of Bone and Joint Infection.
Castaneda, who aspires to be an orthopaedic surgeon, said he enjoyed conducting his research in musculoskeletal infection. He said he plans to continue to do research into residency and beyond. "This scholarly project was a perfect continuum of my overall goals."
"I want to thank Alex McLaren, MD, my scholarly project mentor, for his continued dedication to teaching students and for his patience as he guided me through this project and others," Castaneda said. "As a scholarly project mentor for several years now, he has been a phenomenal educator and mentor. As a member at large, past-president and inductee to the Hall of Fame at the Musculoskeletal Infection Society, he is a leader in the field of musculoskeletal infection; and I am fortunate to have his guidance. I have had many opportunities in research because of his teachings. I admire him greatly and owe him all my respect."
About the College
Founded in 2007, the University of Arizona College of Medicine – Phoenix inspires and trains exemplary physicians, scientists and leaders to optimize health and health care in Arizona and beyond. By cultivating collaborative research locally and globally, the college accelerates discovery in a number of critical areas — including cancer, stroke, traumatic brain injury and cardiovascular disease. Championed as a student-centric campus, the college has graduated 593 physicians, all of whom received exceptional training from nine clinical partners and more than 2,400 diverse faculty members. As the anchor to the Phoenix Biomedical Campus, which is projected to have an economic impact of $3.1 billion by 2025, the college prides itself on engaging with the community, fostering education, inclusion, access and advocacy.