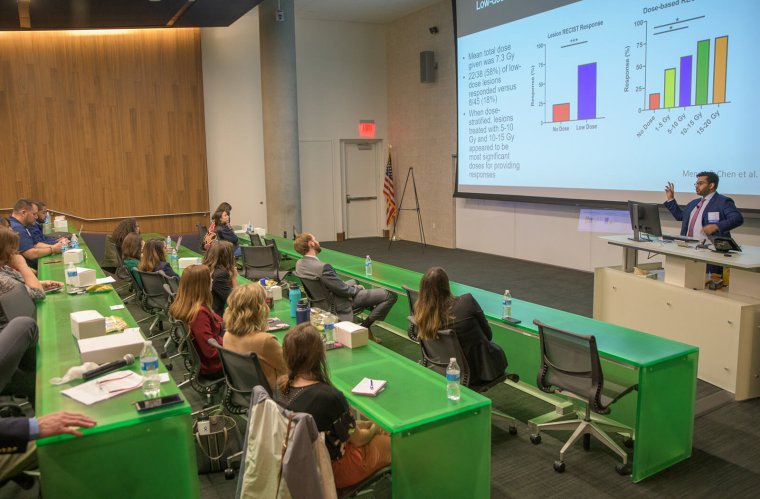 Scholarly Project Profile: Hari Menon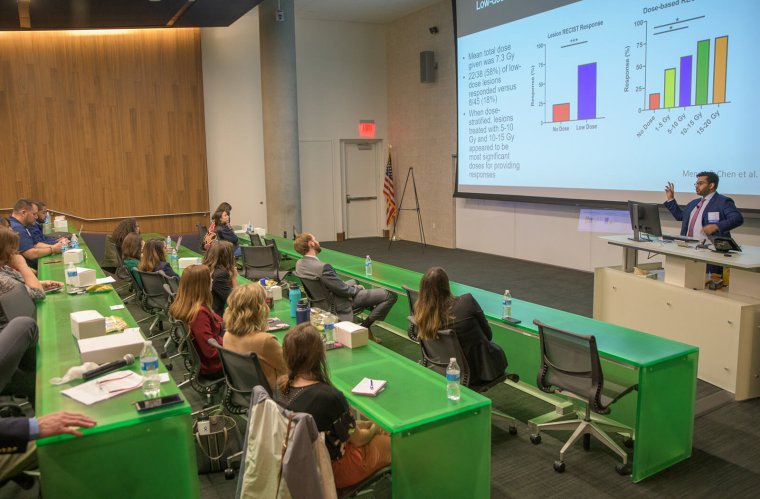 Student's Research Discovers Low-Dose Radiation May Improve Response Rate in Metastatic Cancer
Low doses of radiation may considerably improve response rates in tumors of patients with metastatic stage IV cancer, according to research conducted by fourth-year medical student Hari Menon.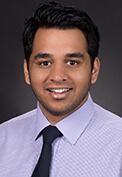 Research by Menon, a student at the University of Arizona College of Medicine – Phoenix, showed that a radiation dose between 5-10 Gy was preferable to elicit an improved response. Gy refers to gray, a unit of ionizing radiation dose.
"We initially saw this result in one case and thought this may just be an isolated event," Menon said. "However, after reviewing more than 200 patient cases in three clinical trials, it seems that low-dose radiation has a positive effect on tumor size."
When comparing tumors that received no radiation to those that received low-dose radiation, Menon found the response rates, which were based on pre-determined clinical guidelines, were 18 percent versus 58 percent, respectively.
"I became interested in immunotherapy and radiation synergism through my mentor at MD Anderson Cancer Center, James Welsh, MD," Menon said. "Immunotherapy has certainly changed our concept of cancer, but hasn't been as effective as we had hoped. Using radiation to improve results really drew me into Dr. Welsh's lab research."
Menon took a research year to work at MD Anderson Cancer Center in Houston with Dr. Welsh, who focuses on combining immunotherapy with radiation. Menon worked on pre-clinical and clinical projects, including several clinical trials. He published more than 20 papers in various journals and has abstracts accepted for presentations at national conferences. One of the projects eventually became his scholarly project and was published in the Journal for ImmunoTherapy of Cancer in September 2019.
Menon said he hopes to specialize in radiation oncology and eventually work at an academic center where he can see patients and conduct research.
"I find radiation oncology to be incredibly rewarding, as we are in a unique position to both completely cure patients of their cancer and help those with pain and palliative needs," Menon said. "As a student who has had loved ones with cancer, I hope to continue serving this patient population for years to come."
Menon said his scholarly project allowed him to see how retrospective and pre-clinical data can be applied to patient care.
"I want to thank all of my mentors, including the scholarly project team, for their support," Menon said. "The scholarly project is one of the best components of our education and continues to demonstrate the environment this school fosters."
About the College
Founded in 2007, the University of Arizona College of Medicine – Phoenix inspires and trains exemplary physicians, scientists and leaders to optimize health and health care in Arizona and beyond. By cultivating collaborative research locally and globally, the college accelerates discovery in a number of critical areas — including cancer, stroke, traumatic brain injury and cardiovascular disease. Championed as a student-centric campus, the college has graduated 669 physicians, all of whom received exceptional training from nine clinical partners and more than 2,600 diverse faculty members. As the anchor to the Phoenix Bioscience Core, which is projected to have an economic impact of $3.1 billion by 2025, the college prides itself on engaging with the community, fostering education, inclusion, access and advocacy.