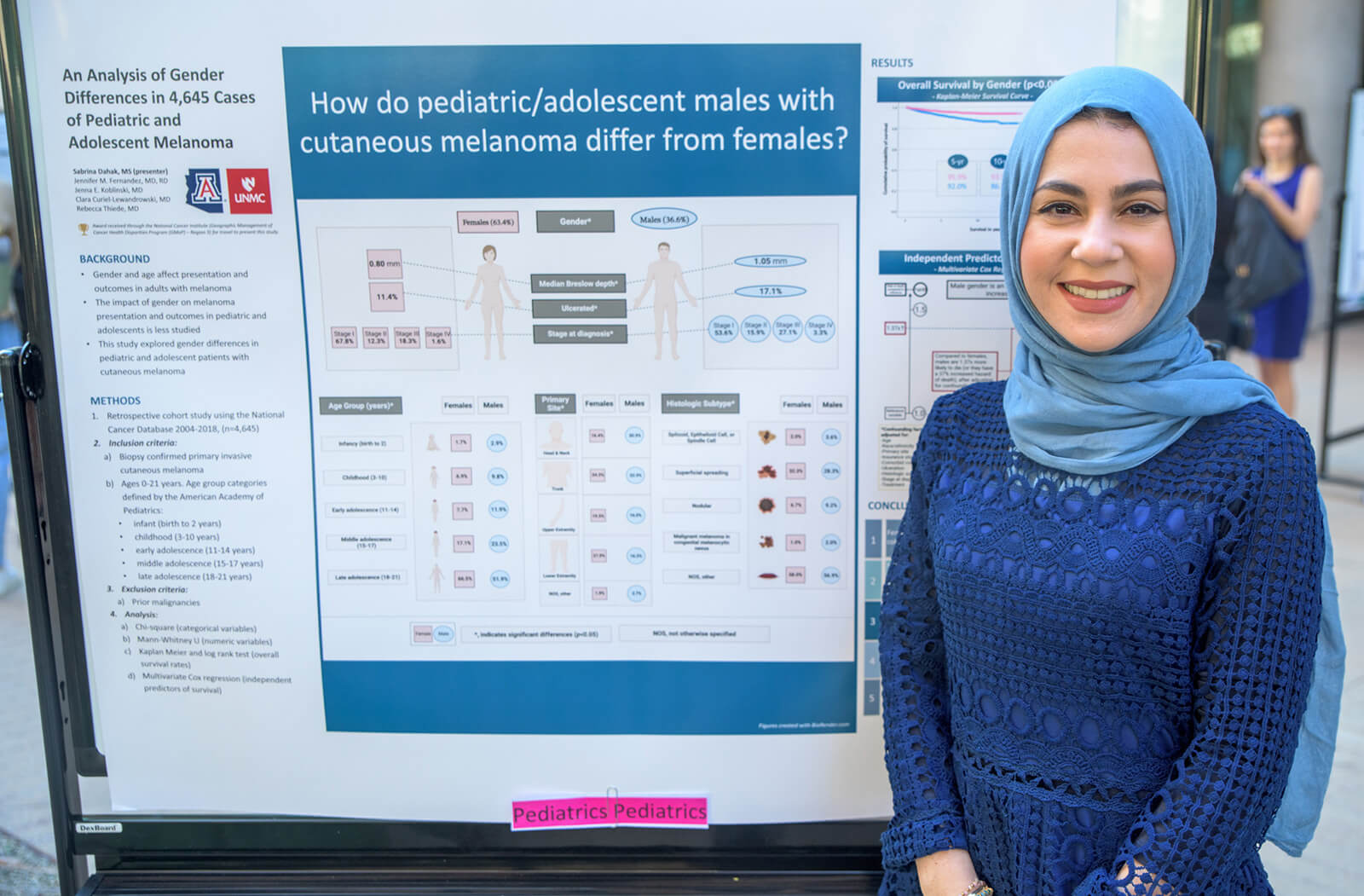 Scholarly Project Profile: Sabrina Dahak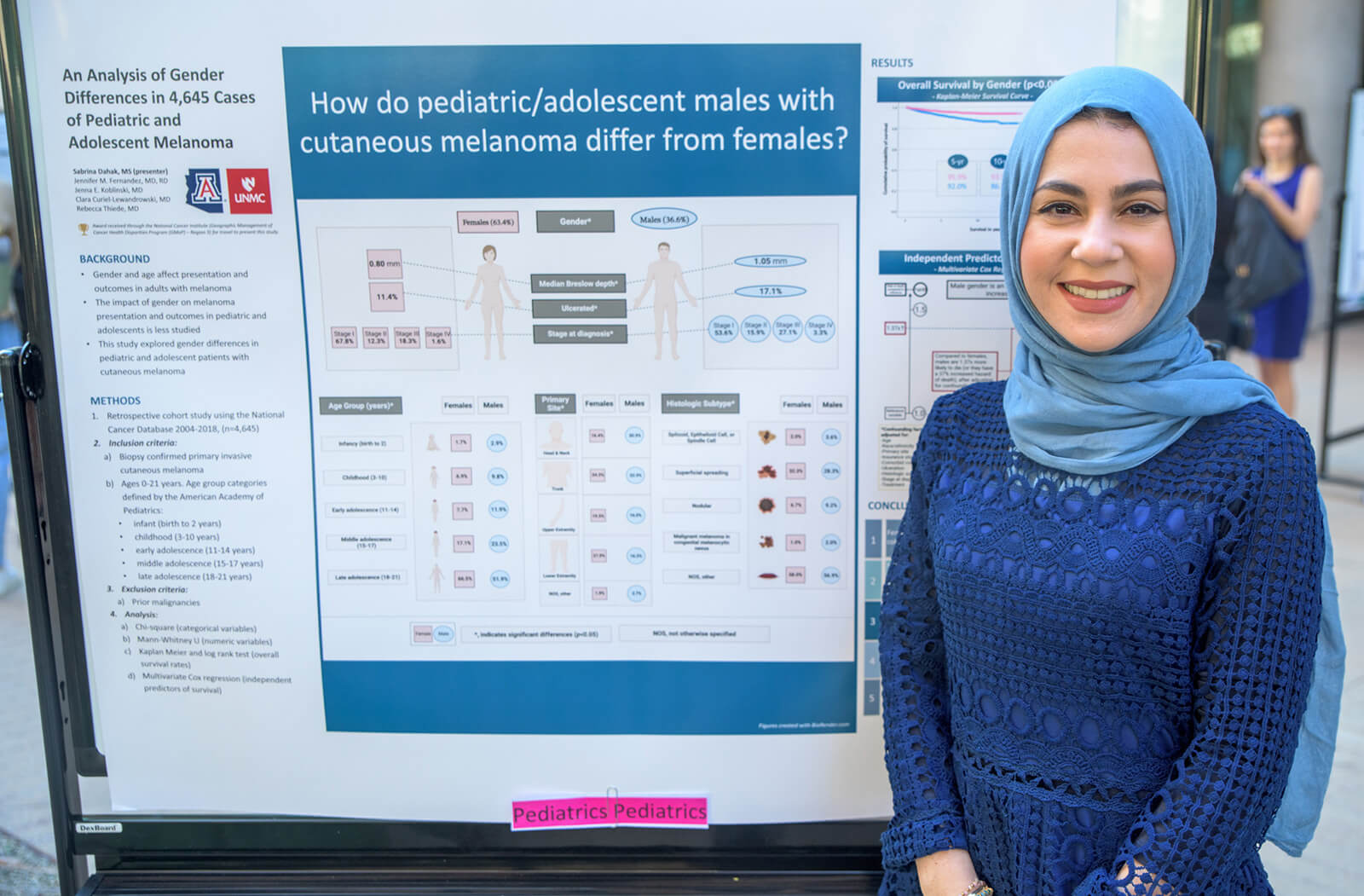 A blind spot in current melanoma research inspired medical student to bridge the gap
The Scholarly Project — a four-year, longitudinal research experience — is a key component of the college's curriculum. Requiring medical students to complete a substantiative research project, promotes greater medical information literacy, encourages life-long learning, and inspires students to practice evidence-based medicine and ethics. It also serves as a key differentiator during the residency interview process.
Meet Sabrina Dahak
Born in Algeria, Sabrina Dahak moved to the United States when she was just seven years old. She was the first member of her family to graduate from college — completing a bachelor of science in Human Biology and Society, as well as a bachelor of arts in Spanish.
Following her undergraduate studies, she took a couple of years off to think about what would come next. She then moved to Arizona and applied for the Pathway Scholars Program at the University of Arizona College of Medicine – Phoenix.
Through the Pathway Scholars Program, Dahak received her master's in Medical Studies and then matriculated into medical school with the Class of 2023.
Her research project analyzes the prognostic impact of gender and age in young patients who have been diagnosed with melanoma. Findings from research studies have identified gender and age to be key indicators in adults with skin cancer. Since most studies to date excluded younger patients, it struck her as an area of need.
About Her Research
What did you think about completing a four-year research project as part of your medical education?
This research project was invaluable. From the start of medical school, my research skills have grown by leaps and bounds due to the structured curriculum and mentorship available. This research project allows us to continue to be lifelong learners, expanding on the evidence so that we can be the best physicians for all our patients.
What did you learn from the research process?
Research is a marathon, not a sprint. It is really important to remain flexible throughout the research process and understand that what your question or hypothesis was at the start of the project, may not be what it is at the end; but that is part of the fun of the scientific method!
Did your research influence your choice of specialty for residency?
This and my previous research on understudied topics in dermatology were influential in me choosing dermatology as my specialty.
As a first-generation, socioeconomically disadvantaged Algerian woman, my passions for studying understudied topics and expanding research on underserved communities stems from my unique background and experiences. Dermatology was the perfect fit for these aspirations as the specialty is making great strides to move from one of the least diverse specialties, to becoming a field that is more representative of our patient population.
How do you think this project helped to prepare you for your career in medicine?
This project helped me further develop and hone my research skills, which will continue to serve me throughout my career in medicine.
If there is one piece of advice you could give to incoming medical students about this project, what would it be?
Always remember the root of why we do research. Lifelong learning is invaluable in medicine because we can always learn more for our patients. That is who we are doing all of this for, the patient. Also, if you have a passion project that you think would help your community, do not be afraid to pursue it! There is a reason why you were chosen to be a medical student at our school; your unique perspective and background is so important to ensure that we are representing our diverse patients in all aspects of medicine, including research.
About the College
Founded in 2007, the University of Arizona College of Medicine – Phoenix inspires and trains exemplary physicians, scientists and leaders to optimize health and health care in Arizona and beyond. By cultivating collaborative research locally and globally, the college accelerates discovery in a number of critical areas — including cancer, stroke, traumatic brain injury and cardiovascular disease. Championed as a student-centric campus, the college has graduated more than 800 physicians, all of whom received exceptional training from nine clinical partners and more than 2,700 diverse faculty members. As the anchor to the Phoenix Bioscience Core, which is projected to have an economic impact of $3.1 billion by 2025, the college prides itself on engaging with the community, fostering education, inclusion, access and advocacy.