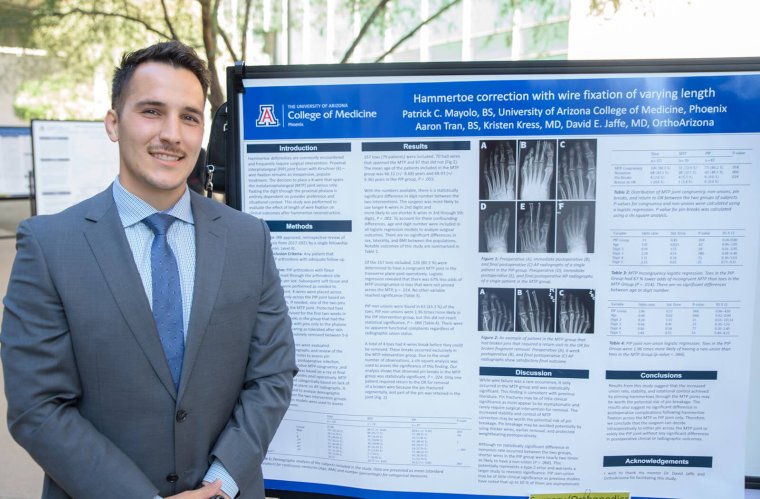 Scholarly Project Profile: Patrick Mayolo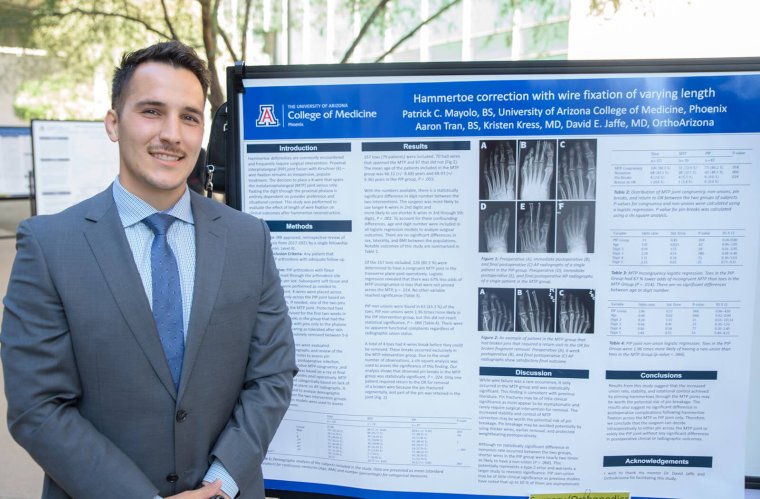 Mayolo's love for sports and medicine inspired research to improve patients' mobility post-surgery
The Scholarly Project — a four-year, longitudinal research experience — is a key component of the college's curriculum. Requiring medical students to complete a substantiative research project, promotes greater medical information literacy, encourages life-long learning, and inspires students to practice evidence-based medicine and ethics. It also serves as a key differentiator during the residency interview process.
Meet Patrick Mayolo
Patrick Mayolo completed his undergraduate degree at the United States Military Academy in West Point, NY. During college, he wrestled for their D1 team and was a team captain his senior year.
Mayolo knew coming into medical school that he wanted to pursue a career in sports medicine, so he could work with a motivated and active patient population.
As a graduate of West Point, Mayolo is required to fulfill his military commitment upon graduation. He participated in the military match on December 8 and matched into orthopedic surgery at Tripler Army Medical Center in Honolulu, Hawaii.
Upon graduation from the University of Arizona College of Medicine – Phoenix, he will be relocating with his family to Oahu for the next five years.
He and his wife, Brooklynn, have a one-year-old son named Hudson and a dog named Rudy.
About His Research
What did you think about completing a four-year research project as part of your medical education?
The Scholarly Project requirement was a tremendous opportunity for me to learn first-hand how physicians are both clinicians and scientists. The project broadened my perspectives and taught me invaluable skills that I will use again and again as a physician.
What did you learn from the research process?
My research project taught me many things. I developed many tangible research skills — such as how to write an IRB or submit a paper to a peer-reviewed journal for publication.
I also developed some intangible organization and leadership skills through the process of publication.
How did you choose this specific research focus? And what was the outcome of the research?
I met my research mentor, David E. Jaffe, MD, in the anatomy lab during my first year of medical school. He is a fellowship-trained foot and ankle surgeon and suggested we start a project related to hammertoes as it is a commonly encountered deformity. We investigated whether the length of K-wire used in proximal interphalangeal (PIP) arthrodesis influenced outcomes.
We discovered that toes transfixed with a longer K-wire spanning the metatarsophalangeal joint were statistically more likely to experience pin fractures. Toes corrected with shorter wires were more likely to have non-union at the PIP joint, but the results did not reach statistical significance with the numbers we included in our study.
Did your research influence your choice of specialty for residency?
I already had my heart set on orthopedic surgery before beginning medical school. My project helped me achieve this goal.
During interviews with residency programs, program directors and faculty frequently remarked how impressed they were with what they called "resident-level research" in the field of orthopedics. The ability to take a project from conception to peer-reviewed publication is looked upon favorably.
How do you think this project helped to prepare you for your career in medicine?
When you wear "MD" on your badge, it is assumed you are more than a clinician. All physicians are expected to be able to understand, produce and incorporate quality research in their field of practice.
These skills are imperative to deliver the best care to our patients as the standard of practice is anything but static. Research is the foundation of medicine, and I am better prepared to practice evidence-based medicine because of my experience with the Scholarly Project.
If there is one piece of advice you could give to incoming medical students about this project, what would it be?
I would advise all incoming medical students to pick a project that will advance their residency and career goals. The Scholarly Project is an opportunity to not only learn more about a field that is interesting to you, but to do something meaningful.
A well-thought project that is carried to publication will bode well for you when you are competing for a residency position. Other advice I would give is to select a mentor who is responsive and to start your project early.
About the College
Founded in 2007, the University of Arizona College of Medicine – Phoenix inspires and trains exemplary physicians, scientists and leaders to optimize health and health care in Arizona and beyond. By cultivating collaborative research locally and globally, the college accelerates discovery in a number of critical areas — including cancer, stroke, traumatic brain injury and cardiovascular disease. Championed as a student-centric campus, the college has graduated 745 physicians, all of whom received exceptional training from nine clinical partners and more than 2,600 diverse faculty members. As the anchor to the Phoenix Bioscience Core, which is projected to have an economic impact of $3.1 billion by 2025, the college prides itself on engaging with the community, fostering education, inclusion, access and advocacy.