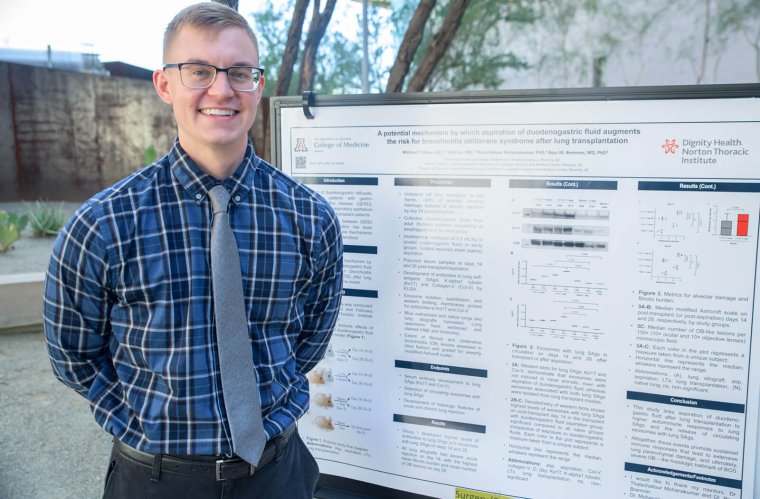 Scholarly Project Profile: Michael Olson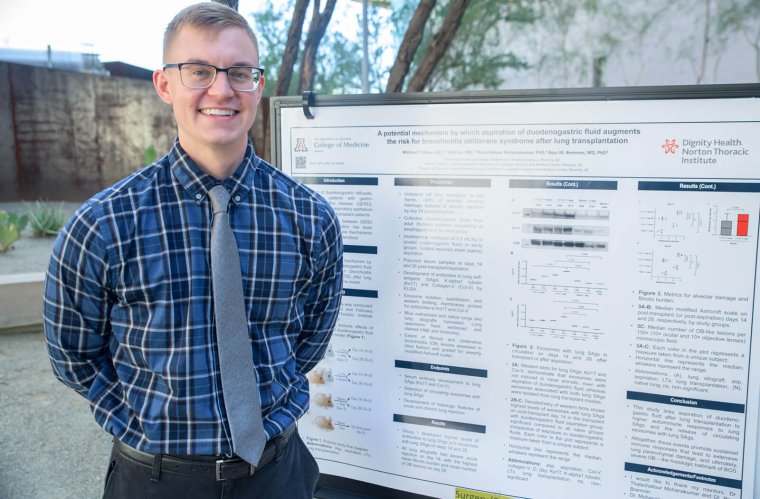 Early exposure to surgical subspecialties fueled Olson's desire to pursue research in thoracic and foregut surgery
The Scholarly Project — a four-year, longitudinal research experience — is a key component of the college's curriculum. Requiring medical students to complete a substantiative research project, promotes greater medical information literacy, encourages life-long learning, and inspires students to practice evidence-based medicine and ethics. It also serves as a key differentiator during the residency interview process.
Meet Michael Olson 
Born in Minneapolis, Minnesota, Michael Olson grew up on the western border of Arizona — around Lake Havasu City and Parker. He moved to Phoenix to attend college at Grand Canyon University, where he met his wife, and then stayed in the area to study medicine at the College of Medicine – Phoenix.
Before beginning medical school, Olson commissioned as an officer in the United States Air Force. He recently matched into general surgery at Brooke Army Medical Center in San Antonio, Texas. Olson plans to engage in more research opportunities during residency — with an eventual goal of pursuing a career in cardiothoracic surgery with the military.
As an active member of the International Society for Heart and Lung Transplantation, American Society of Transplantation and Association of Military Surgeons of the United States, his Scholarly Project aligned closely with his academic interests.
About His Research
What did you think about completing a four-year research project as part of your medical education?
For me personally, actively designing and completing a longitudinal research study was an important part of my medical education. One, the duration of the project gives ample time to participate in a study that is meaningful for the student who is learning how to engage the research landscape; and two, it raises the possibility to develop, or understand, something new about a field of medicine that interests the student.
What did you learn from the research process?
My Scholarly Project was a basic science study that I completed in the laboratory setting. I had previously engaged in a number of clinical research studies, so my mentor encouraged me to pursue a basic science study in the transplant immunology lab at St. Joseph's Hospital and Medical Center.
I found myself in a new territory, having to learn many procedures including ELISA, western blotting, tissue preservation, sectioning, staining and immunohistochemistry. To this end, I really appreciate the postdoctoral fellows who always made themselves available to answer questions and assist me with techniques.
I learned that the research process is not a straight line from point A to point B. It may not always progress on schedule, and it takes time to troubleshoot and learn where to troubleshoot; but I think performing research, especially in a laboratory setting, is an opportunity to refine valuable critical thinking skills.
How did you choose this specific research focus? And what was the outcome of the research?
My clinical and research interests entering (and throughout) medical school included thoracic and foregut surgery and lung transplantation. Before medical school, my mentor (a thoracic surgeon) involved me in many clinical research studies focused on factors that increase lung transplant recipients' risk for chronic rejection. We directed the most amount of attention toward one particular risk factor, gastroesophageal reflux disease, and its mechanism in chronic rejection pathogenesis.
This became the origin of my Scholarly Project, where I investigated a potential immune mechanism whereby aspiration of duodenogastric refluxate promotes chronic rejection in a murine lung transplant model. We found that aspiration in lung transplant recipients leads to increased autoimmune responses against lung self-antigens, increased circulating exosome release, and histologic changes associated with severe acute rejection and obliterative bronchiolitis — the hallmark of chronic rejection. These findings will hopefully influence future efforts to delay the development of chronic rejection in human lung transplant recipients.
Did your research influence your choice of specialty for residency?
Yes. Having early exposure to a surgical subspecialty (thoracic surgery) before and during medical school led to my interest in participating in a Scholarly Project that reflected these interests. Joining the research group at Norton Thoracic Institute gave me an opportunity to participate in meaningful work in both the clinical and laboratory settings; engage with faculty surgeons in one of the highest volume lung transplant programs; and receive unmatched mentorship for a future career in surgery.
How do you think this project helped to prepare you for your career in medicine?
Outside of that which I have already explained above, I think that participating in the Scholarly Project stretched me as a student. It takes discipline to stay invested in a project in addition to pre-clinical work, extracurriculars, clinical rotations and relationships. This discipline that develops from participating in a (potentially) four-year project amongst the many responsibilities of being a medical student is worth noting and has prepared me to balance several roles in residency and my career.
If there is one piece of advice you could give to incoming medical students about this project, what would it be?
I can completely understand that not everyone is interested in participating in research in their eventual career as a physician. With that being said, I think that the Scholarly Project affords a chance for students to learn about themselves, engage with their clinical interests, network with faculty physicians in the community and produce something that residency programs will see as valuable. I would advise students to consider the Scholarly Project from this lens.
About the College
Founded in 2007, the University of Arizona College of Medicine – Phoenix inspires and trains exemplary physicians, scientists and leaders to optimize health and health care in Arizona and beyond. By cultivating collaborative research locally and globally, the college accelerates discovery in a number of critical areas — including cancer, stroke, traumatic brain injury and cardiovascular disease. Championed as a student-centric campus, the college has graduated 745 physicians, all of whom received exceptional training from nine clinical partners and more than 2,700 diverse faculty members. As the anchor to the Phoenix Bioscience Core, which is projected to have an economic impact of $3.1 billion by 2025, the college prides itself on engaging with the community, fostering education, inclusion, access and advocacy.