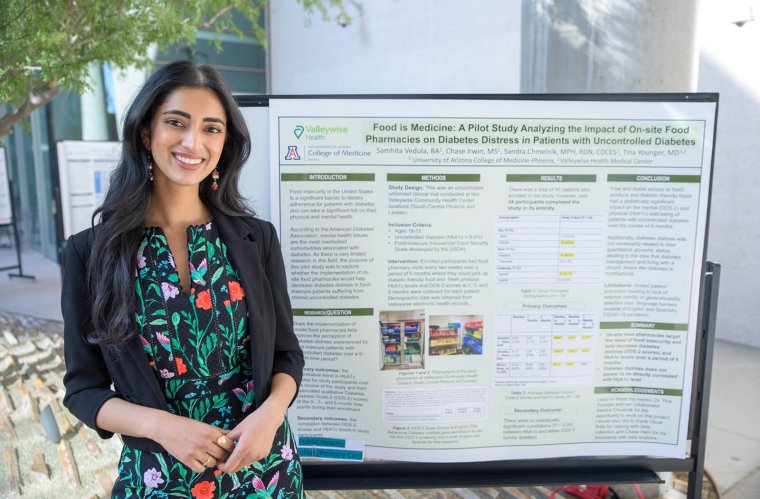 Scholarly Project Profile: Samhita (Sami) Vedula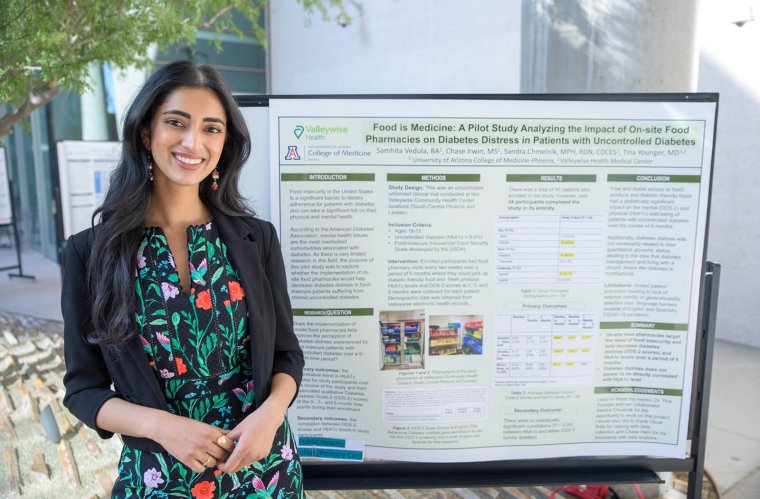 Aspiring surgeon focuses her research on how food insecurity impacts health
The Scholarly Project — a four-year, longitudinal research experience — is a key component of the college's curriculum. Requiring medical students to complete a substantiative research project, promotes greater medical information literacy, encourages life-long learning, and inspires students to practice evidence-based medicine and ethics. It also serves as a key differentiator during the residency interview process.
Meet Sami Vedula 
Sami Vedula is a fourth-year MD candidate at the University of Arizona College of Medicine – Phoenix. She earned her bachelor's degree from Washington University in St. Louis and returned to Arizona to work as a clinical research coordinator and ambassador for the American Heart Association before starting medical school.
Throughout her medical school journey, Vedula has held several leadership positions — including serving as the Class of 2023 Representative in medical student government and the director of communications for Prescribe It Forward, a nonprofit organization dedicated to providing free mentorship to underrepresented pre-medical students.
In addition, Vedula was selected to be the Southwest Regional Representative on the National Medical Student Committee for the Association of Women Surgeons. After graduation, she is eager to continue her academic journey by matching into general surgery residency.
Passionate about leadership and advocacy, Vedula used her Scholarly Project to pursue a topic that was close to her heart: social determinants of health and their impact on patient outcomes.
About Her Research
What did you think about completing a four-year research project as part of your medical education?
The longitudinal nature of the Scholarly Project course at College of Medicine – Phoenix teaches students about the scientific inquiry process from a grassroots level, which is very helpful — whether or not the student wants to pursue an academic career. Additionally, having a project that you are passionate about — that you have worked diligently on for four years — is an excellent talking point during residency interviews.
What did you learn from the research process?
The research process taught me how to be flexible, adaptable and inquisitive. There were many challenges that surfaced, especially due to the COVID-19 pandemic, but it was a great exercise in learning how to be resourceful, how to navigate through various setbacks and when to push the project along.
How did you choose this specific research focus? And what was the outcome of the research?
I have always had an interest in social determinants of health and, particularly, food insecurity. When I heard about this project, I was drawn to the idea of helping improve access to healthy food with on-site food pharmacies and the impacts of this intervention for patients with chronic health conditions like diabetes. The outcome of our study showed that on-site food pharmacies help reduce diabetes-related distress and improve HbA1c levels over a period of six months.
Did your research influence your choice of specialty for residency?
My research project did not particularly influence my choice of specialty for residency, but it is an interest that I am glad I had the chance to explore on a deeper level.
It is very important to note that food is an important aspect of all patients' lives and counseling them on the benefits of a well-balanced diet is something that providers in most specialties will encounter on a rather regular basis.
How do you think this project helped to prepare you for your career in medicine?
This project has made me more aware of the widespread impacts that social determinants of health can have on both the mental and physical well-being of patients, and that food really is a form of medicine.
If there is one piece of advice you could give to incoming medical students about this project, what would it be?
One piece of advice I would give to medical students about this project is that it is essential that we, as future physicians, talk to patients about food insecurity and other social determinants of health because it will help us better understand them and cater our care to holistically address their health needs.
About the College
Founded in 2007, the University of Arizona College of Medicine – Phoenix inspires and trains exemplary physicians, scientists and leaders to optimize health and health care in Arizona and beyond. By cultivating collaborative research locally and globally, the college accelerates discovery in a number of critical areas — including cancer, stroke, traumatic brain injury and cardiovascular disease. Championed as a student-centric campus, the college has graduated 745 physicians, all of whom received exceptional training from nine clinical partners and more than 2,700 diverse faculty members. As the anchor to the Phoenix Bioscience Core, which is projected to have an economic impact of $3.1 billion by 2025, the college prides itself on engaging with the community, fostering education, inclusion, access and advocacy.