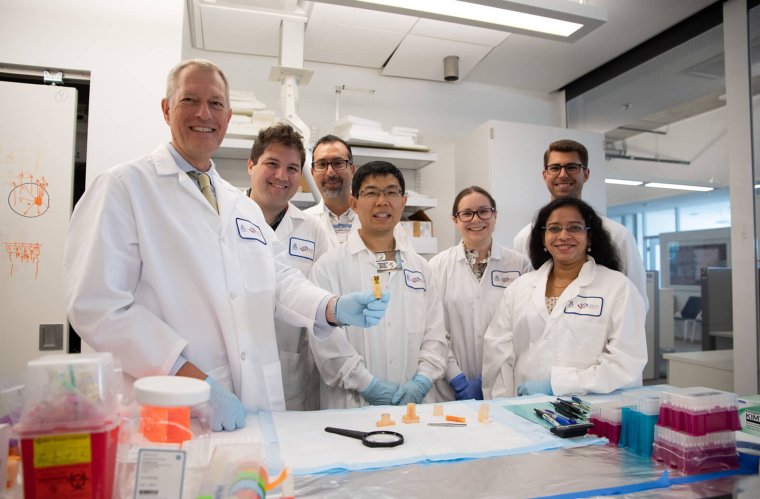 UArizona Research Project to Monitor Health of SpaceX Inspiration4 Crew Members During Mission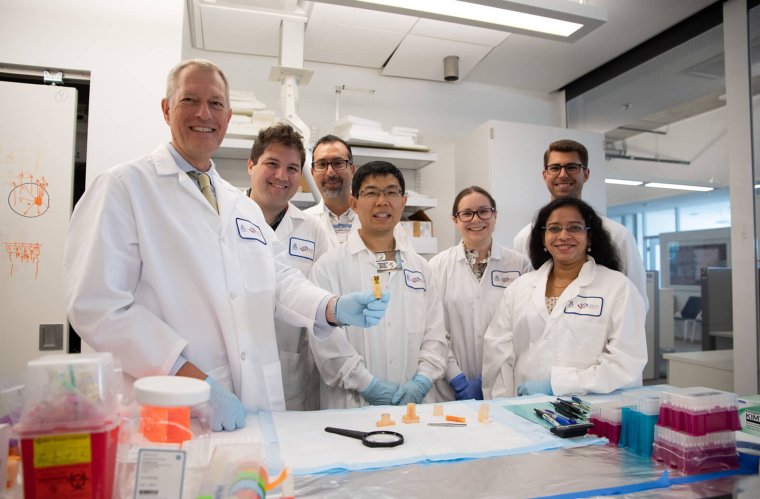 College Researchers Designed Novel Molecular Diagnostics Technology to Monitor the Health of Four Crew Members during First All-Civilian Mission to Orbit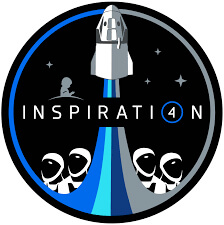 Space flight is not just for astronauts and rocket scientists anymore. SpaceX Inspiration4, the world's first all-civilian mission, will make the dream of orbiting the Earth come true for a crew of civilians September 15. Researchers with the Center for Applied NanoBioscience and Medicine at the University of Arizona College of Medicine – Phoenix, led by Frederic Zenhausern, PhD, MBA, will provide the first in-flight testing of multiple biomarkers of stress, inflammation and immunity measured in a zero gravity environment to monitor the health of the four-member crew.
The essential task of protecting humans from exposure to these hazards is critical to the prospect of future deep space exploration. Zenhausern and his team developed a novel technology that will monitor crew members' response to measure stress, inflammation and immune levels during space flight through a blood droplet from a simple fingerstick or a saliva sample.
"Our development of advanced molecular diagnostics for multi-purpose indications of emerging infectious diseases, health performance or risks of environmental exposure must benefit all populations where possible," said Dr. Zenhausern, director of the Center for Applied NanoBioscience and Medicine and a member of the university's BIO5 Institute. "This Inspiration4 mission shares some operational requirements similar to a consumer health product to be performed at home or in low resources settings, which must be easy to use, minimally invasive, rapid and low cost."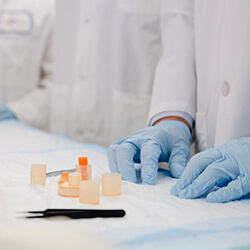 The Vertical Integrated Flow Assay System Technology (VeriFAST) uses blood or saliva deposited onto a device to perform rapid assessments of physiological or molecular effects on humans. The system provides precise measurements, including multiplex molecular diagnostics, to detect possible radiation exposure. The devices have nanoporous membranes printed with arrays of reagents arranged in rows. When the assessments are completed, the spots in the array change color providing visual results within minutes.
Zenhausern and his team designed the VeriFAST platform to assess a full range of biomarkers, from proteins to genes. While the Inspiration4 mission will take less than a week to complete, it will provide a unique opportunity to apply the VeriFAST platform to help researchers study the molecular and physiological levels in the human body under extreme zero gravity conditions. One of the biomarkers measured by VeriFAST is the C-reactive protein — whose level in blood has long been used as a diagnostic marker of inflammatory response, including the response occurring in cancer. This biomedical data will offer valuable insights and help inform the measures necessary to protect future astronaut crews in orbit during longer missions.
Zero gravity, confinement and radiation experienced during space flight can have significant health consequences. Space radiation is risky to the human body, potentially causing damage to the DNA in cells. Radiation exposure may occur during deep-space missions and can increase the risk of long-term health consequences, such as cancer. Adverse effects to the central nervous and cardiovascular systems may also occur. It is difficult to determine remotely the health consequences on the tissues and cells of crew members.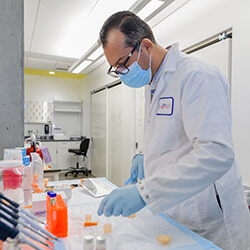 "As civilian space travel becomes more frequent and accessible, the University is well positioned to lead in the important, emerging field of aerospace biomedicine," said Elizabeth "Betsy" Cantwell, PhD, the university's senior vice president for research and innovation. "The new knowledge Dr. Zenhausern's group will create through SpaceX Inspiration4 is really the tip of the iceberg toward a better understanding of in-flight health."
The Translational Research Institute for Space Health (TRISH) funded the project, which is part of a research complement to be conducted during the multi-day journey. The Inspiration4 crew, commanded by Jared Isaacman, founder and CEO of Shift4 Payments, will contribute to the space biomedical community by participating in important scientific research during the mission. Inspiration4's goal is to inspire humanity and to advance cancer research through collaboration with St. Jude Children's Research Hospital.
If the VeriFAST platform is validated by the Inspiration4 crew, it could provide a valuable blood and saliva analysis system to support the health and performance of future space crews. The biomedical samples collected during the Inspiration4 mission will become part of a biobank used for future collaborations by research teams at SpaceX, TRISH and the UArizona College of Medicine – Phoenix.
"Innovation and problem-solving to improve health are at the core of what we do. That impact has been felt in Arizona, around the world and now for those in space," said Guy Reed, MD, MS, dean of the UArizona College of Medicine – Phoenix. "This collaboration with TRISH, SpaceX and the Center for ANBM creates synergies that will help to protect humans against radiation injury and other hazards that they encounter during space travel. It will fuel the development of new therapies and preventive strategies for crew members and patients here on Earth and beyond."
Scenes from the Launch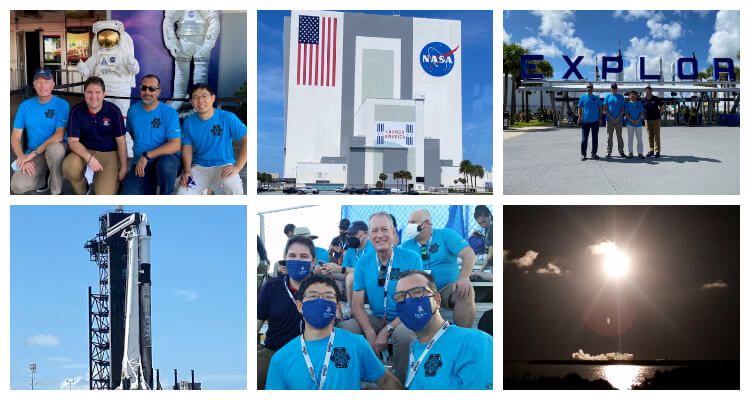 About the College
Founded in 2007, the University of Arizona College of Medicine – Phoenix inspires and trains exemplary physicians, scientists and leaders to optimize health and health care in Arizona and beyond. By cultivating collaborative research locally and globally, the college accelerates discovery in a number of critical areas — including cancer, stroke, traumatic brain injury and cardiovascular disease. Championed as a student-centric campus, the college has graduated 745 physicians, all of whom received exceptional training from nine clinical partners and more than 2,700 diverse faculty members. As the anchor to the Phoenix Bioscience Core, which is projected to have an economic impact of $3.1 billion by 2025, the college prides itself on engaging with the community, fostering education, inclusion, access and advocacy.