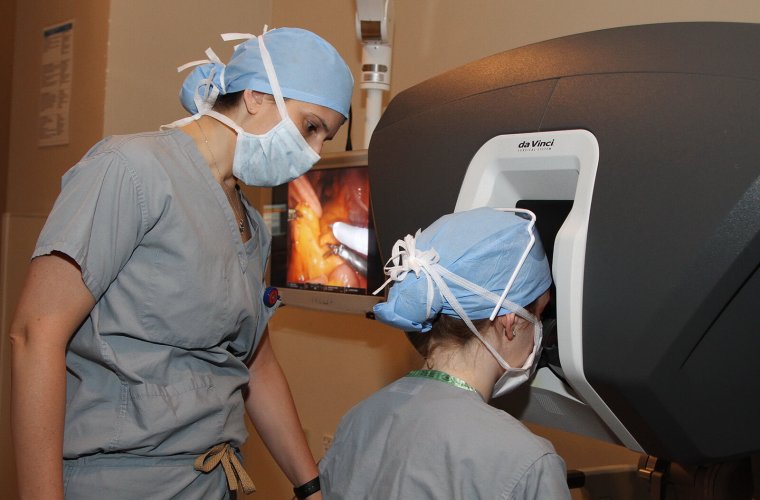 Overview
We launched our formalized robotics curriculum in 2016 with the goal of training our residents to understand the principles of robotic surgery and to be competent in utilizing robotic technology in the operative care of patients. The curriculum is a progression through training that starts with online modules, simulation and hands-on training/practice sessions.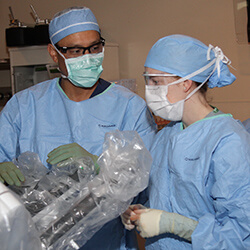 Learning Objectives
Be able to describe the indications and complications associated with the use of using robotic technology.
Understand the components and their interaction of the robotic system.
Understand patient safety issues when using robotic technology.
Be able to plan trocar site placements for various operations.
Be able to dock the robot to patient safely and ensure appropriate trocar placements.
Be able to use the robotic instruments appropriately to perform the operative procedure.
Be able to operate independently using the robotic technology.
Basic Requirements
This training takes place in the categorical first-year of residency training. To fulfill the requirements of the curriculum, residents must:
Complete the Fundamentals in Laparoscopic Surgery (FLS) curriculum.
Complete of a minimum of 10 laparoscopic cases as primary resident surgeon.
Training Requirements
The robotic surgery curriculum will follow a sequential linear pathway. Each component of the pathway will have to be completed successfully and verified prior to advancing. Completion of the curriculum will yield a letter/certificate documenting competency in performing robotic surgery for future hospital privileging.
Sequential requirements for completion of curriculum include:
Completing the online da Vinci Surgical System Online Course and Assessment.
Completing robotic simulator modules.
Completing the hands-on training session.
Completing cases as first assist in robotic cases.
Completing the robotic simulator test.
Performing cases as console surgeon.
Once all requirements are completed, residents will submit all necessary documentation to their Robotic Curriculum representative in their training program for review. The representative will review all submitted documents, and successful completion will yield a letter or certificate documenting completion of the robotic surgery residency curriculum, noting their ability to perform robotic surgery.