Anniversary News
News
Milestone comes on the heels of the college earning reaccreditation for eight years
News
After nearly two years of construction, the sparkling copper Biomedical Sciences Partnership Building opens

In 2017, the college celebrated its Tenth Anniversary. The UArizona College of Medicine – Phoenix opened its doors as a four-year campus in 2007. It started with 24 eager first-year medical students and a group of ambitious faculty and staff members.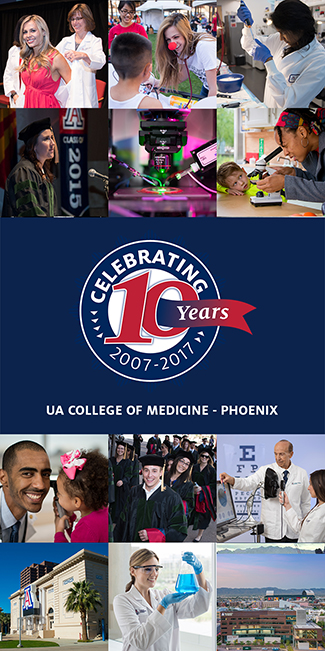 The formation of the college was based on years of hard work and the tenacity and professional commitment to building a medical school in Phoenix. Many big thinkers, community leaders, legislators, regents, educators, physicians including the early founders of the college, Drs. Jacque Chadwick, Mitchell Shub, Alan Leibowitz, James McLoone, John Mattox and the late Mel Cohen, were instrumental in developing the school. "Dr. Chadwick deserves so much credit," said Mitchell Shub, MD. "She was the glue that held us together. She was the driving force of this college."
The college has grown to be an integral part of the Phoenix Bioscience Core with state-of-the art buildings, including the 268,000-square-foot Health Sciences Education Building that opened in 2012, the 33,000-square-foot world class Center for Simulation and Innovation and the Biomedical Sciences Partnership Building that opened in Feb. 2017. The campus is anchored by three historic buildings that formerly housed the Phoenix Union High School.
Although the four-year medical education program at the college began in 2007, the college's history can be traced back to 1983 when medical students at the College of Medicine – Tucson started taking required clerkships in the Phoenix area. The Phoenix program was formally established in 1992, allowing third- and fourth-year students to complete rotations at affiliated hospitals under the leadership of former Vice Dean Jackie Chadwick, MD, who was the first university official in Phoenix for the college.
The college has more than 400 current medical students, approximately 1,110 full-time faculty and 2,650 affiliate and community faculty. The college has established itself as a leader in health care and scientific discoveries through its renowned physicians, researchers, educators and clinical partners.
Since its inception, the college has graduated 593 physicians in various specialties, who are now practicing around the United States.
On Feb. 23, 2017, the University of Arizona and Phoenix community celebrated the tenth anniversary of the UArizona College of Medicine – Phoenix, as well as additional milestones of the UArizona Health Sciences. To learn more about the college's humble beginnings, checkout the timeline of the campus' growth.