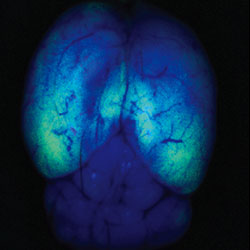 The Department of Translational Neurosciences is a relatively new endeavor and part of a major University of Arizona initiative to expand and grow biomedicine and patient care in the greater Phoenix area and the surrounding region.
Supported by an initial commitment of over $21 million in funding, the department is housed within dedicated laboratory and office space on the fourth floor of a modern architecture, 10-story, 245,000 sq. ft. research tower that is located in the central downtown area of Phoenix — the Biomedical Sciences Partnership Building — which opened in 2017.
The department encompasses a 15,000-square-foot state-of-the-art facility, an entire floor of laboratory and office space. Departmental personnel include an exceptional administrative staff and a growing portfolio of outstanding principal investigators, junior faculty, postdoctoral trainees, MD/PhD, MD, PhD, MS, and undergraduate students along with experienced staff scientists and technical experts.
The Department of Translational Neurosciences represents an exciting and dynamic work environment that embodies the ideals of strength through diversity, equity and inclusion. We offer an engaging, collaborative and enjoyable environment where colleagues work together toward a common goal of bringing new understanding and treatments for central nervous system disorders.
This shared vision spawns success with scientific advances, high-impact publications, career development and funding growth. Hypothesis-driven and exploratory research coupled with innovative advances are facilitated through outstanding, multidisciplinary technical capabilities within the department, the College of Medicine – Phoenix and the greater University of Arizona.
Partnerships within the Phoenix and Arizona medical and research communities are valued with open-door collaborations and interactions with various other schools within the university and with partners including Banner Health, Barrow Neurological Institute and Arizona State University. Recruitment of established and funded principal investigators, as well as early career scientists, is a main current focus. We invite you to explore our website to learn more about the Department of Translational Neurosciences and career opportunities at this exciting, growing endeavor — where new discoveries are waiting to be made within a robustly growing economic environment and a beautiful natural setting.