White Coat Profile: Fatouma Tall
Global Health on the Horizon
Meet Fatouma Tall
Fatouma Tall brings a unique worldview about the role of women in medicine as an incoming medical student at the University of Arizona College of Medicine – Phoenix.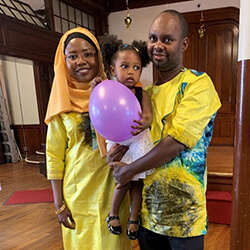 "I'm originally from Niger in West Africa, and I grew up where education was not supported because I'm a girl. My mom, who only went for her high school diploma, was told she couldn't go to university because she didn't need it. She should get married and she did, but she regretted it because she felt like if she could have gone further, she could have helped us more financially, "said Tall.
Tall graduated two months ago from Boston University with a master's degree in Medical Science, and she has a bachelor's degree in Biomedical Science from Grand Valley State University.
"My mom pushed me because she knew I wanted an education, and then she gave me the support I needed," said Tall.
Tall, like her mother before her, encountered cultural resistance to the education of girls.
"I grew up only taking care of my health with herbal medicine. There was no access to a hospital because we could not pay for the hospital bills. I have seen so many of my cousins, and even one of my grandmothers, die from malaria because they couldn't get to the hospital," said Tall. In Niger, which encompasses most of the Sahara Desert, Western-based health care is too expensive for the average person.
As a teenager, Tall volunteered at the National Hospital of Niamey, Niger, and shadowed Ide Garba, MD. It was Dr. Garba who introduced her to Aisha, a 13-year old child bride who suffered from an obstetric fistula — a childbirth condition that occurs during prolonged, obstructed labor and a lack of emergency medical care. Tall and Aisha became friends and shared dreams of traveling and living beyond the capital city.
One year later, Aisha died by suicide, which greatly impacted Tall. To avoid her own arranged marriage, her mother sent her to live in Michigan with an uncle. She left Niger with her high school diploma and her mother's words in her mind, "Focus on whatever you want to do and just keep going." By 2018, she was a college graduate, married and the mother of a three-year old daughter.
That year, she traveled back to Niger to visit family and to volunteer once again with Dr. Garba — this time at the officially designated National Center of Obstetric Fistula.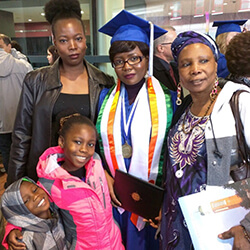 "That was when I actually chose one hundred percent and fully committed myself to becoming a doctor — when I saw that situation," said Tall, remembering her friendship with Aisha.
It was while volunteering that she met an American-based surgeon, who was on an international mission to treat fistula patients.
"He has been my mentor and also my second reader for my master's thesis," said Tall. "He was also of tremendous help in my medical school application journey and encouraged me to follow my dreams." Her capstone research for her master's thesis was on obstetric fistulas.
"I realized that it not only happens in African countries, but young girls and women suffer from fistulas almost everywhere in the world, no matter the religion."
White Coat Ceremony is the culmination of a dream she aspired to back in her home country. She plans to complete the MD-MPH Dual Degree Program and specialize in the Global Health Certificate of Distinction track the college offers. The MD-MPH dual degree is offered jointly by the College of Medicine – Phoenix and the UArizona Mel and Enid Zuckerman College of Public Health. The emphasis of the MD-MPH Dual Degree Program is on clinical and public health leadership.
"I cannot put into words right now on how important this is to me," said Tall. "I know that I'm being emotional, and I feel like crying right now, but it is something I never thought I would have. I remember even the first time I walked into a normal lab at my community college, I cried. I never thought that I would ever see myself wear this white coat. And it means everything to me."
About the College
Founded in 2007, the University of Arizona College of Medicine – Phoenix inspires and trains exemplary physicians, scientists and leaders to optimize health and health care in Arizona and beyond. By cultivating collaborative research locally and globally, the college accelerates discovery in a number of critical areas — including cancer, stroke, traumatic brain injury and cardiovascular disease. Championed as a student-centric campus, the college has graduated 745 physicians, all of whom received exceptional training from nine clinical partners and more than 2,700 diverse faculty members. As the anchor to the Phoenix Bioscience Core, which is projected to have an economic impact of $3.1 billion by 2025, the college prides itself on engaging with the community, fostering education, inclusion, access and advocacy.