Women's Health Microbiome Initiative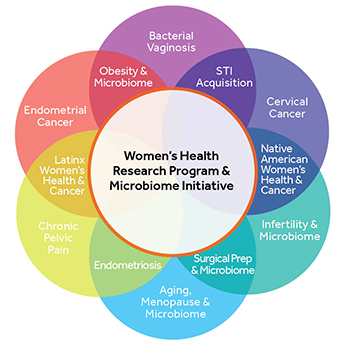 Melissa Herbst-Kralovetz, PhD, has brought together obstetrics and gynecology faculty, multidisciplinary and specialty physicians, basic scientists, biostatisticians, as well as students and trainees at all levels from across Arizona to study the relationship between the microbiome, the local genital microenvironment and women's gynecologic, reproductive and obstetric health.
Launched in 2017, the Women's Health Microbiome Initiative aims to bring physicians and scientists in vast areas of gynecologic health, obstetrics and gynecologic cancer to add translational value to clinical practice.
Collaborative Partners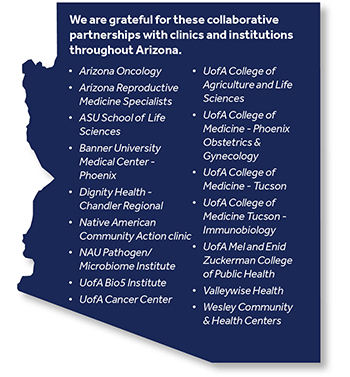 As a part of the Women's Health Research Program and Women's Health Microbiome Initiative, our team of researchers and clinical research coordinators are partnering with clinicians, fellows, residents and researchers across Arizona and beyond to tackle unanswered questions in women's health. We are grateful for these collaborative partnerships with clinics and hospitals throughout the Phoenix metroplex and Arizona. We are also grateful for the support of Michael Foley, MD, former chair of the Department of Obstetrics and Gynecology, as well as the department itself. In the future, we are interested in expanding our efforts and collaborations.