Women in Medicine Fighting COVID-19: Linda Nelson, MD, PhD
Dr. Nelson Discusses Changes to Pregnancy and Fertility Treatments During COVID-19
In honor of this year's Women in Medicine and Science month, the University of Arizona College of Medicine – Phoenix has asked a few faculty to share their inspiring stories and work that is helping our community through the coronavirus pandemic.
Meet Linda Nelson, MD, PhD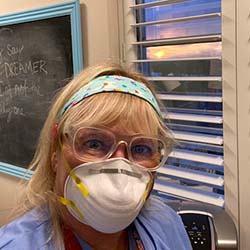 The coronavirus pandemic has changed many aspects of care, including the delivery of newborns, pregnancy check-ups and treatment for women with infertility. Linda Nelson, MD, PhD, who is a reproductive endocrinology and infertility specialist, discusses how her practice has changed due to the pandemic.
Dr. Nelson is director of Faculty Development in Academic Affairs and a professor in Obstetrics and Gynecology at the University of Arizona College of Medicine – Phoenix.
Describe your experience working during the pandemic.
I am a reproductive endocrinology and infertility specialist and OBGYN. Whenever a new virus becomes prevalent, there is concern for both moms and their babies. There are many, many viruses that can harm pregnant women and their fetus. However, for many of these, such as Rubella and Varicella, there are vaccines that are available.
New viruses do not have vaccines yet, and I am sure that people remember the Zika virus that came to public attention as an epidemic in 2015. This virus was primarily harmful to the fetus and thankfully, there are no areas of epidemic spread at this point. The COVID-19 pandemic has been much more challenging for women's health specialists. There have been cases of women who become very ill immediately after delivery, and there is still active ongoing research on the risks to the fetus if a woman becomes infected during pregnancy or has an active infection at delivery.
In terms of labor and delivery care, at the start of the pandemic, it was hard to balance the needs of the mom, dad and baby. In the hospital, there are often many visitors at the time of birth and during the most severe restrictions due to COVID-19, the father was not even allowed to be at the mother's side during delivery; and the babies were often taken to the NICU if the mom was COVID-19 positive at delivery. This led to a stressful time in what is usually a joyful occasion. However, now that we know more about testing and treatment, we can adjust our protocols to maintain safety, as well as a bit more of a sense of normalcy.
In the infertility practice, there was also a huge change in the way we treated couples desiring pregnancy at the start of the pandemic. Since it was not clear if it was safe to start a pregnancy, treatment was interrupted for many couples for a few months. While we are now back to providing treatment, there are still differences in how we deliver care and the testing that we provide to ensure that mom and dad are healthy and it is safe to proceed with starting a pregnancy.
I think one of the lessons that was learned in the COVID-19 pandemic, is that we need to constantly adjust our protocols as more knowledge is gathered and we all need to be as flexible as possible.
What advice or words of encouragement do you have for other physicians during this time of uncertainty?
For physicians in training, I would advise them to stay as up-to-date as possible as the recommendations are changing. There may be other fields of medicine that have not changed dramatically over time, but women's health, as it related to viral diseases, is not one of these.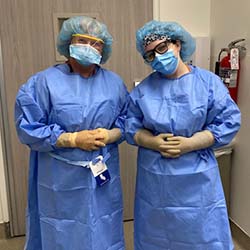 What would you like the community to know about your work during this time as a woman in medicine and science?
The community needs to rely on medical professionals to interpret large amounts of information. The interpretation will change rapidly and if the public can understand that we are willing to change the way we practice based on the best information available, then they might be less frustrated with changes and inconveniences when they occur.
What does your day-to-day look like right now?
At this point, there are still more new patient and follow-up visits being done by telehealth. However, we are able to do elective procedures to help our patients. All of the practices where I provide care have changed dramatically in terms of the safety precautions that are taken, which is a huge step forward.
About the College
Founded in 2007, the University of Arizona College of Medicine – Phoenix inspires and trains exemplary physicians, scientists and leaders to optimize health and health care in Arizona and beyond. By cultivating collaborative research locally and globally, the college accelerates discovery in a number of critical areas — including cancer, stroke, traumatic brain injury and cardiovascular disease. Championed as a student-centric campus, the college has graduated 669 physicians, all of whom received exceptional training from nine clinical partners and more than 2,600 diverse faculty members. As the anchor to the Phoenix Bioscience Core, which is projected to have an economic impact of $3.1 billion by 2025, the college prides itself on engaging with the community, fostering education, inclusion, access and advocacy.